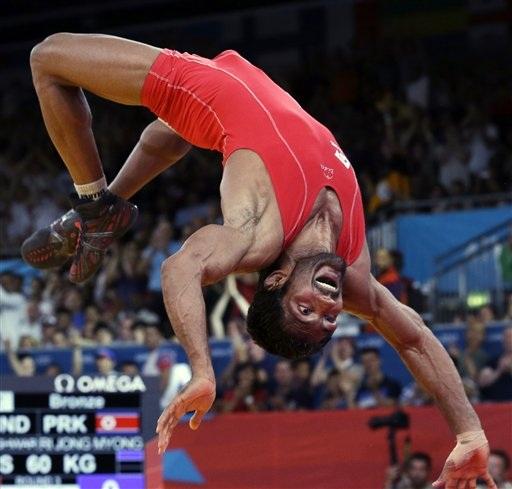 Yogeshwar Dutt celebrates. Photograph: Getty Images
Touching feet is the traditional Indian way of showing respect to someone but, as his numerous opponents would vouch, if it's on the wrestling mat and the outstretched arms belong to Yogeshwar Dutt, it normally means danger.
The 31-year-old is one of the Indian freestyle wrestlers who have challenged the sport's popular image of being a mindless exhibition of brute force.
"At the top level, it is as much a mental game as physical," the 2012 London Olympics bronze medallist said. "You have to take decisions in split seconds and execute them.
Yogeshwar Dutt in action. Photograph: Paul Gilham/Getty Images
"It's more than just a display of brute power."
The leglock Dutt calls 'Fitley' is a case in point, earning him the bronze in London Olympics two years ago.
After being locked at 1-1 in the bronze medal contest in London, Dutt grabbed Ri Jong Myong's legs and rolled the helpless North Korean on the mat several times to claim six points, which gave him the match and put him on the podium.
The lock also paid dividends at the recent Glasgow Commonwealth Games in the form of the 65kg freestyle gold and he has no doubts he would need it again at the Incheon Games.
"Well, this is my favourite hold, something I took a fancy to since my early days and worked hard to improve it," he added.
"It used to catch everyone in my village by surprise.
"It worked in the Olympics and I'm sure it will work in the Asian Games as well."
While successful with the leg lock Dutt, however, is quick to emphasise he is not a one-trick pony.
"You can't go into a bout armed with just one trick to outwit your opponent. Without fail, we practice six hours a day and much of it on honing those tricks.
"The 'gatta dao' or the 'ankle lock' is also pretty handy and can immobilise your opponent.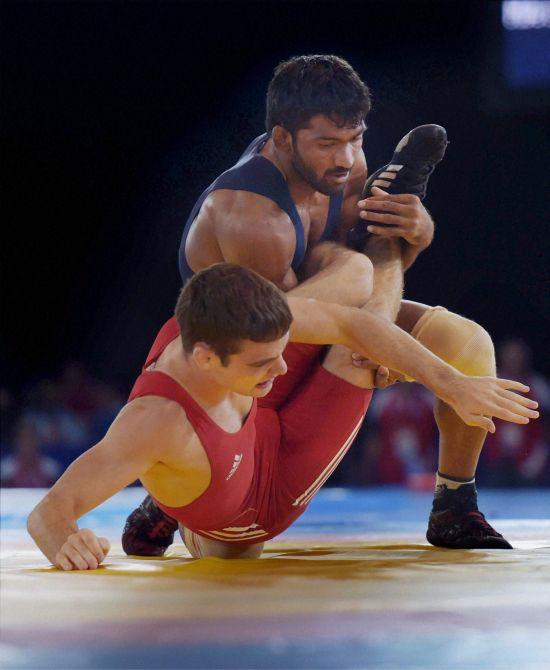 Yogeshwar Dutt in action. Photograph: PTI
"You can't go into a bout with pre-determined strategy. You have to act according to the situation and the position you are in. Again, wrestling is not about just power."
It's with this philosophy that Dutt will land in Incheon on Sunday, hoping to win his first Asian Games gold.
"Not just me, the entire wrestling contingent has had a perfect training and we're confident of winning five to six medals including a couple of gold.
"I won bronze in the 2006 Games and missed 2010 with a back injury. I have to win an Asian Games gold."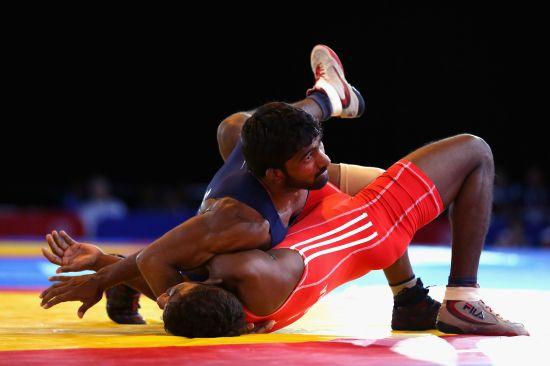 Yogeshwar Dutt of India.Photograph: Alex Livesey/Getty Images
He is so keen to add an Asian Games gold he skipped the world championships in Tashkent earlier this month.
"I decided to give it a miss because there is hardly 10 days gap between the two competitions and any injury there would have jeopardised my Asian Games participation, which I do not want.
"The world championship comes every year but Asian Games takes place once in four years.
"So the choice was not difficult for me."