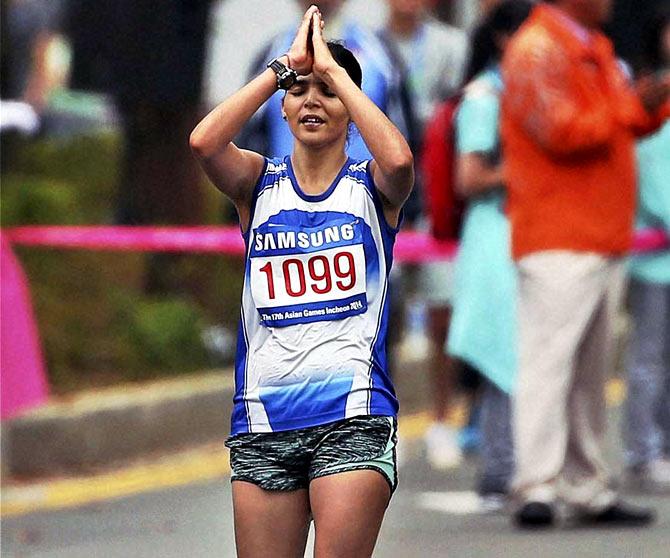 India's Khushbir Kaur celebrates after winning the silver medal in the women's 20km race walk. Photograph: PTI Photos
India's track and field athletes put behind the disappointment of denying an additional medal in the women's 3000m steeplechase event as they picked up one silver and three bronze on the second day of athletics competitions at the Asian Games in Incheon, on Sunday.

Khushbir Kaur clinched the silver medal in the 20km race walk before 400m runners Rajiv Arokia and M R Poovamma grabbed a bronze each in the men's and women's 400m respectively while Manju Bala secured a bronze in women's hammer throw to add to the growing medal tally from track and field events.

Lalita Babar on Saturday had won a bronze in the controversy-ridden women's 3000m steeplechase event to open the medal count for the country in athletics.

The jury's decision to reinstate Bahrain's Ruth Jebet as the gold medal winner after she had been stripped of the women's 3000m steeplechase title for an infringement of the running rules did not go down well with the Indian camp.

However, cheers were brought to the contingent when 20km race walker Khushbir timed her race to perfection to clinch the women's bronze medal in the gruelling event after being in third place consistently till between the 16 and 18km marks.

Khushbir clocked 1 hour and 33.07 seconds to take the second spot behind China's Lu Xiuzhi (1:21.52), who led from the start, and ahead of Jeon Yeonguen (1:33.18) who was overtaken by the Indian walker.

Khushbir, who scripted history by becoming the first Indian woman to win a medal in race walk in the Asian Games, was cautioned twice during the race but kept on walking in a determined fashion.

"I led the field and then was cautioned and pushed to second place. I got cautioned again between 16 and 18 kms and was pushed to third place, before I decided to go for the gold. I could not do so. This is my first medal in the Asian Games," said Khushbir.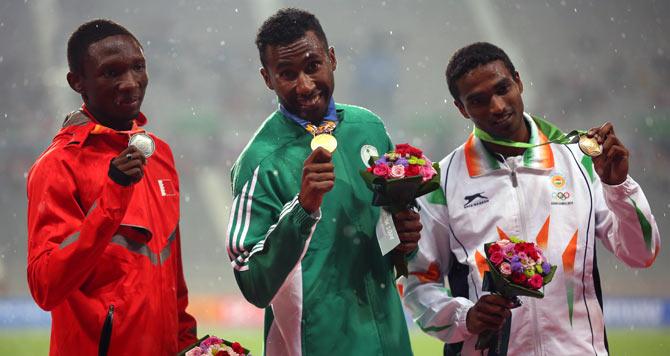 (Left to right): Silver medalist Abbas Abubakar Abbas of Bahrain, gold medalist Yousef Ahmed Masrahi of Saudi Arabia and Arokia Rajiv of India celebrate on the podium. Photograph: Brendon Thorne/Getty Images
The evening programme saw Karnataka's seasoned Poovamma make up for a slow start and get into medal contention on the back straight before settling for the bronze in 52.36, well below her personal best of 51.73 done in Lucknow during the National Inter-State Meet in June.

The gold was won by yet another of Bahrain's African import O M Adekaya in a fast 51.59 while Vietnam's Quach Thi Lan picked up the silver in 52.06, her personal best.

Poovamma's medal was expected, but not that won by Arokia Rajiv, the army runner belonging to Madras Regiment and based in Wellington, Ooty.

The Tamil Nadu runner, who had won his semi-final heat on Saturday, clocked a personal best time of 45.92 (his previous best being 46.13) and held off Japan's Yuzo Kanemaru's challenge for the bronze medal.

"I never expected a medal. I was aiming for 4th or 5th place. I am extremely happy. I am indebted to the army for this medal," said the athlete who had started as a long jumper before his coach made him a 800m runner first after seeing his endurance and then into a one-lapper after seeing his speed.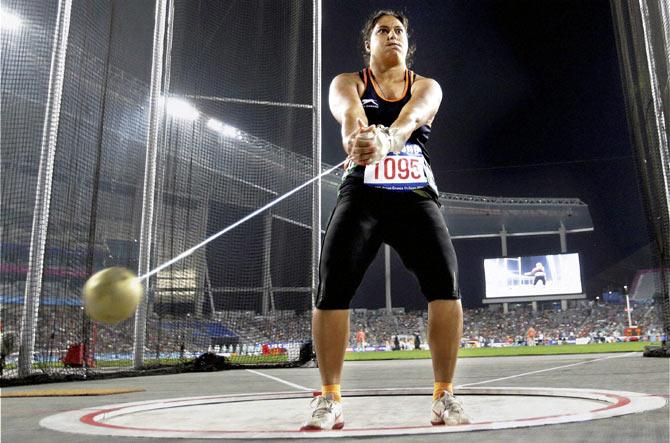 India's Bala Manju competes in the women's hammer throw competition. Photograph: PTI Photos
Manju Bala provided India with another medal -- bronze -- when she finished third in the women's hammer throw with a best heave of 60.47m which she did in her opening attempt.

She committed a foul off her next throw and was never in rhythm later as she threw two 60-plus throws interspersed in between with two very modest efforts of 57.80 and 57.19.

China swept the gold and silver with stupendous throws by gold winner Zhang Wenxiu, with a new Games mark of 77.33m, and her compatriot and Asian record holder Wang Zheng (74.16m).
India's K T Irfan, who had impressed in the London Olympic Games by finishing a highly creditable 10th, could not win a medal here too as he got into the fifth position in the men's 20km race walk in 1:23.18.
Irfan was far behind in eighth position in the first quarter of the event in which the gold medal was grabbed by China's Asian record holder Wang Zhen in a new Games record of 1:19.45.
He slowly crept up the ranks to be seventh by the 8-km mark and then improve it further to sixth that he maintained till 16kms. But try as he did, he could only improve on it marginally over the remainder of the race and ended up just behind fourth-placed Chinese Cai Zelin (1:27.56).
Japan's Yuseke Suzuki (1:20.44) and Korea's Kim Hyunsub (1:21.37) got the silver and bronze.
Siddhanth Thingalaya qualified for the men's 110m hurdles
Siddhanth Thingalaya participates in the 110m hurdles. Photograph: PTI
Siddhanth Thingalaya qualified for the men's 110m hurdles by returning one of the two best timings from among those who did not directly qualify as the top three finishers in the semi final heats.
The Mumbai hurdler clocked 13.74secs, below his personal best time of 13.65 that he had clocked at the Federation Cup at Patiala last month, to finish fifth in his heat. The final is scheduled on September 30.
The showpiece men's 100m sprint final held under lights but steady drizzle was won in style by Nigerian-born Femi Suen Ogunode of Qatar as he lowered both the Games and Asian records by clocking a superb 9.93 to thrill the big holiday crowd.
He took the lead from 40m and raced away to victory to break the previous seven-year-old continental record of 9.99 standing in the name of compatriot Francis Samuel Adelbari.