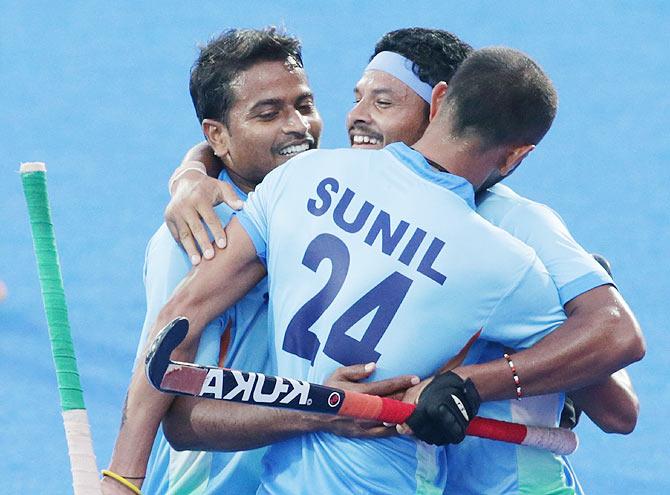 Birendra Lakra of India celebrates after scoring against China during their hockey men's Pool B match at the 2014 Asian Games at Seonhak Hockey Stadium in Incheon on Saturday. Photograph: Chung Sung-Jun/Getty Images
India eked out a hard-fought 2-0 win over lower-ranked China to progress to the semi-finals of the men's hockey competition at the 17th Asian Games on Saturday.
After a goalless opening 30 minutes, drag-flick exponent V R Raghunath (40th minute) and Birendra Lakra (45th) scored two goals in quick succession to give India a 2-0 lead at the end of the third quarter.
But the ninth-ranked Indians were far from impressive as their forwardline failed to break the defence of the 27th ranked Chinese despite enjoying the lion's share of ball possession.
Needing at least a draw to progress to the knock-out stage after the close 1-2 defeat against arch-rivals Pakistan, the Indians were slow to get off the blocks.
It was India who earned the first penalty corner in the 29th minute of the match but wasted the chance going for a variation even as drag-flicker Raghunath was off the pitch.
The Indians were hurt badly by the absence of their second drag-flicker Rupinder Pal Singh, who continued to warm the bench for the second consecutive match due to an injury sustained against Oman.
At the change of ends, the Indians came out with more purpose and unleashed an array of attacks on the Chinese goal which resulted in their second penalty corner.
This time Raghunath was bang on target with a powerful low flick to the right of Chinese goalkeeper Rui Xu to give India a 1-0 lead 10 minutes into the third quarter.
Five minutes later, India doubled their lead when Lakra scored with a fine field effort after a fine one-two with Akashdeep Singh.
India continued their attacking play and earned two back-to-back penalty corners at the start of the fourth and final quarter but Raghunath wasted both the opportunities.
China, on the other hand, were more reliant on counter-attacks and on a few occasions looked threatening only to be denied by an alert Indian defense.
By virtue of this win, India booked their place in the semi-finals as the second best team from Pool B where they play hosts Korea, while Pakistan will face Malaysia in the other last four match.