Annu Rani swelled India's medal tally at the Asian Games, winning a bronze in the women's javelin throw with a personal best of 59.53 metres, in Incheon, on Wednesday.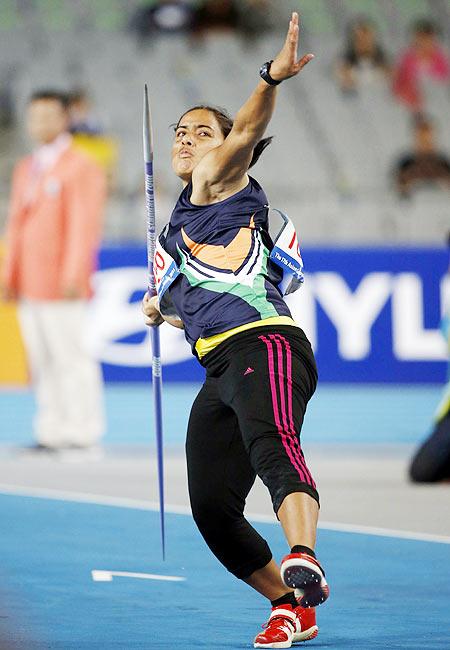 She achieved the mark in her first attempt and led the field for a while before being overtaken by China's Li Zhang and Lingwei Li, who won gold and silver respectively.
Annu's first attempt proved to be her best, as her later throws were far below than the first.
However, she bettered her own record of 58.83 metres, set in June at the National Championships in Lucknow.
Zhang Li set an Asian Games record with a best throw of 65.47m in her sixth and final attempt.
The Chinese bettered the Games' mark of 61.56m, set by Japan's Yuki Ebihara at the 2010 Guangzhou Games.
Ebihara (58.72) finished fourth, behind Annu.
Lingwei took silver with a throw of 61.43m, which she managed in her fifth attempt.
Image: India's Rani Annu competes in the women's javelin throw final at the Incheon Asiad Main Stadium during the 17th Asian Games on Wednesday.
Photograph: Jason Reed/Reuters