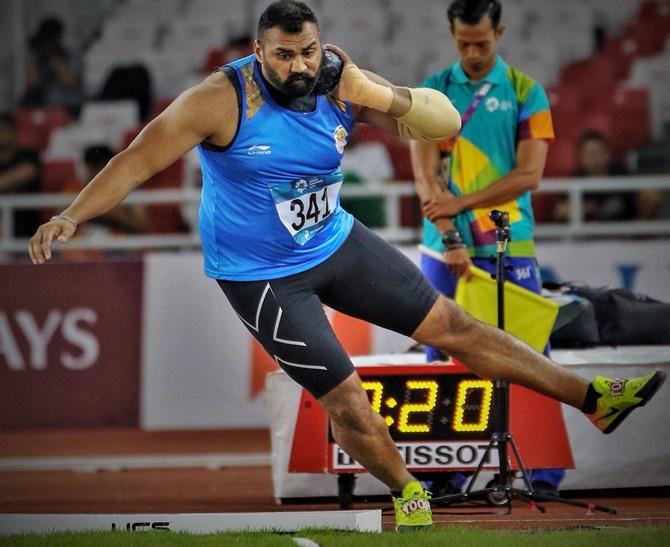 Had it not been for some prudent decision making by Tejinderpal Singh Toor's personal coach MS Dhillon, the star shot putter would have quit rather than shattering Asian Games record.
The 23-year-old athlete from Moga district in Punjab won a historic gold by hurling the iron ball to record-breaking distance of 20.75m.
When his father Karam Singh, who cajoled him into taking up shot put, was referred to an Army Hospital in New Delhi for chemotherapy, Tejinder wanted to focus on the treatment of his father.
Dhillon, who has been training Tejinder for the last five years, revealed that his ward could not give his best at the Commonwealth Games due to his father's cancer.
In fact Karam Singh's health deteriorated after Tejinder came back from Gold Coast.
"Prior to the Commonwealth Games, his father was serious but after he came back, he was more serious. His father was referred to Army Hospital in Delhi for chemotherapy. He was there for 10-15 days.
"On the second day, I called him and asked if you are training? He said: "I don't feel like practising and I am not getting time. I am losing my rhythm. I can't do it now. I want to quit."
Earlier, during an Inter-University competition, Tejinder had pulled out a couple of hours before his event knowing about his father's condition.
Sensing that years of hard work could have gone down the drain, Dhillon landed in Delhi with a mission -- to get his student's focus back to field from the hospital.
"I told him, 'No, you can't quit like this. The government is spending a lot of money on you and there are a lot of expectations from you'.
"I told him 'you are not required there at the hospital, the doctors are doing their job. We started training but it was light training but he was not into it mentally. Then we went to Patiala and trained for one week."
Tejinder was understandably still distracted and here Dhillon played a masterstroke.
"Sundays are for recovery. I thought he will go back home on off-days and chances are he again can get upset. Then I requested the Federation that they organise a camp in Dharamsala," recalled Dhillon, which meant that Tejinder couldn't visit his father, which could have shifted his focus.
"We did not come back for three months and only 15 days before the Games, we returned to Patiala to get acclimatized to the humid conditions, similar to Indonesia."
Dhillon said he also made sure that Tejinder reached Jakarta 10 days before the competition, though, initially they were to reach here only on August 21.
The coach said it's not just him but lot of other people who have help on shaping Tejinder's career.
"So many people came forward to help him. Friends, relative and also an organization, headed by Sant Gurmeet Singh, backed him financially. They assured him for treatment of his father. All this helped him regroup and remain strong."
A retired SAI coach, who has been personally entrusted to train Tejinder (expenses borne by SAI), Dhillon spoke about Tejinder's realistic chance at the 2020 Tokyo Olympics.
"He can gain one more metre in one year. You need at least 22m for Olympics. He will take time to reach 22m. The mindset important. If he thinks, that if others can do, I can also do, then has the ability to push himself.
Dhillon also said that peaking at the right time is important to win a big medal.
"When we came here, he was hitting 220 kg bench press. One day before the competition, I stopped him at 120kg. The body needs to tune up. He has never said no to training but I know his body strengths and prepare him accordingly."
Tejinder is a left-handed shot putter but Dhillon said it does not make a difference to the performance.
"It's a misconception (advantage to left-handers). Both hands are same at the time of birth. The one you use more, becomes stronger than the other."
"Tejinder has fitness, talent and natural rhythm but his strength was not great initially. He barely managed 120kg benchpress and 120-130kg full squats. Gradually, we increased the level. If you try to rush with weights, the muscle may become strong but it can cause injury to ligament."