'No, there was no pressure at all. I just came to compete and do my best'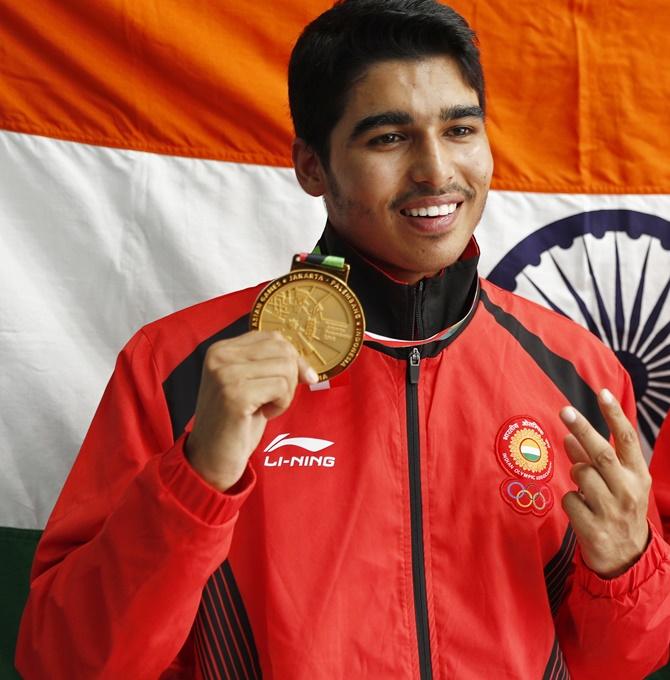 Shooting balloons and blowing bubbles in village fairs, Saurabh Chaudhary would dream of excelling in the Olympic sport one day.
Having an air rifle resting on his shoulders and taking aim at those blue, yellow and red balloons, acquaintances say, would make him feel like Abhinav Bindra.
Then, there came a time when Chaudhary would shoot day in and out, leading to participation in inter-school and inter-state meets and as pastime gave way to habit and habit to obsession, he found himself competing in national level tournaments.
Impressed, his farmer father, who owns almost 20 acres of land in his village, set up a shooting range at home.
The schoolboy honed his skills at the backyard and at national level shooter Amit Sheoran's academy in Baghpat, Haryana, which is around 15 kilometres from his UP village.
Doubly impressed with his son's progress, Chaudhary senior eventually bought the promising shooter, who was once fond of playing around with toy guns, a pistol.
Sugarcane farmer Jagmohan Singh was filled with hope despite some apprehensions.
That was some years ago.
Some years later, Bindra, the country's lone individual Olympic gold medallist would end up calling himself a 'sissy' when compared to this new generation of Indian shooters, of whom the 16-year-old from Kalina village in Meerut has become an integral part.
Bindra expressing his admiration for this supremely talented and confident bunch of teenagers -- which includes Anish Bhanwala, Manu Bhaker (notwithstanding her sixth-place finish in 25m pistol), Elavenil Valaviram, Mehuli Ghosh and Chaudhary -- best sums up their astounding achievements in recent times.
Baby-faced, ineligible to drink and drive and not old enough to even perhaps understand the enormity of the feat he has scaled, it was no surprise then when Chaudhary said he 'did not feel any pressure' while shooting in the 10m air rifle event of the ongoing Asian Games in the Indonesian port city of Palembang.
"No, there was no pressure at all. I just came to compete and do my best. I have trained hard, have been in good form and got good results," he had said after winning the biggest medal of his career on Tuesday.
He created ripples at home and away. He was picked ahead of multiple time gold medallist Jitu Rai and in his first competitive senior tournament, trumped men with enviable record.
Japanese Tomoyuki Matsuda is a two-time world champion and Korea's Jin Jong-Oh, with four Olympic gold medallist and three World Championships titles, is one of the greatest to have played the sport.
Chaudhary prevailed and in his faraway village, his father was filled with pride as the family members celebrated.
"We feel proud because he has made the country proud," he said.
"There is still a long way to go."