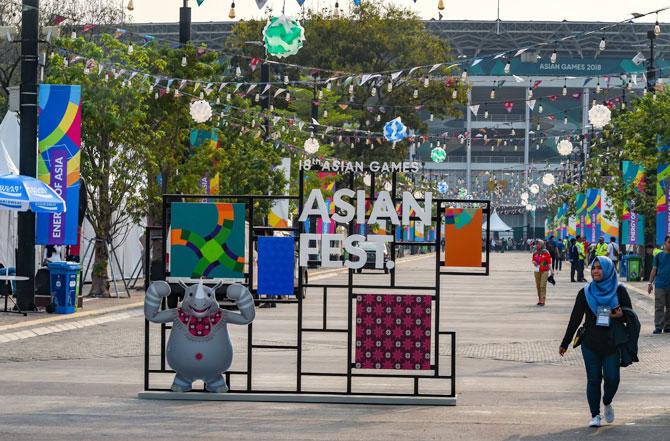 The worst fears about traffic in Indonesia are coming true but there is unmistakable warmth all around as the city welcomes participants of the 18th Asian Games, beginning in Palembang and Jakarta on Saturday.
While the Indonesian capital Jakarta is notorious for its traffic jams (it made President Joko Widodo walk two kilometers last October); Palembang, the capital of South Sumatra province, is not far behind.
The 8km drive from city centre to main venue Jakabaring Sport City can take close to an hour.
"Sometimes it could be even more. You never know about traffic in Palembang. It is not as bad as Jakarta but it is bad enough," said one of the many affable volunteers stationed at the Sultan Mahmud Badaruddin II International Airport in Palembang.
And it did take an hour when one set off to recce the Jakabaring Sport City from a city hotel. The busy roads, accommodating more bikes than cars, reminds one of the traffic troubles back in India.
Palembang was chosen as the Games co-host primarily because the infrastructure was already in place with the city, situated on the banks of Musi river, hosting the Southeast Asian Games in 2011. Otherwise, the narrow roads and an ill equipped public transport make the job tougher for the organisers.
Not long ago, President Widodo had asked the organisers to intensify promotion of the Games in the build-up to the mega event but a slight buzz is palpable in Palembang.
"In fact most of the people think that we are hosting the Southeast Asian Games again. Only this time, it is a much bigger event. They are really excited," said an official stationed at the Main Press Center.
However, the shortcomings in infrastructure are easily forgotten when the locals greet visitors with infectious smiles. The volunteers, a mixture of young boys and girls, deployed at the airport, major city hotels and competition venue go out of their way to help.
Language is an issue but not a barrier as they are still able to express their love for Bollywood stars Shah Rukh Khan and Amitabh Bachchan. SRK though has a much bigger following than his celebrated senior.
"We don't understand the language but we love Shah Rukh Khan," said a bunch of volunteers, who even make the Games' visitors feel like celebrities.
One way they show their warmth is by asking for Selfies.
"India is a huge country and we as Indonesians are excited to have you here and also each and every member of other countries. It is a big moment for us," said an official.
More than 11,000 athletes from 45 countries are set to compete at the multi-sporting event, the second biggest after the Olympics.
Athletes happy with buffet but wish for bigger rooms
Athletes including Indians have given a thumbs up to the variety of food on offer at the Asian Games' Village here but say they would have been better off with more space in their accommodation.
"Rooms are on the smaller side. It has three beds each and a single bathroom. It would have been better if they had more space. You feel a bit cramped but it is okay. It is the same for everyone," an Indian athlete said on Friday.
Furusho Daijiro, captain and coach of the Japanese women's tennis team, said it would have been nicer to stay in bigger rooms.
"Yes, they are a bit on the smaller side but it is fine. It is the same for everyone. That is the beauty of being part of a multi-sporting event like the Asian Games and Olympics.
"But I really like the food being served. They have a nice mix of Indonesian and world cuisine," said Daijiro, who fondly remembers his playing days alongside former India Davis Cupper and current coach and captain Zeeshan Ali.
Indian food is also on offer and the country's athletes are not complaining.
"As an athlete you have to be used to all kinds of cuisines but it is always nice to have the Indian food option. Sometimes you only want to eat. So food-wise there is nothing to complain.
"The rooms are on the smaller side but it is not much of an issue. Everyone adjusts and we have adjusted too," said another Indian athlete.
Shooters, rowers and tennis players form a chunk of the Indian athletes staying at the Palembang Games' Village. The bigger Games Village is in Jakarta. It is the first time that the quadrennial event is being co-hosted by two different cities.
"It is always a challenge to do it in different locations but going forward this could become the norm as it benefits the economy of both the places," Indonesian Asian Games Organising Committee chief Erick Thohir had said in the lead-up to the event.