Deepika Kumari, India's best bet in women's archery, showed good form to finish eighth in the ranking round of the women's individual recurve event at the Gyeyang Asiad Archery Field in Incheon on Wednesday.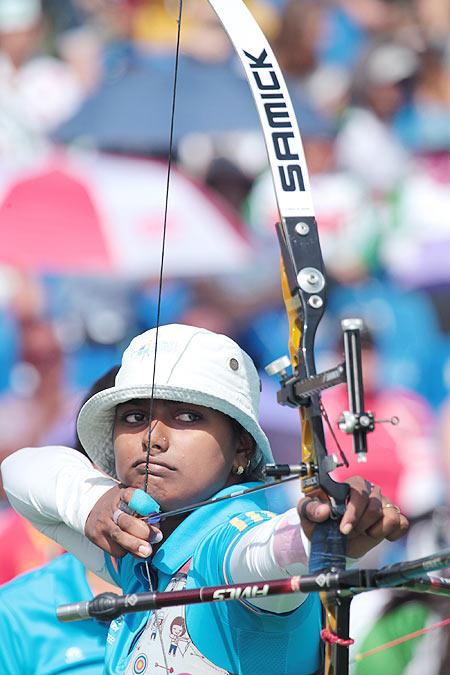 The 20-year-old Ranchi-born archer, a double gold medal winner at the 2010 Commonwealth Games in New Delhi, had a combined score of 1337 over four distances -- 70m, 60m, 50m and 30m -- and now will take on Uzbekistan's Munira Nurmanova in the pre-quarter final elimination round on September 26.
The three other Indian women -- Laxmirani Majhi, Laishram Bambayla Devi and Pranitha Vardhaneni -- had rankings of 15, 20 and 30 with respective scores of 1319, 1301 and 1271.
Deepika and Laxmirani have advanced to the individual elimination rounds, the latter dueling against Sharbekova Asel of Kyrgystan.
Following the quartet's show, India's rank was 5th in the team event with a score of 3957 which was well behind those of strong gold-medal favourites South Korea (4081), China (4044), Japan (3994) and Chinese Taipei (3966).
India, (team comprising Deepika, Laxmirani and Bombayla Devi) will take on Hong Kong in the team quarter-finals.
The Indian men's team was ranked 6th with a total score of 3923 behind Korea (4101), Japan (4001), Malaysia (3955), Taipei (3951) and China (3928) over the distances of 90, 70, 50 and 30m.
Atanu Das finished with the best score of 1316 among the Indian men with an overall ranking of 17th followed by Jayanta Talukdar (1307, 17th)), Tarundeep Rai (1300, 22nd) and Rahul Banerjee (1296, 25th).
Das and Talukdar will be seen in the individual elimination round and in the team eliminations with Rai.
The elimination round of the compound event will be held on Thursday and India's Abhishek Verma, Sandeep Kumar (individual) along with Rajat Chauhan (third team member) would be seen in action.
In the women's elimination, Trisha Deb and Purvasha Shende have made the individual elimination round and will also figure in the team elimination with Jyoti Surekha Vennam.
Image: India archer Deepika Kumari takes aim
Photograph: Dean Alberga/World Archery Federation via Getty Images