Yasuhito Endo chalked up another milestone in his storied career when Japan beat Iraq in the Asian Cup on Friday, yet his single-minded focus on team first was evident for all to see.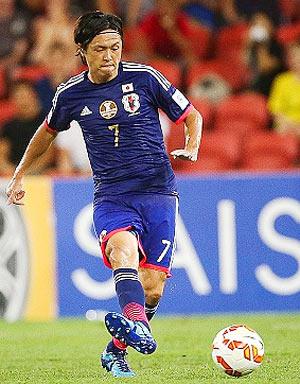 The 34-year-old recorded his 150th cap for his country in the 1-0 victory in Brisbane, though the win was still not enough for Japan to advance to the quarter-finals from Group D until the final round of matches on Tuesday.
"If we lose to Jordan, there's no telling what can happen," Endo told the AFC website about the tricky situation in the group, where Japan lead on six points, though both Iraq and Jordan have three points.
"We need to take the lessons from this game and apply them to the next one. We want to win the group."
Endo did at least acknowledge his own personal milestone as he extended the record for Japan caps.
"I'm happy I got to 150; it's nice to be able to mark it with a win," he said.
"Playing for the national team has been a career goal but I never thought I could get this far. But I'm not about to stop. I hope I can keep going (and) ...it will give me something to brag about when I retire."
Retirement seems far from the immediate plans of the attacking midfielder, who turns 35 on Jan. 28, three days before the tournament final at Sydney's Olympic Stadium.
After his first professional club Yokohama Flugels folded, Endo spent two seasons with Kyoto Sanga before he moved to Gamba Osaka in 2001.
Gamba were hardly heavyweights at the time in Japanese soccer, but Endo joined them as Akira Nishino laid the foundations for a run of success that included their first J-League title in 2005 and the Asian Champions League in 2008.
The dead-ball specialist, who was named the AFC Player of the Year in 2009, has made no secret of his desire to test himself overseas and trade rumours to some of the bigger clubs in the European leagues have punctuated his career.
Those rumours again resurfaced when Gamba were relegated for the first time on the final day of the 2012 season, despite scoring more goals than champions Sanfreece Hiroshima.
While a former target for EPL club Liverpool, nothing eventuated for the then 32-year-old and he stayed with the Panasonic-owned club.
Gamba bounced straight back to the top tier of the J-League and then Endo drove them to the domestic treble last year, winning the title, the J-League Cup and the Emperor's Cup.
He was also named as the J-League Player of the Year.
Despite his club success, Endo was thought to have been a casualty of new coach Javier Aguirre's new broom through the team after a poor World Cup campaign.
He was not picked at all by the Mexican for his first four games in charge as he tested the depth available to him in a series of friendlies.
A 4-0 drubbing from a Neymar-inspired Brazil in October, however, forced Aguirre's hand and he realised he could not experiment any further ahead of their title defence and Endo was brought back for his fourth Asian Cup.
"This is my fourth (Asian Cup), so I want to give the team the calmness and stability that we need," Endo said prior to his side's first game against Palestine.
"I hope, as we play matches and win matches, we can improve ... as a team just as we did four years ago."
Image: Yasuhito Endo
Photograph: Getty Images