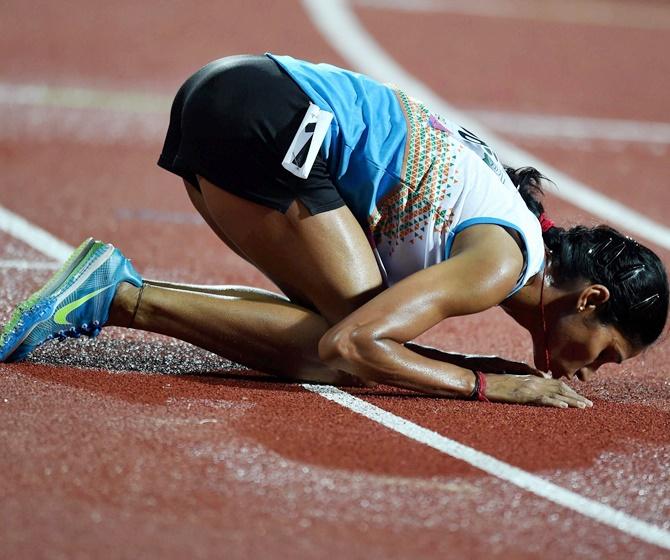 IMAGE: Sudha Singh of India reacts after winning the gold in the 3000m steeplechase during the 22nd Asian Athletic Championships. Photograph: PTI
Sudha Singh clinched a gold in women's 3000m steeplechase event to swell India's medal tally on the third and penultimate day at the 22nd Asian Athletics Championships in Bhubaneshwar on Saturday.
The Uttar Pradesh athlete won the race in 9 minute 59.47 seconds to grab the first gold of the day for India in front of a packed crowd at the Kalinga Stadium.
Sudha, who had also won a silver each in the 2009, 2011 and 2013 editions, was a gold medal contender in the absence of compatriot Lalita Babar, who skipped the event after her recent marriage, and Bahrain's world and Asian record holder Ruth Jebet.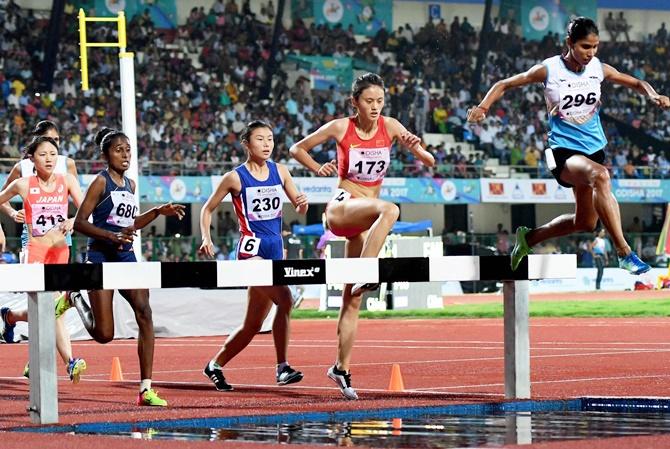 IMAGE: Sudha Singh of India leads the pack in the 3000m steeplechase. Photograph: PTI
The 31-year-old Sudha led from the very beginning, and after running together for a while along with the other five competitors, broke away around the halfway mark and left all her rivals way behind to win the gold. She took a lap of honour after her win.
It was a creditable sub-10 minute win for Sudha who has been away from training for several months after she suffered from swine flu on her return from the Rio Olympic Games last year.
North Korea's 18-year-old Hyo Gyong was a distant second in 10:13.94 while Japan's Nana Sato took the bronze in 10:18.11.
"I am very happy to win this gold. This is my top level competition after Rio Olympics. I was down with swine flu after the Rio Olympics and I was down for five-six months and after that I started training slowly and steadily. So, this win is special. It is a slow timing but the conditions are not that good," she said after her win.
"My coach told me not to hang around for long. He told me to break away from the rest and not wait for the final moment. That was what I did," she added.
Asked about next month's World Championships for which she has qualified after today's win, she said, "World Championships is a big challenge for me. I want to do well there and I want to break national record."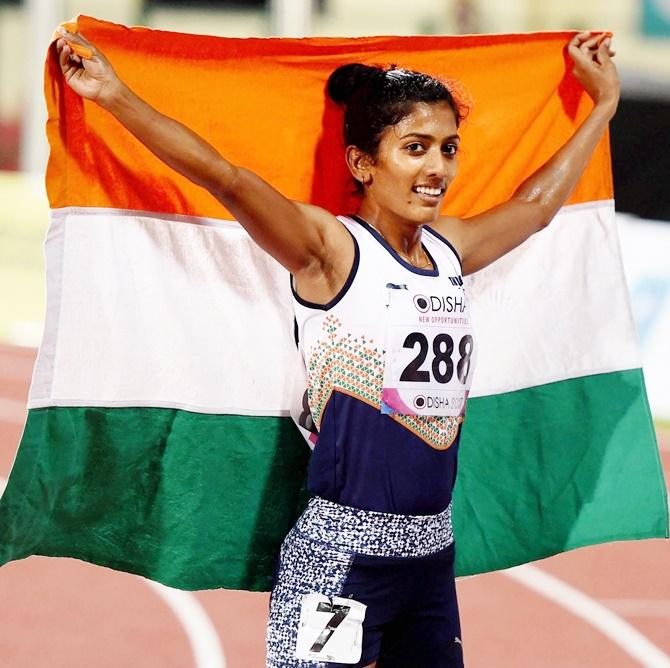 IMAGE: India's Anu Raghavan celebrates after winning the silver medal in the 400m hurdles. Photograph: PTI
Anu Raghavan added a silver in the women's 400m hurdles, while woman triple jumper N V Sheena, man 400m hurdler Jabir M P and the women's 4x100m relay team grabbed a bronze as India
took one gold, one silver and three bronze.
With one day left in the championship, India remained on top of the medal tally with 7 gold, 4 silver and 9 bronze.
China are second spot with 5 gold, 6 silver and 4 bronze while Iran are on third with 4 gold and 1 bronze.
IMAGE: India's women team celebrate after winning the bronze medal in the 4x100m relay. Photograph: PTI
Home crowd favourite Dutee Chand grabbed her second bronze of the championships as she encored the host 4x100m relay team to third place event in 44.57 seconds. The other members of the quartet were Srabani Nanda, Himashree Roy and Merlin K Joseph. Kazakhstan took the gold in 43.53 seconds while China won the silver in 44.50secs.
In women's long jump, Sheena was lucky as she grabbed the bronze with her final effort of 13.42m. Jabir then added an unexpected bronze in men's 400m hurdles, clocking a personal best of 50.22 seconds behind Eric Shawn Cray (49.57) of Philippines and Chen Chieh (49.75) of Chinese Taipei.
However, in men's 3000m steeplechase, Naveen Kumar, a bronze medallist in 2014 Asian Games, and Durga Das Budha finished a disappointing seventh and eighth in 9:02.95 and 9:04.05 respectively.
In men's 110m hurdles, India's Siddharth Thingalaya finished fifth in 13.72 seconds. Kuwait won both the gold and silver with Abdulazia Al-Mandeel and Yaqoub Al-Youha clocking 13.50 and 13.59 respectively.
Controversy marred men's 100m dash final
The men's 100m sprint event was mired in controversy after Malaysia's Khairul Hafiz, who was disqualified for a fault start, lodged a protest which resulted in the disqualification of another athlete.
Qatar's Tosin Joseph Onugode was disqualified on Saturday by the technical delegates on the ground after being found to have false-started upon examining the print outs of the reaction time of the competing athletes while coming out of the blocks.
Tosin is the brother of Femi Seun Onugode, the defending champion, who was stunned by Iran's Hassan Taftian in the competition.
The disqualification did not change the medal standings as Tosin had finished fifth in Friday's race which had seen another athlete, China's Tang Xingqiang, also disqualified for fault start.
Malaysian Hafiz's demand in the protest application to re-run the race was rejected by the technical delegates.
The Malaysian team also lodged a protest, citing doubts over the equipment used by the starting officials.
However, the jury of technical delegates rejected it, saying that all the equipment used were certified by the world governing body, the IAAF.