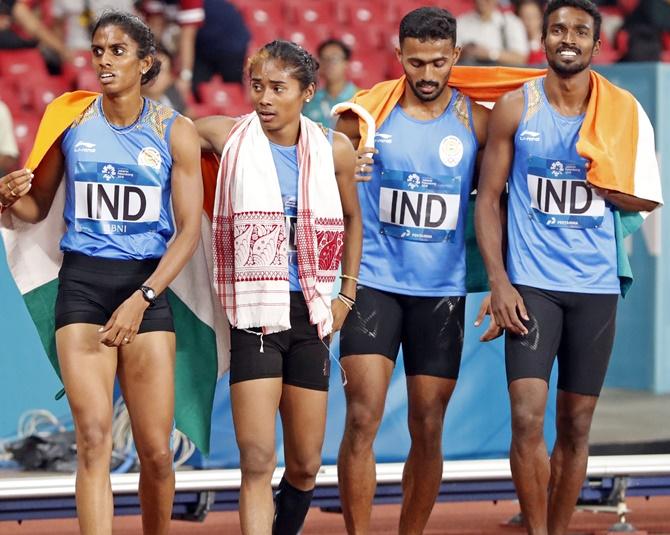 India's silver medal in the 4x400m mixed relay will not be upgraded to gold after the country's protest against champions Bahrain was rejected by the Asian Games' Jury of Appeals for the athletics competition, in Jakarta, on Wednesday.
India had lodged a protest, stating that a Bahraini runner had caused obstruction to Hima Das during the relay race in which India finished second after M R Poovamma frittered away a good 30m lead.
The Indian quartet of Muhammed Anas, Poovamma, Hima and Arokia Rajiv had clocked 3 minute and 15.71 seconds to finish behind Bahrain (3:11.89) in the event which was making a debut in the Asian Games.
India's protest was admitted by the jury of appeals last night but was rejected on Wednesday.
"We presented our case and after due deliberation, the jury rejected our appeal. So the result stands, we are the silver winner," an Indian team official said.
Anas had begun in spectacular fashion as he opened up a huge 30m lead over his Bahraini rival and handed over the baton to Povamma.
However, Poovamma squandered the lead. By the time she passed on the baton to Hima, Bahrain had created a huge lead.
As Hima got the baton, she had to change her lane and sidestep Bahrain's Oluwakemi Adekoya who fell before her, obstructing her way, after passing on the baton to Salwa Naser.
Hima could not cover the distance as Salwa pulled away quickly, leaving Anas with an unenviable job of covering at least 50m lead.
In the end, India finished with a timing of 3 minute 15.71 seconds, which was about four seconds slower than winners Bahrain (3:11.89).
Kazakshtan finished third with a timing of 3:19.42.