Battling a spate of injuries and non-selection of two star players – Sandeep Singh and Sardara Singh -- double defending champions India will be looking to complete a hat-trick of titles in the Sultan Azlan Shah Cup hockey tournament that begins in Ipoh, Malaysia, on Thursday.
Five-time gold medallists at the Azlan Shah Cup, India were adjudged joint winners along with South Korea last year when the final was disrupted by bad weather.
The Indians had earlier won the Cup outright in 2009, and currently share the tournament record of five titles with Australia, who are seeking to test their new crop of players ahead of next year's London Olympics.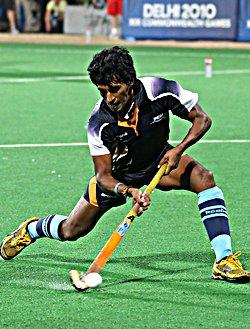 The seven-nation round-robin tournament, which will end with a title showdown on May 15 between the top two placed teams, also feature Asian Games champions Pakistan, Asian Games silver medallists Malaysia, Great Britain, South Korea and New Zealand.
Pakistan and hosts Malaysia have retained the bulk of the Guangzhou Asian Games squad.
Last year's gold medal at the Asian Games has provided a new-found belief to the Pakistan side, which had not won any significant title since the 1994 World Cup, while Malaysia are reaping the dividends of investing in young players over the past few years.
Injured former captain Rajpal Singh and Tushar Khandekar's absence could affect the Indian team's strike power, while the decision to keep out Sandeep and Sardara will put additional pressure on India's defence.
Sandeep and Sardara were not considered for selection as they did not secure sanction from the national federation before proceeding to play in the Belgian League. The duo also did not report for a preparatory camp in New Delhi ahead of the tournament.
Seasoned striker Arjun Halappa will lead the Indian team, which is banking a lot on its midfield.
The shock semi-final loss to Malaysia in the Asian Games has forced India once again to play the Olympic qualifiers.
In the 2008 Beijing Games, eight-time champions India failed to feature in the starting line-up of the Olympics for the first time in 80 years.
India's chief coach Harendra Singh, expectedly, said the competition in Ipoh will be tough, as most of the teams are looking to fine-tune their line-ups in the run-up to the 2012 Olympics.
Incidentally, Harendra was deputy to former chief coach Jose Brasa at the Asian Games and widely criticised for announcing his resignation in the middle of the event after India's semi-final defeat to Malaysia.
Even though Indian hockey officials were reported to be in favour of a foreign coach, Harendra was again put in charge as they could not find a replacement for Brasa.
Warming up for the tournament with a 5-3 victory over New Zealand on Tuesday, the Indians are bracing to take on South Korea in their tournament-opener on Thursday followed by a game against Britain 24 hours later.
Ahead of Thursday's match, the Indians will be taking heart from the fact that they had defeated South Korea to claim the Asian Games bronze in Guangzhou.
Much to the liking of India, the Koreans are persisting with a young team here as they are presently in a transition phase with several established players set to fade away soon.
In the warm-up game against New Zealand, India scored from penalty-corners through Dhananjay Mahadik (2), Rupinder Pal Singh (2) and Baljit Singh Chandi, while Matt L'Huiller slammed home a hat-trick in his debut game for the Black Sticks.
Among other teams in fray, Britain draws a majority of its players from the England line-up, which won the European Cup two years ago and made the semi-finals of the 2010 World Cup in New Delhi.
It will be India's first encounter against the British side since the Commonwealth Games semi-finals when the Indians fought back gallantly in the closing stages of the match to score a win.
Asian Games champions Pakistan, three-time Azlan Shah winners, are backing themselves to reclaim the title after eight years.
Hosts Malaysia, who have never won the tournament, are looking to improve upon their three silver medals, while Australian coach Ric Charlesworth is hoping to test his second-string side in the absence of half a dozen players from his 2010 squad that became the first team to clinch the World Cup, Champions Trophy and Commonwealth Games in the same year.
The Azlan Shah Cup was the only event last year which the Australians failed to emerge on top of the pedestal.
Tournament fixtures:
May 5: Pakistan vs New Zealand, India vs South Korea, Britain vs Malaysia.
May 6: Pakistan vs South Korea, India vs Britain, Australia vs Malaysia.
May 8: India vs Australia, Britain vs Pakistan, South Korea vs New Zealand.
May 9: Australia vs Pakistan, Britain vs New Zealand, India vs Malaysia.
May 11: New Zealand vs Malaysia, Australia vs South Korea, India vs Pakistan.
May 12: Australia vs Britain, India vs New Zealand, South Korea vs Malaysia.
May 14: Britian vs South Korea, Pakistan vs Malaysia, Australia vs New Zealand.
May 15: Final.