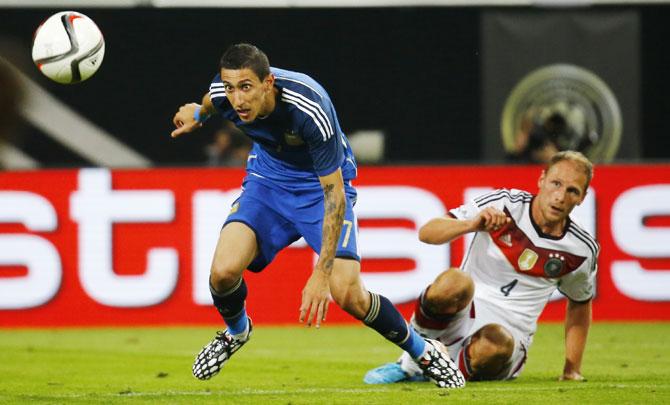 Argentina's Angel Di Maria scores a goal past Germany's Benedikt Hoewedes (right) during their friendly match in Duesseldorf. Photograph: Kai Pfaffenbach/Reuters
A brilliant performance from Angel Di Maria spurred Argentina to a crushing 4-2 friendly win over world champions Germany on Wednesday in an entertaining rematch of July's World Cup final.
Despite the absence of injured captain Lionel Messi, Argentina ran circles around the World Cup winners on their home turf in the first match for both teams since Germany's 1-0 extra-time victory in the final in Brazil.
So impressive was the performance of the Argentine winger, who had missed the final through injury, in the Duesseldorf arena that even many of the German fans applauded his performance when he was replaced late in the match.
Germany coach Joachim Loew put only four of the starting 11 that won Germany's fourth World Cup on the pitch in the warm-up match for their Euro 2016 campaign that starts on Sunday against Scotland.
Captain Philipp Lahm, striker Miroslav Klose and defender Per Mertesacker, who all retired following the World Cup triumph, were hailed by the sell-out crowd of 51,132 while several other key players were missing through injury.
The inexperienced Germany defence could not contain new Manchester United signing Di Maria in the first half but also left lots of open space for lightening counter-attacks by moving deep into Argentina's territory.
Di Maria set up the first goal in the 21st minute with a pinpoint lob to the penalty spot where Sergio Aguero slipped away from his marker and beat Manuel Neuer with an unstoppable volley from point-blank range.
Nineteen minutes later Di Maria broke free on the right near the goal line where he lofted a cross back to Erik Lamela, standing in for the injured Lionel Messi, who smashed a fine volley past a frustrated-looking Neuer.
Central defender Federico Fernandez headed the third two minutes after the intermission from Di Maria's free kick before the winger made it 4-0 with a superb chip in the 50th minute.
"Di Maria is one of the best four or five players in the world and so his performance didn't surprise me," said Argentina's new coach Gerardo Martino, adding he could have possibly made a difference had he been on the pitch in July.
"His absence there was noticeable," Martino told a news conference looking back to the World Cup final.
But Loew later told reporters he did not think Di Maria would have made a difference in the final.
"We would have beaten them on July 13 even if Di Maria had been playing," Loew said, a statement that prompted some German reporters to applaud. "He couldn't have beaten us on that day."
Germany came into the match still aglow over their World Cup win in Brazil but were facing a rout when they fell behind 4-0.
Andre Schuerrle finally gave the big home crowd something to cheer when got one back for Germany in the 52nd minute, tapping in after a scramble in front of Sergio Romero's goal and World Cup hero Mario Goetze made it 4-2 in the 78th minute.
Germany had plenty of chances themselves, especially in the first half, but were wasteful in front of goal.
Forward Mario Gomez, who missed the World Cup due to injury, reminded German fans of another reason he may have been left at home as he wasted three chances in the first half and was jeered at halftime before being replaced early in the second.
"It was a long time with injuries for me but it's great to be here," Gomez told reporters. "Argentina are a great team and against teams like that you can't afford to rest for even a second."