'I've been better than them (Nadal, Federer, Djokovic) for the last 12 months, that's how the ranking systems work'
'I don't want to stop in two years. I want to keep playing. Who knows where I am going to be in a few years'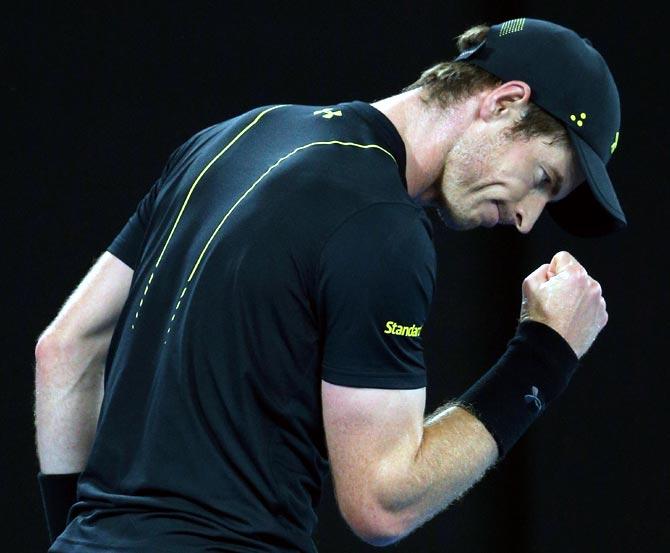 IMAGE: 'When I go out, I'm really trying to get better and learn stuff and improve'. Photograph: Michael Dodge/Getty Images
World number one Andy Murray will continue to play for as long as he remains fit enough to compete and is hopeful that his love of tennis could see him target a third Olympic title at the 2020 Games in Tokyo.
"So long as I'm fit and healthy and enjoying playing I'll do it as long as I can," Murray, who is making the final preparations for the defence of his Wimbledon title, told the Guardian newspaper.
"I don't want to stop in two years. I want to keep playing. Who knows where I am going to be in a few years," the Briton added.
"When I go out, I'm really trying to get better and learn stuff and improve. There's a point to me doing it."
The 30-year-old, who will be looking to claim a record-extending sixth title at this week's Aegon Championships in London, believes a third straight Olympic gold medal is a realistic goal but is not taking selection for granted.
"I would hope to still be playing at the next Olympics," he added.
"I don't think that would be how I would judge when or if I'm going to stop, based on just trying to make it to the next Olympics.
"Maybe I might not even be in the Olympics ranking wise or there might be more British guys ahead of me at that time."
Murray also lashed out at legendary American tennis player John McEnroe over his claims that the world number one should be still seen as "a distant fourth" in comparison with the three other members of the Big Four.
When asked about McEnroe's comments on the eve of the grass-court tournament, Murray though admitted that Roger Federer, Rafael Nadal and Novak Djokovic had achieved more over the course of their careers.
"For me, it doesn't matter what anyone else thinks. I'm very proud of the Olympic medals, they mean a lot to me. Within tennis, a lot of people just go 'oh that guy was a better player because he won more Grand Slams than that one or that woman was better because she won more Grand Slams'," Sport24 quoted Murray as saying.
Murray further said that he has been better than the three of them in the last one year which is why he is currently ranked the world number one.
"If you look at the titles and everything those guys have won, I can't compare myself to them. There's maybe one or two things that I have done that they won't have but for the most part I would have been fourth. But it's not true of the last year because I'm ranked number one in the world. I've been better than them for the last 12 months, that's how the ranking systems work," he added.
The 30-year-old, who is seeking his sixth Queen's Club triumph, has struggled this year, while Nadal and Federer have enjoyed unexpected revivals.
Murray has three grand slam titles in his account in contrast to Federer's 18, Nadal's 15 and Djokovic's 12.
Top-ranked Murray will begin his Aegon Championship title defence against fellow countryman Aljaz Bedene on Tuesday.