Briton Andy Murray has been building momentum all year and hopes he can cap it off by winning his first grand slam title at the U.S. Open.
"I believe that if I play well, I can obviously win the tournament," world number two Murray, last year's runner-up to Roger Federer, told Reuters in an interview on Tuesday.
"You need to be able to last physically and I think I am able to do that now. Coming into this U.S. Open, it's probably the best I've felt coming in."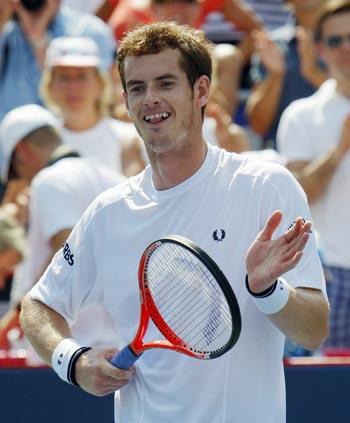 Murray said fitness was a top priority for him and that he was pleased with his training.
The Scotsman has added former Spanish professional Alex Corretja to his support team headed by coach Miles Maclagan and the move has already paid dividends.
Having spent several weeks after Wimbledon undergoing intensive training in Miami, the Briton marked his return to the tour by triumphing at the Montreal Masters earlier this month and reaching the last four in Cincinnati.
Aiming to become the first Briton since Fred Perry in 1936 to win a grand slam tournament, Murray was in New York to show off his new Fred Perry tennis kit for the championships which begin on Monday at Flushing Meadows.
Despite carrying the hopes of British fans starved for success, Murray said he did not feel outside pressure to end the drought in the slams.
"I put a lot of pressure on myself to do it," he said. "At 22, I feel like I've achieved quite a lot for my age.
"I got to my highest ranking at two, won a lot of the second tier tournaments.
BEST RESULT
"This year I equalled my best result in Australia (last 16), did two rounds better than I ever did at the French (quarter-finals) and got further than I have done at Wimbledon (semi-finals).
"So now the slam is the last thing I need to do. I believe that I can do it."
Murray, who has won five titles this year, looked over the skyscrapers framing the roof-top court in midtown where he had just enjoyed a hit-up, and spoke about his affection for the Big Apple and the season's final grand slam.
"That's what I love about the U.S. Open, the atmosphere," said Murray, who won the U.S. Open junior title in 2004.
"The tennis is great. It's very different from the other slams, the night sessions and the centre court -- I think it's the best court in tennis. It's massive."
Murray said he felt right at home on the fast hardcourts in New York and took away positive memories from the 2008 Open.
"Last year, it was great," he said, despite some unlucky scheduling and rain that interrupted his semi-final against Rafael Nadal. "It was the first time I played in a slam final.
"I love it, I've loved playing there since I was young. I really enjoy New York City. There's so much energy there. Hopefully, I'll play well."