All the top action from Day 6 of the 2022 Winter Olympic Games in Beijing on Thursday.

Rocket man Chen soars to gold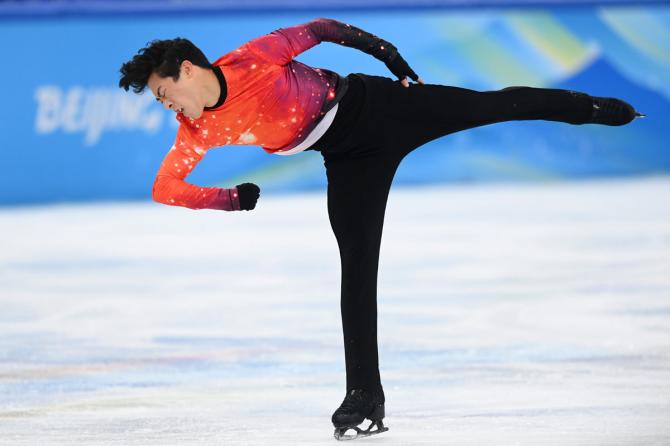 American Nathan Chen achieved a spectacular redemption when he claimed the men's figure skating title in dazzling fashion at the Beijing Olympics on Thursday.
The 22-year-old, who had left empty-handed after a meltdown in Pyeongchang four years ago, scored 218.63 in the free skating performing to "Rocket Man" by Elton John. That added to his world-record in the short programme for a total of 332.60.

Yuma Kagiyama (310.05) was second and fellow Japanese Shoma Uno (293.00) ended up third.

Yuzuru Hanyu, who was hoping to win the event for the third time in a row, finished fourth on 283.21 after the Japanese great dropped out of title contention in the short programme.

He was also looking to become the first skater to land the quadruple Axel in competition but the 27-year-old failed to deliver, also falling on a quadruple Salchow.

Chen, coming into the Olympics having been defeated only once - at last year's Skate America - since his Pyeongchang setback, delivered a masterclass at the Capital Indoor Stadium.

Wearing an orange and purple top decorated with stars in space in a nod to his medley of Elton John songs, Chen displayed power, grace and precision, landing four quadruple jumps as he triggered some rare cheering from a usually near-silent crowd.

Kagiyama, Uno and Hanyu watched in awe as Japan's double Olympic champion knew he would have to make way for Chen, who exited the ice showing unusual signs of jubilation.

Russian Valieva at practice after reports of failed drug test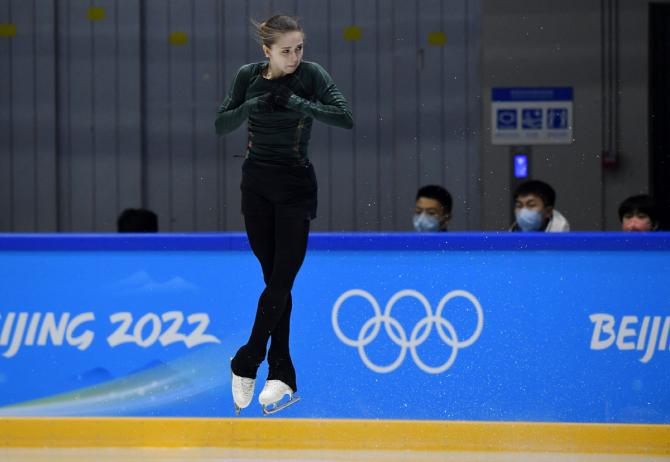 Russian figure skating sensation Kamila Valieva showed up for her scheduled practice at the Beijing Olympics on Thursday after Russian media reported the 15-year-old had tested positive for a banned substance.

The teenager was part of the Russian Olympic Committee (ROC) ensemble that won the figure skating team event on Monday, ahead of the United States and Japan. The ceremony to present her and her team mates with their Olympic medals has been delayed since then for unexplained legal reasons.

Wearing a navy blue hoodie, black tights with shorts over them and her hair tied in a bun, Valieva took to the ice just after 11 a.m. Her coach Eteri Tutberidze also attended.

Despite the pressure surrounding her, the teenager performed quadruple jumps in practice, after becoming the first woman to complete a quad jump at an Olympics during her teams winning performance on Monday.

Valieva declined to answer questions in the mixed zone, the area where journalists interview athletes after competition.

Russian media reported on Wednesday that Valieva had returned a positive test, with newspapers RBC and Kommersant naming the drug as Trimetazidine, which is typically used to treat chest pain.

Repeated attempts to reach the ROC chef de mission by Reuters were unsuccessful. His phone was not answering, and the ROC office in Beijing was locked and unmanned on Thursday. The ROC on Wednesday declined to comment on the reports that Valieva had returned a positive test.

In a press conference on Thursday, the International Olympics Committee repeatedly refused to answer questions, citing concerns about legal process.

American Kim blows away rivals to win women's halfpipe gold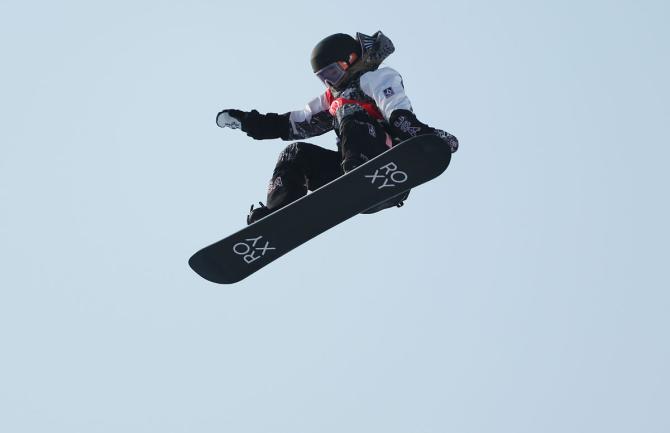 American Chloe Kim put in a dominating performance on Thursday to win the women's halfpipe snowboarding gold and successfully defend her 2018 Olympic title.

The 21-year-old blew her competition away with a top score of 94 in her opening run. Spain's Queralt Castellet took silver and Sena Tomita of Japan won the bronze medal.

Kim, who at 17 became the youngest woman ever to win Olympic gold in snowboarding at the Pyeongchang Games in 2018, roared back in style after taking nearly two years off the slopes.

"I just was so proud of myself," Kim said about her first run, saying she had a terrible practice session where she fell twice going into Thursday's final that had initially put her in a "weird headspace".

"I was just like overflowed with emotions when I was able to land it on the first go."

From her first run, Kim led the final. Given her sizeable lead, Kim attempted a cab 1260 in her second and third runs but fell both times.

Castellet got the next highest 90.25 and Tomita scored 88.25.

China's Liu Jiayu, who won silver at Pyeongchang, ended at a disappointing eighth in the final.

Each of the 12 boarders in the final got three runs in the halfpipe, with their ranking determined by their best score out of those runs.

The course, officially called the Secret Garden Olympic Halfpipe, is more than 200 metres long and 22 metres wide. The inner height of the halfpipe walls is 7 metres.
Strolz follows in dad's footsteps with fairytale combined gold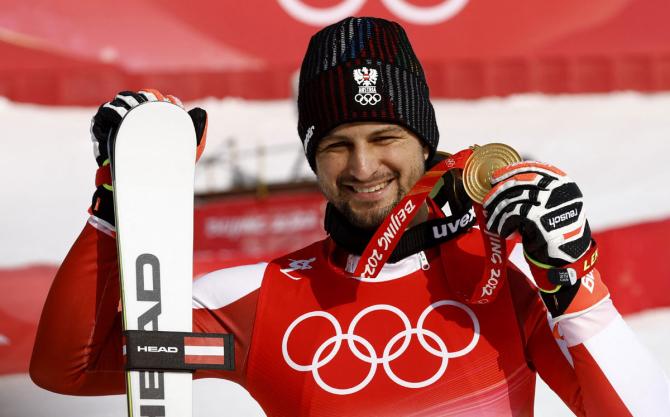 Austria's Johannes Strolz equalled his father's greatest Olympic achievement and completed his own fairytale comeback from the brink of giving up skiing by winning gold in the men's combined event at the Beijing Games on Thursday.

Strolz, who almost quit the sport a year ago after losing his place in the Austria team, was fastest in the slalom after coming fourth in downhill to pip Norway's Aleksander Aamodt Kilde to the title.

James Crawford won the bronze medal, handing Canada their first alpine podium finish of the Beijing Games.

Strolz, whose father Hubert won combined gold plus silver in the giant slalom at the Calgary Games in 1988, worked as a policeman in a small town in Austria for months last summer, driving a patrol car and controlling traffic to earn money.

"Especially with the history of my father, it means so much to me," Strolz said. "When I think about it, all the pictures and the gold medal of my father, it's hard for me not to cry.

"First of all I have to thank my whole family. They always believed in me, and now it's a dream coming true, making the same gold medal like my father did."

The-29-year-old stayed on the ski circuit without official support, preparing his own skis and being his own 'serviceman'.

"It means the world to me because I was not on the team any more last summer, and made it back into the team, got the full support again," he added.

"Finally all the sacrifices and the hard work paid off. I think I'm a good example of never giving up. If you believe in yourself you have to take your chance and keep going."

Strolz was eventually invited to train with the German alpine team and punched his ticket to the Olympics with a stunning slalom victory at a World Cup race in Adelboden in Switzerland last month -- his first in his nine years of racing.

"Everybody is incredibly pleased, incredibly excited. It's a great story," Austria men's slalom coach Paul Schwarzacher said. "He's very humble, very centred.

Strolz's victory extends Austria's top podium finish in the men's combined to a second Olympics after Marcel Hirscher won at the Pyeongchang Games four years ago.