Claudio Ranieri was always the supporting actor, never the lead.
He always played a crucial role, but the award went to someone else.
As Leicester City celebrates its Premier League triumph, Bikash Mohapatra/Rediff.com salutes the man behind it.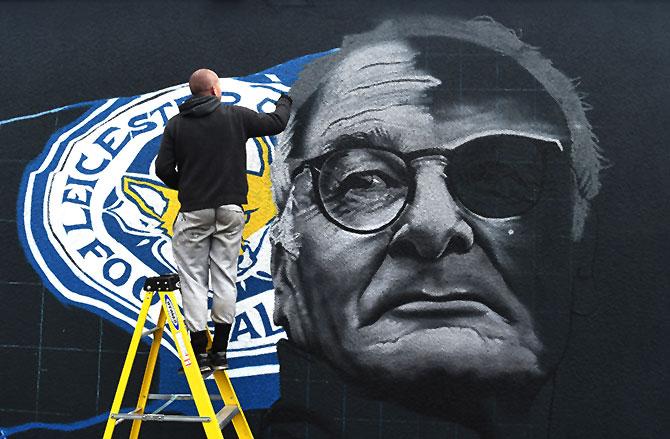 IMAGE: An image of Claudio Ranieri, Leicester City's manager, painted on a wall in Leicester. Photograph: Michael Regan/Getty Images
'I'm a pragmatic man. I just wanted to win match after match. Never did I think too much about where it would take us.'
Claudio Ranieri, after Leicester City sealed the Premier League title when second placed Tottenham Hotspur failed to get the better of Chelsea at Stamford Bridge on Monday, May 2, night.
The Italian was as measured in his assessment as he was the whole season even after his under-rated side created a sizeable gap at the leaderboard.
It is one of the most shocking -- but pleasant -- success stories across sport in recent years, reiterating the fact that even in these times when money talks aloud titles can be won, not bought!
Ranieri was rightly circumspect.
The 64 year old was aware his side was on the cusp of history -- an achievement that would be hailed as one of the greatest-ever sporting feats.
At the same time he also understood that a collapse -- very much a possibility for a team not used to winning consistently in the upper echelons of football -- would lead to the side being completely written off, despite their efforts over the course of the season.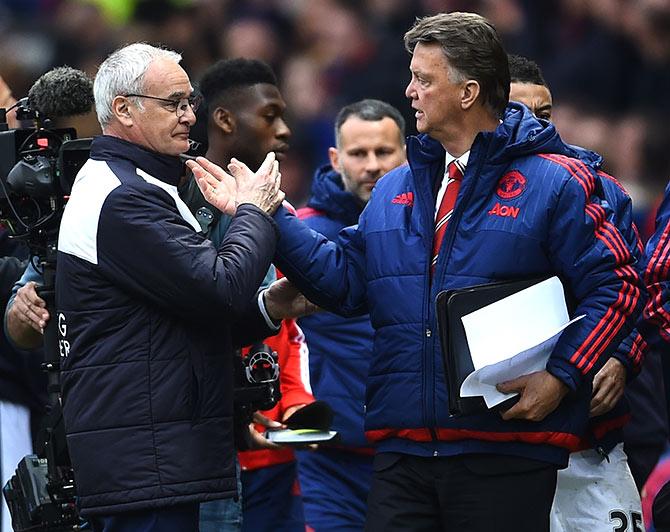 IMAGE: Ranieri and Manchester United Manager Louis van Gaal after the clubs' Premier League game. Photograph: Laurence Griffiths/Getty Images
No one knows that 'dismissive' feeling more than Ranieri.
In a world of Jose Mourinhos, Carlo Ancelottis, Pep Guardiolas and Louis van Gaals, Ranieri is an outsider. Somewhat like a Manuel Pellegrini, a Marcelo Bielsa.
Where success is a barometer for everything, the Italian had precious little to show in terms of silverware, his efforts to build teams -- that eventually won -- notwithstanding.
For someone who has been a coach for close to three decades and managed a dozen top flight clubs, Ranieri had only a Coppa Italia (with Fiorentina) and a Copa del Rey (with Valencia)) to show for his efforts.
Leicester's triumph marks the first championship success for the veteran. In most cases, others reaped the benefits of his hard work.
Ranieri was always the supporting actor, never the lead. He always played a crucial role, but the award went to someone else.
In his first spell in Valencia -- between 1997 and 1999 -- he ensured Cup success and Champions League qualification, and developed a core group of players -- which included the likes of Claudio Lopez, Gaizka Mendieta and Santiago Canizares.
That team would go on to play successive Champions League finals in 2000 and 2001.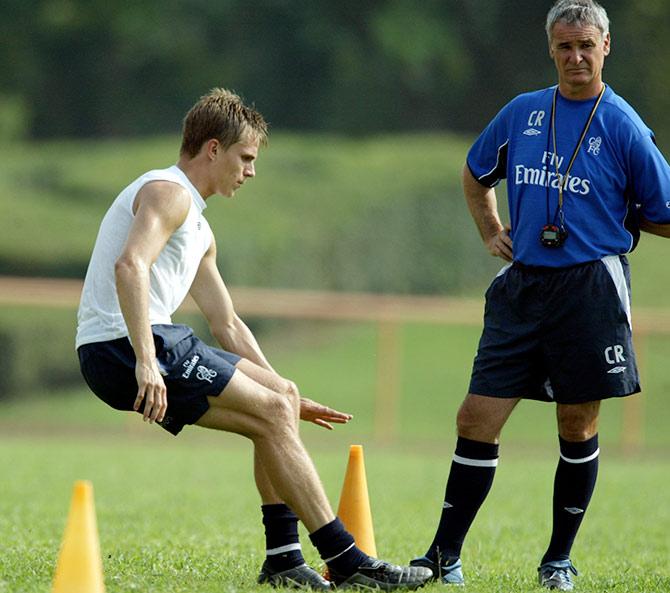 IMAGE: Ranieri, then manager at Chelsea, watches Jesper Gronkjaer participate in a speed training drill. Photograph: Stanley Chou/Getty Images
Ranieri was also the man who built a new-look Chelsea team.
During his spell between 2000 and 2004 at Stamford Bridge the Italian worked hard, not only to develop a core group of players but also to improve on his communication skills. He barely spoke English when he took charge at Chelsea.
The English media labeled him 'The Tinkerman' for constantly altering his team composition. During his four years in charge, Chelsea improved their points total season on season. He also helped the Blues qualify for the Champions League that season. A year later, he led them to the Champions League semi-finals, a first.
In his final season at the club -- his first (and last) after Roman Abramovich bought it -- Chelsea finished second -- their best placing at that point -- behind an Arsenal side that became the first club in more than a century to win the title undefeated.
Ranieri also made some smart acquisitions (like Frank Lampard) and developed players (like John Terry), while identifying a core group of players -- Arjen Robben, Didier Drogba and Petr Cech -- who would eventually serve the club well.
That wasn't enough to retain his job, Abramovich declared Ranieri could never win the Premier League.
Jose Mourinho took over the readymade team and won back-to-back league titles.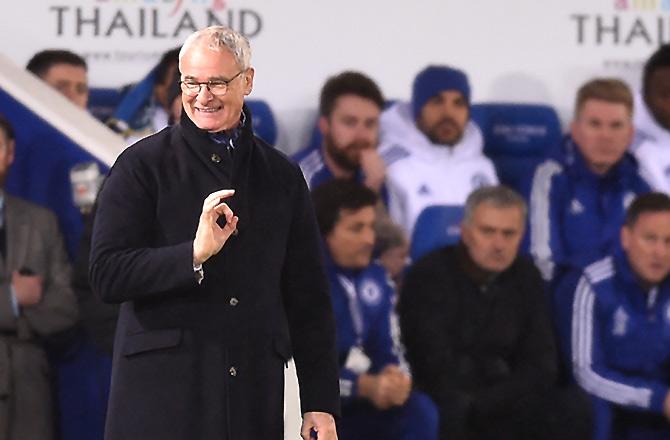 IMAGE: Ranieri reacts as rival manager Jose Mourinho looks on during Leicester City's Premier League game against Chelsea. Photograph: Michael Regan/Getty Images
When a struggling Chelsea landed at the King Power Stadium last December to take on league leaders Leicester, Ranieri opened up a bit.
'I think we made a very good performance in my third year, without signing players, we arrived fourth,' he spoke of his years at Chelsea.
'We achieved the Champions League, the reason Roman Abramovich bought the team. Then we arrived second in the league and in the semi-final of the Champions League, it was a positive. I chose Petr Cech and Robben and I suggested Drogba,' Ranieri recalled.
It was irony that the defeat to Leicester in December cost Mourinho his job, with Chelsea languishing in 16th spot, having lost 9 matches at that point.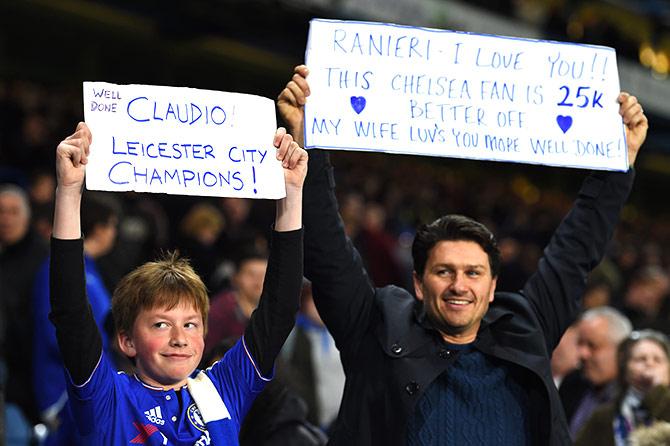 IMAGE: Chelsea fans hold up banners celebrating Leicester City being crowned champions at Stamford Bridge, May 2, 2016. Photograph: Shaun Botterill/Getty Images
Stamford Bridge wasn't the only club where Ranieri was meted out shoddy treatment.
He was the one who guided Juventus back to the Champions League -- a year after promotion following the Calciopolli scandal -- but was never given a second chance in Turin.
Likewise, he guided a relegated AS Monaco back to Ligue 1 -- the French top flight -- and finished that season second behind Paris Saint-Germain. But he wasn't rewarded with a contract renewal.
He was in charge of the Greece national side for just four games -- not enough time to put together a team -- before being sacked. Worse, the president of the Greek soccer federation publicly apologised for having signed Ranieri.
A year on, that Greek is likely eating his words.
As is England legend Gary Linekar, and Leicester fan, who had been vocal against Ranieri's appointment.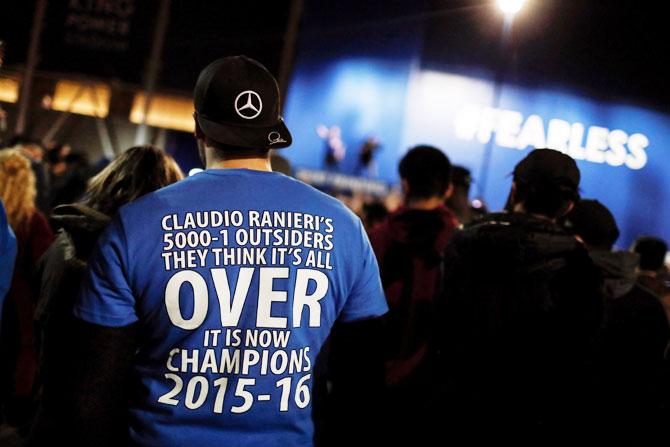 IMAGE: Leicester City fans celebrate outside the King Power stadium after their team won the Premier League title. Photograph: Eddie Keogh/Reuters
Even when Leicester City was doing well halfway through the EPL season, Linekar wasn't convinced about their title credentials.
'If Leicester win the Premier League I'll do the first MOTD (Match Of The Day) next season in just my undies,' Lineker, now a commentator, tweeted in December.
Five months later, he told the BBC, 'It's the biggest sporting shock. I can't think of anything that surpasses it.'.
Ranieri remains pragmatic as ever, very much aware that Leicester's success is stuff narrated in fairytales, and not an achievement that will appear time and again.
'I always thought that I'd end up winning a league title somewhere eventually. I am the same man who was fired by Greece,' he said, 'perhaps someone there had forgotten about my career.'
'I am staying at Leicester. This is a year that cannot be repeated, next year we'll try to fight for a top 10 place, hopefully. We must continue to grow and to do well.'