'We can appoint an eminent footballer as ombudsman along with the former Chief Election Commissioner.'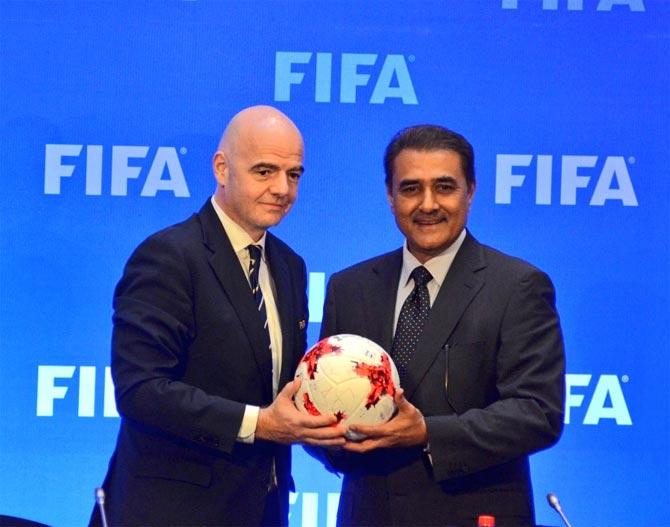 IMAGE: AIFF president Praful Patel, right, with FIFA president Gianni Infantino. Photograph: Praful Patel/Twitter
The Supreme Court on Friday said it could appoint an eminent footballer as an ombudsman, besides former Chief Election Commissioner S Y Quraishi, to implement the Delhi high court order for reforming the constitution of All India Football Federation (AIFF).

A bench comprising Chief Justice Dipak Misra and Justices A M Khanwilkar and D Y Chandrachud also said it would pass an order on the plea filed by the AIFF challenging the high court order verdict setting aside the election of NCP leader Praful Patel as the president of the sports body.
The bench said it has already asked the Board of Control for Cricket in India to cooperate in the framing of its constitution and like the Indian Cricket Board, AIFF can also be asked to frame an amended constitution incorporating the suggestions of the Delhi high court order.

"We can appoint an eminent footballer as ombudsman along with the former Chief Election Commissioner," the bench said.

The bench also asked lawyer Rahul Mehra, who had filed the plea in the high court order, to give suggestions so that the status of Indian football gets a boost.

Mehra said the lack of infrastructure at grassroot level and interest shown by the sports authorities to popularise the sport, had pushed India to 105th position in the world.

The apex court had agreed to hear the appeal of AIFF challenging the Delhi high court order verdict setting aside the election of Patel as its president.

The high court order, on October 31, had also appointed former CEC Quraishi as the administrator-cum-returning officer to conduct fresh polls to the sport body.

AIFF had sought urgent hearing of its plea saying that the bid for hosting the FIFA Under-20 World Cup is coming up and the last date for its submission was November 14.

It had alleged "the High Court in midst of the upcoming Football season comprising of the Indian Super league and the I- Leage both starting in the month of November, 2017 and the bidding process for the Fifa Under-20 World Cup 2019 which is to be completed by 14th November 2017, has wrongly ousted the Executive Committee and stopped the smooth functioning of the Petitioner Federation (AIFF)."

The AIFF also sought interim stay of the high court order verdict.

Patel, a former minister of civil aviation and heavy industries, was elected for a four-year term in December last year along with the Executive Committee for 2017-2020, after the high court had, as an interim measure, vacated the stay on the polls on the ground that the result would be subject to the final outcome of the issue pending before it.

The high court had earlier directed that fresh elections should be held in accordance with the model guidelines.