Second seed Taufik Hidayat, Olympic gold medallist in 2004 and world champion the following year, took a first-round tumble at the All England championships in Birmingham on Wednesday.
The Indonesian succumbed in 31 minutes, beaten 21-10, 21-14 by unseeded Japanese Kazushi Yamada, the world number 28.
Hidayat, 29, runner-up in the All Englands in 1999 and 2000, is a seasoned campaigner who has endured periodic dips in fortune though he shot back into the reckoning at last year's world championships in Paris where he finished runner-up.
Against the determined Yamada, though, he rarely got a look-in.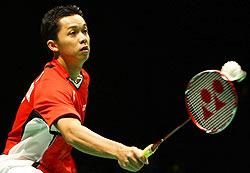 World number one Lee Chong Wei of Malaysia took the opening step in defence of his All England crown with an easy 21-9, 21-11 success over unseeded Frenchman Brice Leverdez.
Chong Wei, seeded one, faces a dangerous floater in Thursday's second round in the shape of China's vastly experienced Bao Chunlai, 28, the world number eight but just outside the seeds in this tournament.
Chong Wei said after his 23-minute demolition of Leverdez: "This was a match I did not have to worry too much about. It gave me the chance to see how the hall plays.
"I consider tomorrow to be my first real test against Bao Chunlai. I have a good record against him but would never underestimate his ability."
Bao is a former world number two and world championship finalist with a string of notable victories over the years.
China's Lin Dan, the Olympic champion and four-times an All England title winner, eased through his first-round match against Wong Choong Hann of Malaysia 21-14, 21-17.
World champion Chen Jin had to fight hard in the first game against English national champion Rajiv Ouseph before winning 23-21, 21-12.