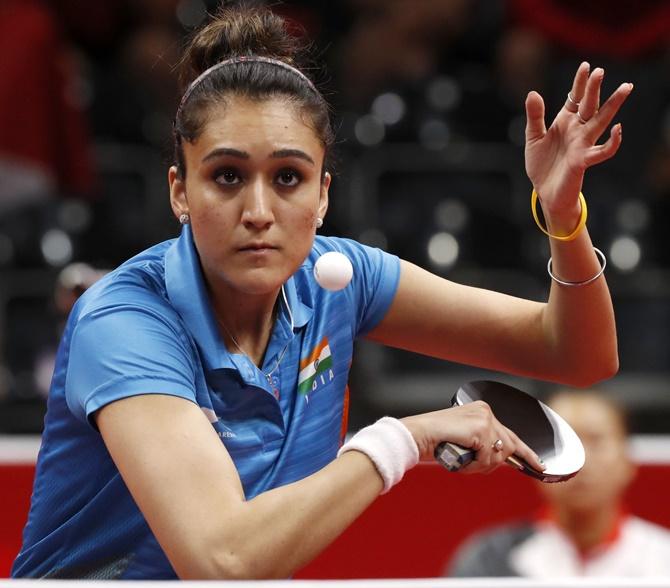 India's table tennis star Manika Batra and six other top paddlers were today left stranded at the Indira Gandhi International Airport after being denied boarding on a Melbourne flight by national carrier Air India en route an international event.
The Indian contingent, comprising 17 players and officials, is scheduled to participate at the ITTF World Tour Australian Open starting in Melbourne on Monday.
But to their disbelief, only 10 members of the team were allowed to board after Air India told them that the flight was overbooked.
Besides Manika, veteran Mouma Das was also one among the seven players, who were denied boarding.
Commonwealth Games gold medallist Manika took to social media to share her ordeal and asked Sports Minister Rajyavardhan Singh Rathore and Prime Minister's Office to look into the matter.
"Our contingent of total 17 players & officials of Indian table tennis team including CWG medalist myself, Sharath Kamal, Mouma Das, Madhurika, Harmeet, Suthirta, Sathyan were supposed to fly today to Melbourne by AI 0308 to participate in ITTF World Tour Australian Open from tom," Manika tweeted.
"On reaching Air India counter we were told dat flight is overbooked & only 10 members of TT team can fly which left us in a shock. 7 of us are still unable to fly.All the tickets were booked by Balmer Lawrie," she added.
Alarmed by the situation, Director General of Sports India (erstwhile Sports Authority of India) Neelam Kapur swung into action immediately and sorted out the matter.
"The TT team have been booked on an alternate flight leaving later tonight," Kapur confirmed on her official Twitter handle.
Air India spokesperson was unavailable for a comment when contacted.