India FA eye origin players for short-term solution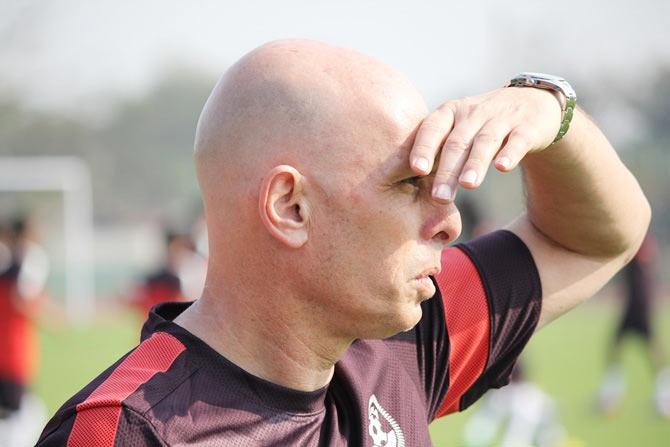 India's national football coach Stephen Constantine. Photograph: AIFF Media
In the wake of a humbling World Cup qualifying defeat by Guam, India's football association has approached the government to allow players of Indian origin to join the national squad, a top official said on Wednesday.
Insisting it was a short-term measure, the All India Football Federation (AIFF) has written to the sports ministry seeking an exception to the existing rule which states only Indian passport holders can represent the country.
"Two years ago, Guam had no team but their new coach went around the United States looking for players of Guam origin and found 10 who play in Major League Soccer," AIFF vice president Subrata Dutta told Reuters.
"Those players are much better than those who played for the Guam national team. These players have come up from a system and play in a competitive league.
"The coach requested them and convinced them to play for their country and Guam is a much better team now."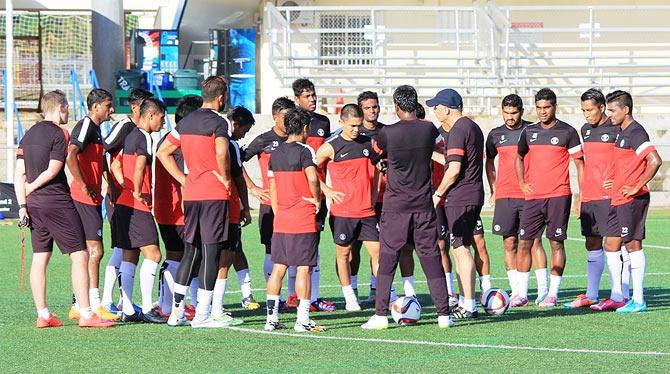 India players at a training session. Photograph: AIFF Media
Tiny Guam, the US territory in the North Pacific Ocean with a population of little more than 170,000, are coached by Englishman Gary White and have won both their matches in the pool against India and Turkmenistan.
India, boasting a population of 1.2 billion and long dubbed a sleeping giant of world football by FIFA, have lost both their matches. Iran and Oman are the other teams in the group.
Dutta said India's national team standards have declined and needed "emergency treatment" to achieve short-term goals.
"For the long-term we have a grass-root and youth football development plan, aided by FIFA," the administrator added.
"But we also need our national team to do well or everybody will lose interest and football will lose attention.
"Our youth teams will also need time to be groomed for the next level but we can't let our national team keep losing.
"But reinforcing the team with home-grown players is not giving us the desired result."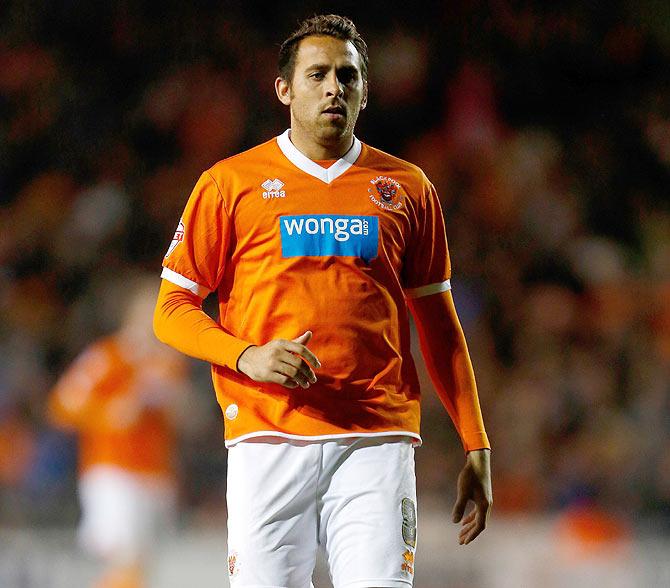 Michael Chopra. Photograph: Paul Thomas/Getty Images
Local media has reported that India's English coach Stephen Constantine has already identified several footballers of Indian origin and the AIFF will approach them if they receive approval from the government.
While the list includes former Newcastle United striker Michael Chopra, 24-year-olds Luciano Narsingh of Netherlands and Harmeet Singh of Norway are also on the radar.
The 31-year-old Chopra, who represented England in age-level tournaments, was approached by the AIFF in the past but things did not progress.
He has repeatedly voiced his desire to play for India.
- Footballer Chopra ready to give up British passport to play for India
"I plan to move to India and give up my British citizenship and get an Indian passport to play for the national team and take them forward," Chopra told Reuters last September.