Ahn Jung-hwan, who came on as a second-half substitute, scored South Korea's winning goal in their 2-1 Group G victory over Togo at the World Cup in Frankfurt on Tuesday.
He rifled home the winner in the 72nd minute after debutants Togo had been reduced to 10 men.
The 30-year-old has now struck in two successive World Cup finals, having also netted in the 2-1 triumph over Italy in 2002.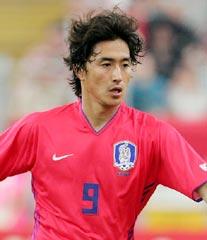 His goals helped co-hosts South Korea reach the 2002 semi-finals, his golden goal knocking out Italy in the second round.
But that inspired performance against Italy cost him his job as he was famously sacked by Italian club Perugia.
Perugia owner Luciano Gaucci said at the time he had "no intention of paying a salary to someone who has ruined Italian soccer".
Ahn has struggled to make an impression on South Korea coach Dick Advocaat since the Dutchman took the helm in September. He managed to overcome similar problems under Guus Hiddink, who led the Koreans to the semi-finals in 2002.
Hiddink recognised Ahn's ability but felt the glamour of playing in Italy had gone to his head, even though he was only a peripheral figure at Perugia.
"Who knows you in Italy?" Hiddink asked the pony-tailed striker. "Probably the people of Perugia know Ahn Jung-hwan washes the benches."
Ahn reacted to Hiddink's coaxing and cajoling with a storming performance in 2002, culminating in his dramatic winner over Italy.
The whole of South Korea will hope that Ahn can repeat his magic in this tournament, even if it means losing his current job.
The striker now plays for MSV Duisburg of Germany. And if his goal happens to knock out the hosts, if they do meet, he could well be searching for another job after the World Cup.