Unfazed by an Indian Hockey Federation directive to not revive the century-old Aga Khan tournament, the Bombay Gynmkhana is going ahead with its plan to hold the event from May 15-21.
"We are going ahead and reviving the tournament after nine years. All the teams who have been approached have confirmed their participation. We are not interested in hockey politics but only interested in bringing up our national game," said Bombay Gymkhana President Ashok Rao at a media conference.
IHF, via two letters to the Bombay Gymkhana who had approached rival body Hockey India directly to organise the tournament, has said the event is an "unauthorised" one.
Former India skipper Viren Rasquinha, who will play for the host Gymkhana along with another ex-captain and four-time Olympian Dhanraj Pillay, said the hockey players are only interested in playing the game.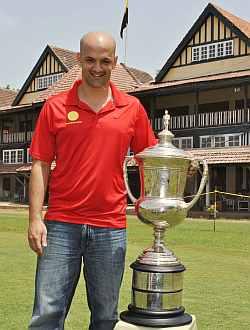 "Hockey players are anguished to be caught in the cross-fire between the two bodies (IHF and HI). My advice to all the players and the teams is to take part in all the tournaments irrespective of who conducts them," said the Olympian.
In a letter sent on May 6 as a follow-up to the earlier communication on April 28, IHF secretary general Ashok Mathur has termed the tournament as "unauthorised" as it was being held under the aegis of Hockey India which, he said, was not recognised by the union government.
Mathur has also charged the Gymkhana that its main aim was not promotion of the game but "something else".
Rao said the Gymkhana took the call to approach HI as at present, it is the body which is selecting the Indian teams for various international events including the Commonwealth Games, the Asian Games and the Azlan Shah tournament presently on in Malaysia.
"Hockey India is recognised by the International Hockey Federation (FIH). We also talked unofficially to people in the sports ministry," he added.
A total of eight outstation teams have confirmed to take part in the tournament in which late matches are to be held under floodlights.