'This is my biggest gold medal, if you win here then you are a contender at the Tokyo Olympics'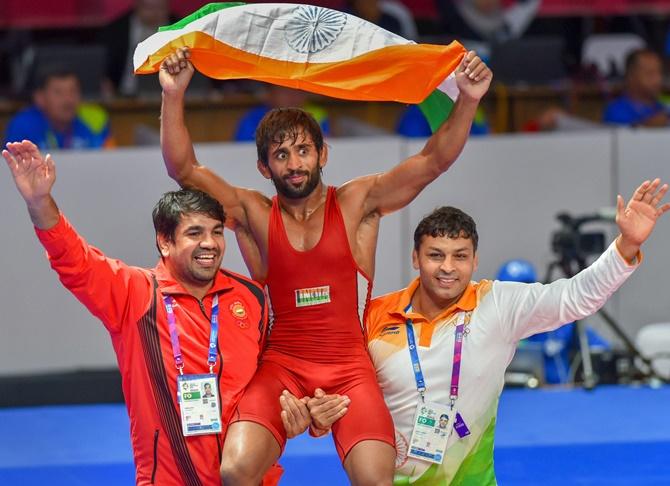 Indian wrestling's new star Bajrang Punia, on Sunday, set his eyes on a 2020 Tokyo Olympics gold medal after a triumphant Asian Games campaign in Jakarta.
The 24-year-old extracted a 'revenge win' over Japan's Takatani Daichi in the gold medal bout of the men's 65 kg category.
Bajrang raced to a 6-0 lead in the final, but the Japanese, to whom he had lost in the Asian Championships, made a spirited comeback with some solid attack and defence.
However, Bajrang prevailed after a tight battle to claim gold and declared it was his biggest achievement so far.
"This is my biggest gold medal; if you win here then you are a contender at the Tokyo Olympics. I have an eye at Tokyo Games and preparing for that. I will try to produce the same performance at the World Championships also," Bajrang said after his victory.
"There are very few gold for Indian wrestlers in Asiad. So it is a big achievement for me. Only Yogeshwar and Rajinder Singh have won two gold medals in a year (Commonwealth Games and Asiad), I am only the third to do it, so, naturally, I am feeling proud of myself."
Before Bajrang, only Kartar Singh (1978, 1986), Satpal Singh (1982), Rajinder Singh (1978), Changdi Ram (1970), Maruti Mane (1962) and Yogeshwar Dutt (2014) won gold at the Asian Games.
"Yogi bhai (Yogeshwar) told me, 'I did it in 2014, you have to do it in 2018'. When he won, it was huge gap in his and the previous Asiad medal. I wanted to continue with the medal trend," he added.
Bajrang gave credit to his coach, Shako Bentinidis, for bringing about a wholesome change in his wrestling style.
"There is lot of change in my wrestling in the last five months. I have won for four gold after I started training with new coach. Every aspect of my game has changed -- power, technique, speed," he said.
Asked if he has become more aggressive, Bajrang said, "When people start expecting that Bajrang will win medal, I will have to deliver."
Bajrang said he was unperturbed when the Japanese mounted a fightback.
"If I start thinking that I am losing, then, definitely, I will lose the bout. So I never do that. I don't feel any pressure. I just work hard and give my 100 per cent."
Bajrang used to celebrate victory in style; now that has gone missing.
Asked if it was a deliberate move following criticism from some people, he said, "People will keep talking about something or the other. I don't bother who is saying what. I am the same, but the thought process has changed after winning medals. I will not stop enjoying just because others don't like it."
He said he won't have much time for celebration.
"I will start preparing for the World Championships after going back."