Rupinder slams six goals as India hammer Japan 10-2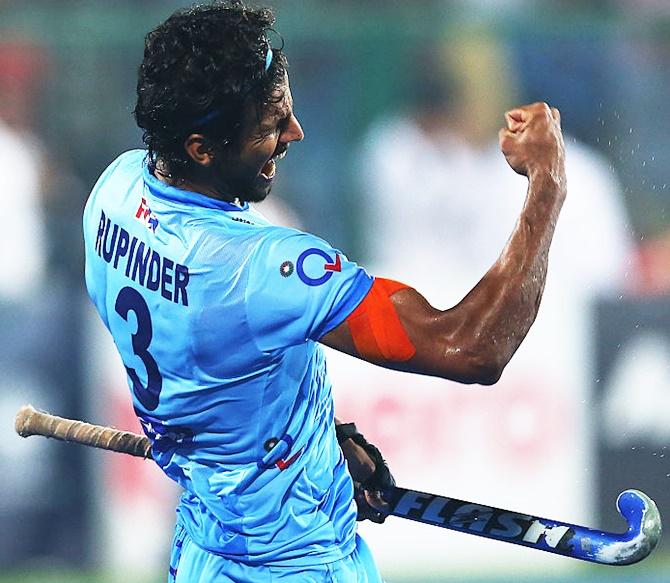 IMAGE: Rupinder Pal Singh of India celebrates. Photograph: Ian MacNicol/Getty images.
Penalty corner specialist Rupinder Pal Singh slammed six goals as India launched their campaign in the fourth Asian Champions Trophy with a rousing 10-2 victory over Japan in the Kuantan Hockey Stadium, in Malaysia, on Thursday.
Repeatedly leaving the Japanese defenders stunned with his rasping drag-flicks, Rupinder converted his first four penalty corner shots as fancied India steam-rolled over the hapless Japanese defence.
Left to playing a supporting role to Rupinder, striker Ramandeep Singh scored twice in the first quarter, while Talwinder Singh and Yousuf Affan contributed one goal each.
Japan's goals, against the run of play, came through Kenta Tanaka and Hiromasa Ochiai.
With Rupinder converting six of India 10 penalty corners, it was a day to forget for Japan, who had got the silver medal in the last Asian Champions Trophy behind Pakistan in 2013.
Ramandeep opened the Indian account in the second minute after picking up a pass from Sardar Singh and shot past Japanese goalkeeper Mashahito Kunitomo.
Yousuf rounded off India's scoring in the 50th minute with a flash strike in a crowded zone and the goal was confirmed after a video referral.
Faizal Saari scores twice as Malaysia stun Pakistan
Faizal Saari scored twice as hosts Malaysia rallied to stun defending champions Pakistan 4-2 in the opening match of the fourth Asian Champions Trophy hockey tournament.
Saari converted a penalty stroke in the 37th minute and capitalised on a penalty corner rebound in the dying seconds.
Two other Malaysian goals -– from Firhan Ansari and Shahril Saabah -– also came off penalty corner rebounds that left the Pakistan defence shattered.
Both goals for Pakistan, winners of the last two editions of Asian Champions Trophy, were scored by penalty corner strikes from Muhammad Aleem Bilal.
Malaysia took the initial lead in the 13th minute of play from their first penalty corner.
Razie Rahim's penalty corner drive was blocked by Pakistan goalkeeper Imran Butt, but the rebound went to Firhan Ansari who slotted the ball into the boards.
Pakistan equalised five minutes later as Bilal stunned the Malaysian goalkeeper with a stining shot.
Bilal was on target again four minutes after half-time with a firm drive to put Pakistan in the lead.
Pakistan enjoyed the lead until the 37th minute when the game had to be stopped due to heavy showers. Play resumed after a 20-minute break and Malaysia mounted a raid into the Pakistan circle within a minute.
Malaysia's raid earned them a penalty stroke, but only after they sought a TV referral which showed that the Pakistani goalkeeper had obstructed striker Aiman Nik Rosemi in the goalmouth. The stroke was duly converted by Saari to draw 2-2 parity.
Going into an all-out attack, Malaysia forced two successive penalty corners in the 41st minute and Saabah capitalised on a rebound from the custodian to put Malaysia into the lead.
Saari came into the scoring act again in the last minute when Pakistan conceded a penalty corner through a rough tackle on their right flank. Pakistan goalkeeper Butt blocked the penalty corner shot, but Saari was not to be denied on the rebound.