From the courtroom drama surrounding IPL spot-fixing scandal to MS Dhoni's retirement to Rohit Sharma's epic 264 in ODI to hammering in England and Australia this has been a mixed bag for Indian cricket.
Tennis, football and badminton were the biggest gainers from India's poor show in cricket as various leagues gained on the popularity charts with names likes of Roger Federer, Alessandro Del Piero, David Trezeguet making their maiden appearance in India.
India found itself back in the Olympic fold and buoyed by that India did well at Incheon Asian Games bringing home 64 medals, including 15 gold.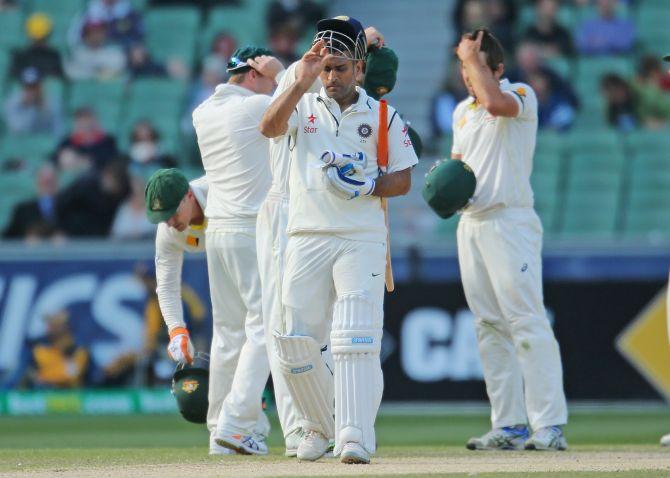 MS Dhoni announced that he will quit Test cricket. Photograph: Scott Barbour/Getty Images
Some stellar performances by seasoned veterans and promising youngsters continued to raise the bar in Olympic sports but there was heartbreak when corruption scandals blighted India's favourite obsession, cricket, in a see-saw year for the country's sportspersons.
There was the usual administrative wrangling in some sports but all that was thrown into the backburner by a hectic schedule which included Commonwealth and Asian Games.
On the cricket field, the courtroom drama surrounding IPL spot-fixing scandal, which made N Srinivasan a BCCI president-in-exile, hogged daily headlines, a sad commentary on the state of a game for which India is a spiritual home and biggest money-spinner as well.
If the scandal left followers of the game disturbed, they were in for a huge shock when Mahendra Singh Dhoni retired from Test cricket in the last week of the year.
It was a bolt from the blue given that Dhoni hardly dropped any hint of the "strain" of playing all three formats, which he cited as the reason for bidding adieu to the five-day game.
IPL lost its sheen courtesy of spot fixing allegations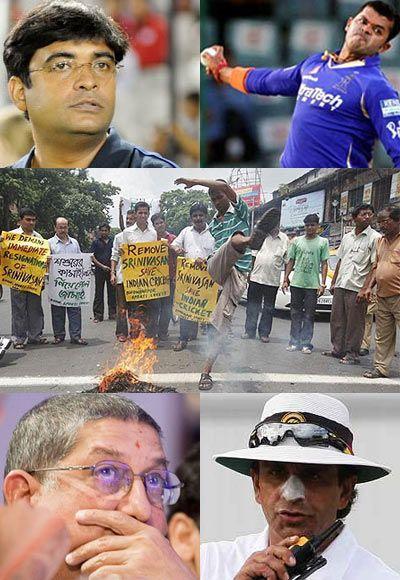 IPL fixing continued to be the talking point
On the brighter side, India found itself back in the Olympic fold after the International Olympic Committee lifted the ban on the IOA in February. This was after the IOA successfully conducted fresh elections in which N Ramachandran took over as the body's new president.
Heartwarming tales also emerged from the Commonwealth and Asian Games arena where Indian athletes came up with sterling performances. The ones who stood out most notably were the celebrated wrestling duo of Sushil Kumar and Yogeshwar Dutt, pistol shooter Jitu Rai and boxer M C Mary Kom.
The year began with the cricket team continuing its dismal away run by going down to a lower-ranked New Zealand in a Test series.
But the IPL razzmatazz a couple of months later ensured that the poor result was quickly forgotten. However, the spot-fixing and betting scandal that gripped the glamorous league was so enormous that the impact of it is being felt even now.
The BCCI was forced to postpone its AGM owing to adverse observations from the Supreme Court after an inquiry committee appointed by it came up with an explosive report which indicted high-profile names such as Rajasthan Royals co-owner Raj Kundra and Chennai Super Kings Team Principal Gurunath Meiyappan, who also happens to be Srinivasan's son-in-law.
The frenzy surrounding the IPL scandal was offset by India's reasonably good show in the Commonwealth Games in Glasgow.
Creditable performance at Asian Games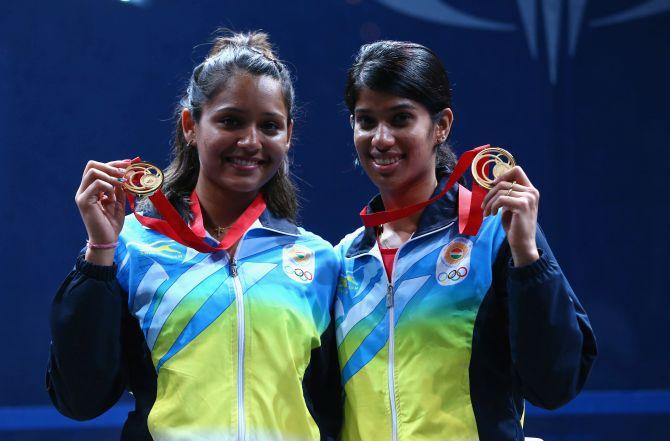 Dipika Pallikal and Joshana Chinappa celebrate after winning Gold medal in the Squash Women's Doubles Final at Scotstoun Sports Campus during Commonwealth Games. Photograph: Ryan Pierse/Getty Images
It was first big event in which the athletes took part after IOA's suspension was revoked and perhaps it was the high of competing under the national flag once again that the country pulled off a creditable fifth-place finish with 64 medals, including 15 gold.
India managed to clinch a top-10 finish in the Asian Games as well, signing off eighth with 57 medals, including 11 gold.
Indian squash, meanwhile, never had it better than 2014 as a bagful of firsts, highlighted by a gold each in the Commonwealth Games and Asian Games, marked a highly successful year for the racquet sport.
While the big three -- Dipika Pallikal, Joshana Chinappa and Saurav Ghosal -- were always expected to do the bulk of the job, it was pleasing to see Harinder Pal Sandhu emerge from their shadows.
Rohit smashes world record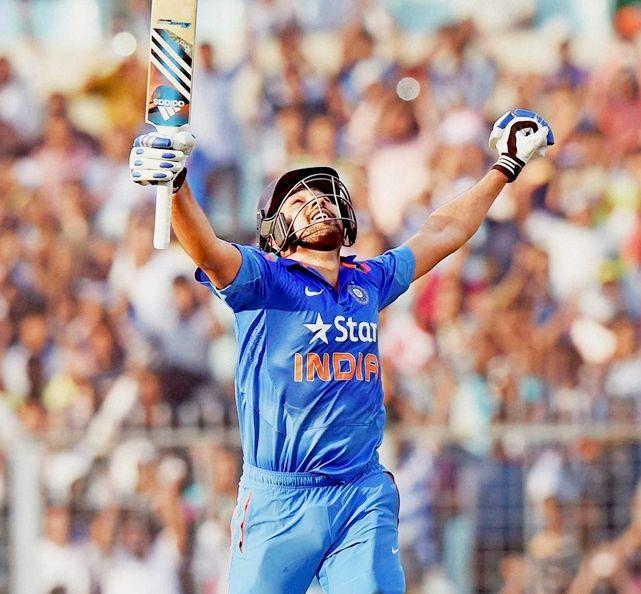 Rohit Sharma celebrates after completing his century against Sri Lanka. Photograph: BCCI
There was some good news from the cricket field as well when Rohit Sharma broke the record for the highest individual score in ODIs, against Sri Lanka. Rohit's epic innings of 264 on the hallowed Eden Gardens turf was a stuff of legends.
The year was also the first time since 1989, when an Indian cricket team's list didn't have Sachin Tendulkar's name in it.
It was also the year that probably saw the end of another glorious bunch of Indian cricketers, who had played with distinction over the last decade.
Sehwag, arguably the biggest impact player after Tendulkar, probably might not play for India again after being overlooked from the 30-men probables for the 2015 World Cup.
Dhoni miserable away record continues to haunt India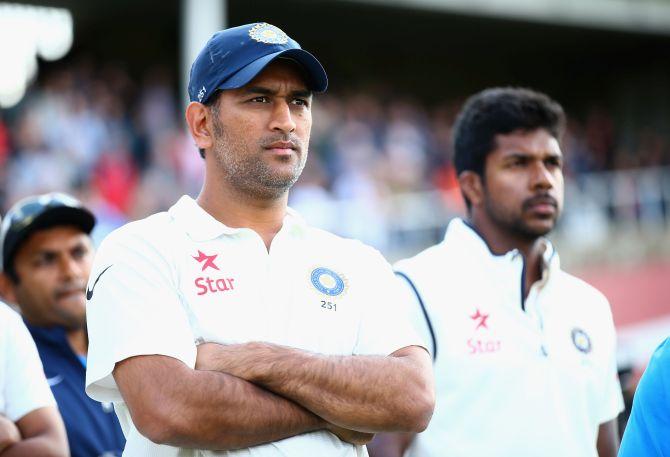 MS Dhoni looks dejected after losing the Test series against England. Photograph: Paul Gilham/Getty Images
Similarly, it looks like the selectors have 'shut the door' for good on Yuvraj Singh, Harbhajan Singh, Zaheer Khan and Gautam Gambhir.
Outside India, world cricket was left shocked and heartbroken following the death of Australian batsman Phillip Hughes.
While Rohit's innings will always be remembered, the tragedy that snatched away Hughes, aged 25 at the time of his death, will never be forgotten.
But what didn't change was Mahendra Singh Dhoni's poor away record as Test captain with India losing series in South Africa, New Zealand and England. India also lost the World T20 finals to Sri Lanka.
The tragic part of India's series defeat in England, was that it happened after recording a memorable win at the 'Home of Cricket'. It was after 1986, that an Indian team won a Test match at Lord's as Ishant Sharma bounced the Englishmen out.
Indian hockey stars bring glory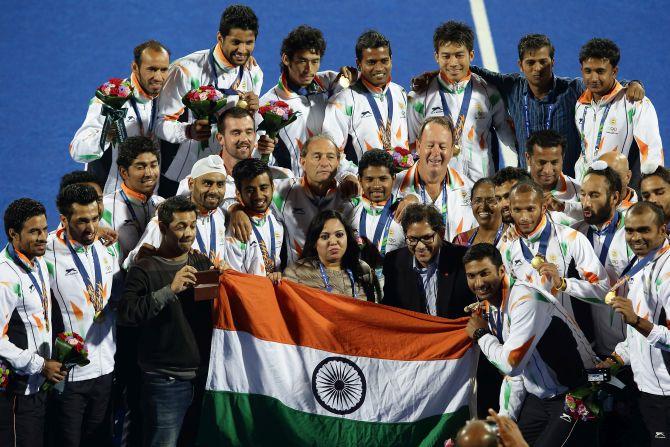 India players and staff pose for a photo after defeating Pakistan to win the men's hockey gold medal match of the 2014 Asian Games. Photograph: Suhaimi Abdullah/Getty Images
There was some cheer on the hockey field finally. An Asian Games gold medal after a 16-year hiatus and a direct ticket to the 2016 Olympic Games were some of the high points in what was a rare successful year for Indian hockey even though national coach Terry Walsh's unceremonious resignation provided a bitter ending to 2014.
Besides the Asian Games gold medal in Incheon, South Korea, the men's team registered several other memorable victories including a historic Test series win against world champions Australia in their own backyard.
But the momentum which India gained in the year was lost by the untimely and poorly handled resignation of Walsh.
After guiding the team to the Asian Games gold, Walsh tendered his resignation, demanding an improvement in his pay packet and more decision making powers, most notably in selection of the players.
But despite valiant efforts from his employer, the Sports Authority of India and Sports Minister Sarbananda Sonowal, SAI could not retain Walsh even though the Australian was eager to work with the Indian team.
Sushil, Yogeshwar prove unbeatable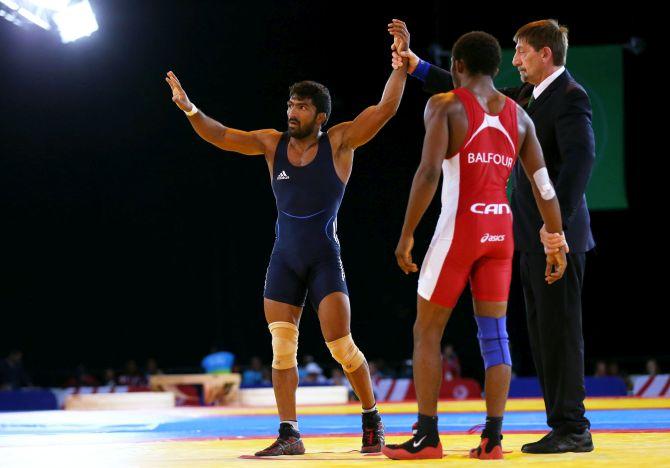 Yogeshwar Dutt (L) of India celebrates victory in the Men's FS 65 kg Gold medal match against Jevon Balfour of Canada

. Photograph:

Alex Livesey/Getty Images
On to the wrestling mat, a long sabbatical and a rejig in weight categories notwithstanding, Olympic heroes Sushil Kumar and Yogeshwar Dutt reaffirmed their dominance at the world stage, which included ending a 28-year gold drought at the Asian Games, even as youngsters showed the quality of Indian wrestling's talent reservoir.
Yogeshwar, in fact, ended India's 28-year wait for gold in wrestling at the Asian Games by bagging the yellow metal in Incheon, South Korea, in September.
Having shifted from 60kg category, London Olympics bronze-medallist Yogeshwar won the gold in the 65kg division, while two-time Olympic medal winner Sushil bagged the silver in 74kg class.
Sushil, who had won a bronze in the 2008 Beijing Olympics before bettering his performance with a silver medal at the London Games four years later, had always contested in 66kg freestyle category.
India becoming a dominant force in badminton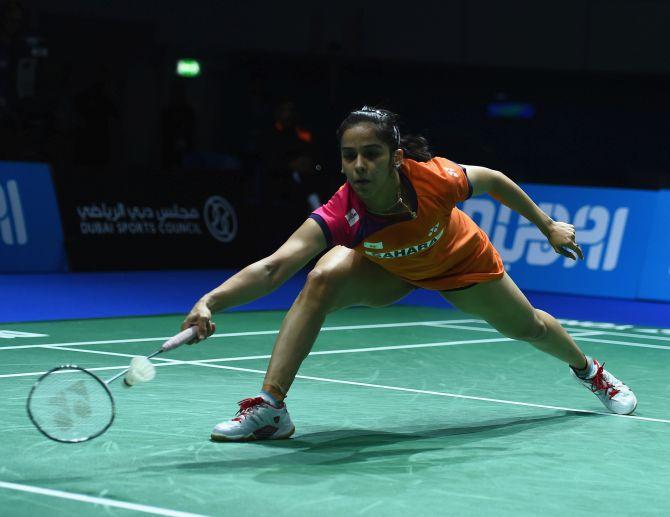 Saina Nehwal. Photograph: Christopher Lee/Getty Images for Falcon
It turned out to be a watershed year for Indian badminton as well with the home shuttlers clinching no less than eight individual titles besides breaking new grounds in team championships, making India a dominant force at the international stage.
Saina Nehwal and K Srikanth clinching titles at China Super Series Premier and P V Sindhu bagging five bronze, including a World Championship medal, besides the historic bronze medals at Uber Cup and Asian Games, were the highlights of the year in which Indian badminton achieved unprecedented success at the global platform.
At the shooting ranges too, Indians called the shots but it was 'Pistol King' Jitu Rai who truly lived upto the sobriquet with a stunning display, leaving the other big guns gazing at the dizzy heights he touched in his annus mirabilis.
As a whole, India did not set the stage ablaze with their guns at the Glasgow Commonwealth and Incheon Asian Games or the various World Cups and World Championships, but they did just enough to maintain the consistent run that had begun at the turn of the century.
The 27-year-old Rai was the standout performer by some distance though well-established names such as Abhinav Bindra, Gagan Narang and Manavjit Singh Sandhu, among others, too excelled on and off. And so was the younger lot like Ayonika Paul, Apurvi Chandela and Mohammad Asab to name a few.
Sania Mirza's US Open triumph stand out performance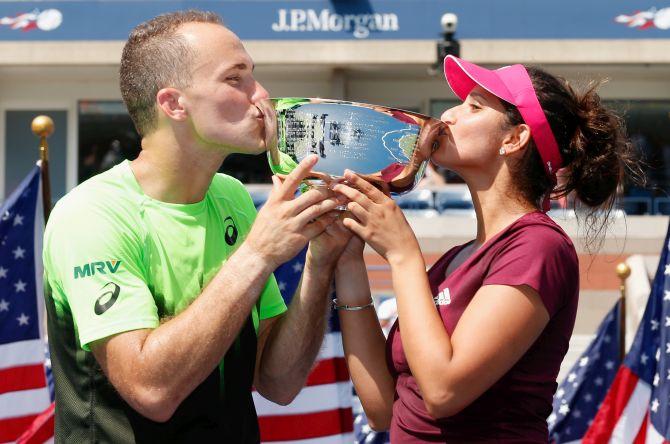 Sania Mirza (R) of India and Bruno Soares (L) of Brazil celebrate by kissing the US Open trophy. Photograph: Sania Mirza (R) of India and Bruno Soares (L) of Brazil celebrate by kissing the trophy
In tennis, Sania Mirza grabbed her third mixed doubles Grand Slam title and wrapped up her dream season with the year-end finale trophy even as India's established male tennis players found the going tough.
Sania won the US Open with first-time partner Bruno Soares and now has three mixed doubles Grand Slam trophies in her cabinet which already consists of Australian Open and French Open.
Mahesh Bhupathi seems as good as retired but he along with former star Vijay Amritraj created a lot of buzz with their respective tennis leagues.
Bhupathi brought tennis' biggest stars, including Roger Federer and Novak Djokovic, to India in a franchisee-based league, IPTL, which was a great opportunity for fans to see legendary players in flesh and blood.
Amritraj's CTL was more India-centric but lacked star appeal despite featuring some high-ranked players. CTL had presence of Indian players and someone like Ramkumar Ramanathan had the opportunity to play alongside Mikhail Youzhny.
ISL brought crowd to stands like never before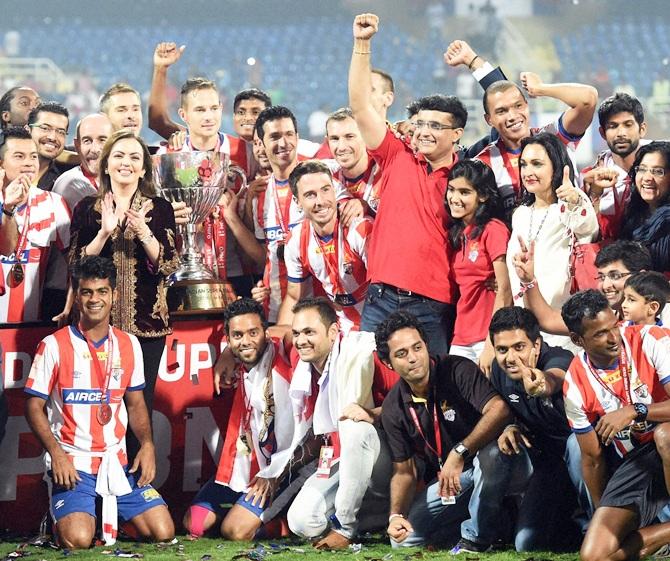 Sourav Ganguly celebrates after winning inagural ISL trophy. Photograph: PTI
In football, the 'sleeping giant' woke up to a new dawn with the ISL putting Indian football on the global map, but the national team continued to paint a grim picture, plummeting to its worst-ever rankings of 174th in an eventful year for the sport.
The national team's prolonged decline got buried under the intense hype over what turned out to be a fairly successful inaugural Indian Super League, which was graced by former stars such as Alessandro Del Piero, David Trezeguet, Robert Pires, Marco Materrazi, Luis Garcia and Nicolas Anelka, among others.
In athletics, moderate success in the Commonwealth and Asian Games was the only high point of a low-profile year in which Indian athletics also had to deal with the heartbreaking story of rising woman runner Dutee Chand being barred from competitions for having more male hormones than permissible.
For the archers, 2014 was a feel good year as the arrow shooters, bolstered by the inclusion of compound section at the Incheon Asian Games, had their best ever show -- one gold, one silver and two bronze.
All the medals came in the compound section, even as the recurve archers, who had bagged one silver and two bronze at the 2010 Asian Games Guangzhou, drew a blank in Incheon.
Abhishek Verma was the star of Incheon archery contingent, bagging one team gold and one individual silver.