'Sport could be the answer that the world is looking for to end strife'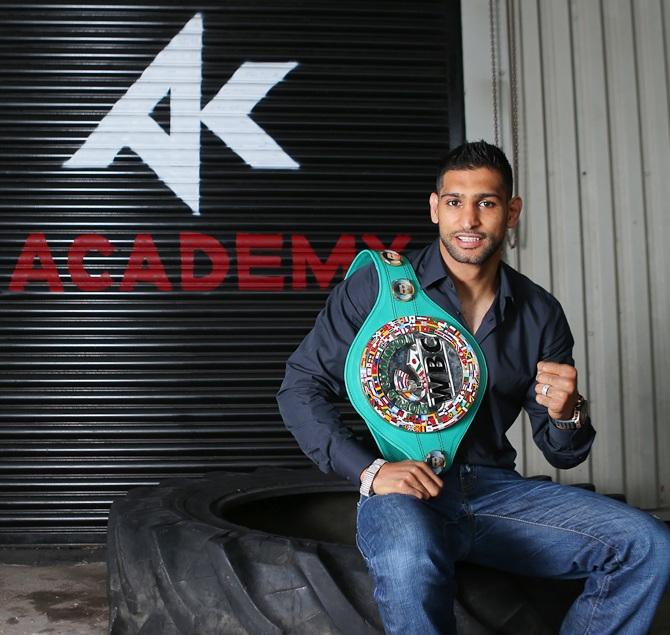 IMAGE: Boxer Amir Khan poses for photographers during a media day. Photograph: Dave Thompson/Getty Images
The International Boxing Association (AIBA) could soon allow professional boxers to compete in big-ticket amateur events like the Olympics, British professional boxing star Amir Khan has revealed, saying that he would grab the chance as and when it comes along.
As things stand right now, professional boxers – save for the ones competing in the AIBA-backed World Series of Boxing (WSB) and the AIBA Professional League (APB) – are barred from competing in amateur events, including the Olympic Games.
1. Khan, who became Britain's youngest Olympic medallist by clinching a silver at 17 in the 2004 Athens Games before turning pro, has revealed that rules are set to be changed soon to bring in pro boxers at AIBA events – a long-standing demand of his fraternity.
"AIBA President Mr (Ching-Kuo) Wu is a good friend of mine and I was recently there in Doha for the amateur men's World Championships on his invitation. I think they are changing the rules soon, that's what I gathered from Mr Wu while speaking to him, that things will be changing soon," Amir said.
"The AIBA wants professional boxers to work with them and they will allow them to go to Olympics. So imagine, I may have a second chance at the Olympics. That will be amazing and massive because everybody wants to go to Olympics," said the 28-year-old with a huge grin on his face.
"I have heard that they are changing the rules and this would a great thing because pro boxers want to compete in the Olympics. I think it's very good that they are (thinking of) bringing amateur and professional boxers together because end of the day it's boxing and people want to watch good fights," he added.
Amir is on his maiden trip to India to announce the launch of his chain of academies starting with Delhi and Mumbai. He has also been exploring the country, recently paying obeisance at the Ajmer Sharif.
2. "I want to see the Taj Mahal, I have seen a lot of pictures of the place and I want to explore it. I hope I can," Khan said.
3. The trip, he said, is also a break from the frenzy surrounding, a speculated showdown with Filipino star Manny Pacquiao. Pacquiao is looking for a rival for what he has claimed to be his final bout and Khan is among the boxers in fray for the much-sought-after clash.
"Talks are going really well. They (Pacquiao's team) are speaking to my team, I have just left it to my team. I fight anybody who is brought in front of me. If it's Manny Pacquiao, it's Manny Pacquiao if not then somebody else. But we are still waiting for response on what's going to happen. That's why I took a little break and came to India just to get away from all that because negotiating for a fight is not easy," he said.
4. The prodigal talent, who has held the WBA and IBF light welterweight world titles, is also well-known for his charitable work in strife-torn nations, including Pakistan where he has his roots.
"We have the Amir Khan Foundation which is huge now. I never expected it to be that big. It's growing quickly and all the money goes towards helping people. We are building orphanages in Africa, in fact around the world. We are feeding the homeless in UK. We are doing work in Pakistan too and we are keen to branch out to any other place where we are needed. We are there to help," he said.
5. Khan said in the larger scheme of things, sport could be the answer that the world is looking for to end strife.
"Sport helps everything in the world, sport breaks barriers, stops war. If you go to any Championship in the world, you would see, India, Pakistan, England, in fact everybody united. That's what you want. We want more people involved in sport because it brings everybody together," he said.
"If you cannot keep sport and politics separate then you can look at it this way that having everybody together is making everyone get along and helping them work together. Obviously they are different aspects but sport is the way forward in life. If you can channel your children and youth into sport, it will break all barriers," Khan said.