His US Open triumph made him, at 40, the oldest man to win a major title in the open era. Bikash Mohapatra believes Leander Paes's decision to switch to doubles at the peak of his singles career is the reason behind his longevity.
Leander Paes's triumph in the men's doubles at the US Open not only earned him a 14th Grand Slam crown but also made him - at 40 years and three months - the oldest man to win a major title in the Open Era.
Another achievement in a long and illustrious career was apt reward for his hard work, perseverance and dedication to the sport. It reaffirmed the fact that a decision he took long back ensured longevity to his career.
For someone who had had a prolific junior career, highlighted by the boys' singles title at Wimbledon (1990) and US Open (1991), a progression to the senior stage seemed logical.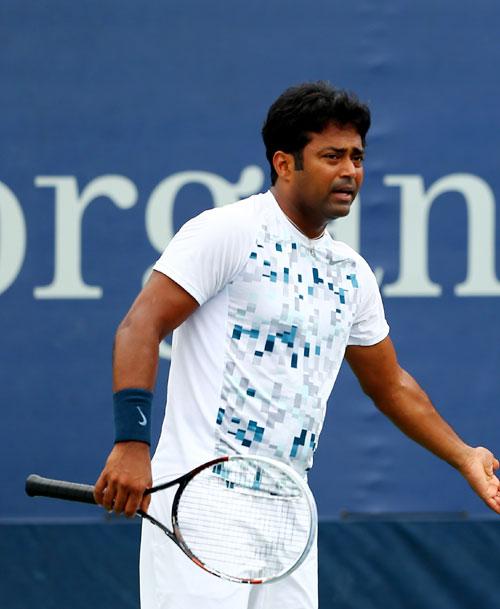 Leander was no different. His first brush with success came in 1996, when he became the first Indian in 44 years to win an individual medal at the Olympics - courtesy a bronze at Atlanta.
Not to forget his impressive displays in the Davis Cup, the team event witnessing him score memorable victories over big ticket players like Goran Ivanisevic, Wayne Ferreira, Henri Leconte, Jan Siemerink and Arnaud Boetsch, to name a few.
A couple of semi-final appearances in ATP events and a few Challenger titles later, Paes peaked in 1998.
That year started with a semi-final appearance at the Chennai Open and, subsequently, his first (and only) ATP title at Newport, Rhode Island, in July.
A few weeks later he strung together his best singles performance. At the ATP tournament in New Haven, Connecticut, he upset big names like Marc Rosset - the 1992 champion from Switzerland, Sergi Bruguera - a two-time French Open champion from Spain, and, hold your breath, then world No 2 Pete Sampras, in successive matches before falling short against Ivanisevic.
The impressive performances ensured him a career-high singles ranking (73) that year.
Following such success one would expect the player, then just 25, to build on it. Paes, however, was smarter. He was quick to realise that power tennis had taken over what was otherwise a subtle game; he knew that in an era of big hitters, his chip and charge style could best earn him sporadic success, but wouldn't hold in the long run.
Besides, had he tried to change his game accordingly - in a bid to improve his ranking -- it would have taken a toll on his body, and probably cut short his career.
In such a scenario doubles provided a perfect alternative.
The fact that almost all the major singles player had started skipping doubles, unlike the 1970s and the 1980s, offered a perfect leeway to establish an alternate career.
(Without being condescending, suffice to say whenever the singles players played doubles simultaneously, they were dominant - from John McEnroe, to Stefan Edberg, to even Yevgeny Kafelnikov. In fact, Leander was at the receiving end in successive Olympics when Roger Federer - Stanislas Wawrinka (2008) and Jo-Wilfried Tsonga - Michael Llodra (2012 teamed up).
Besides, playing doubles meant less pressure on the body, and, consequently, a prolonged career.
Therefore, after dabbling in doubles early on in his career, he paired with compatriot Mahesh Bhupathi in 1996, and followed up his best career year in singles by devoting himself to doubles from then on.
The result was instant. Paes (and Bhupathi), having reached three major semi-finals in 1998, became the first team since 1951 – after the Australian pair of Fank Sedgman and Ken McGregor - to reach the final of all the four majors in a career year.
The 'Indian Express', as they were dubbed, won at the French Open and Wimbledon, to lay the foundation of what would be rewarding careers for both.
Paes split with Bhupathi later, but stuck to doubles (and mixed doubles).
His decision, a career masterstroke, has thus far earned him 14 major titles - eight in men's doubles and six in mixed doubles - and over 50 career titles, besides the top ranking. Something (let's be realistic) he would never have achieved had he continued playing singles.
Besides, it helped prolong his career. At a time many of his contemporaries have long retired, Paes (at 40-plus) is still going strong.
So, even as we celebrate Leander becoming the oldest man in the Open era to win a major title, one has to credit him for taking such an important decision at the peak of his singles career. The many titles that have come along the way are testimony to it!
Photo: Leander Paes (Getty Images)