'The government is betraying the thousands of youth who practice winter sports and are patriotic to dedicate everything for their country.'
Disappointed at missing out on the Luge World Championships for lack of funds, the 'Fastest Indian on Ice' tells Harish Kotian/Rediff.com what keeps him going despite the couldn't-care-less attitude of the people that matter in Indian sport.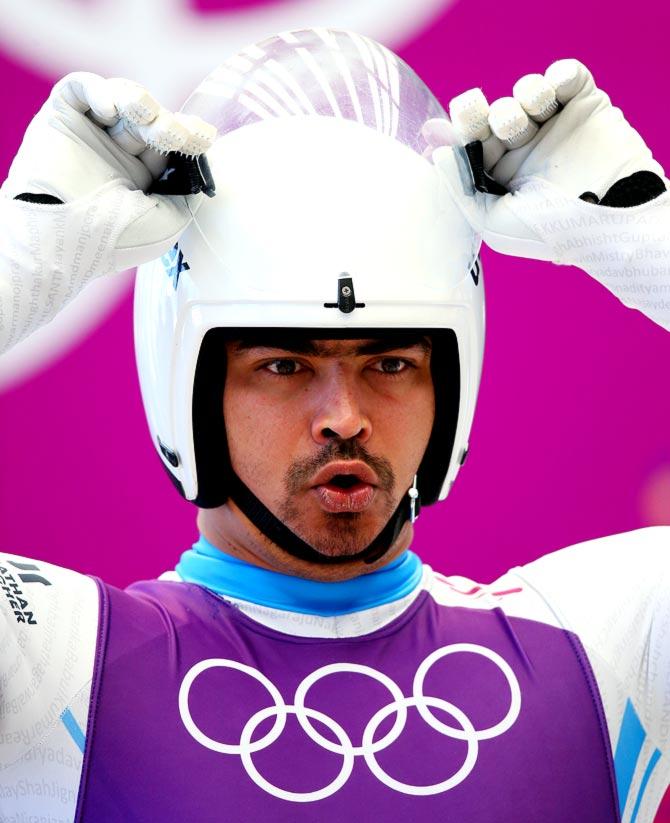 IMAGE: Shiva Keshavan: Will India and the government help the Fastest Indian on Ice achieve his dreams? Photograph: Julian Finney/Getty Images
Five-time Olympian and the poster boy of winter sports in India Shiva Keshavan has been left to fend for himself.
The first Indian to qualify for the Winter Olympics, he recently won a silver medal at the Asian Luge Championships and has two gold medals from the Asia Cup. Yet, the sports ministry is being tightfisted over funds for his training and coaching requirements.
The situation is so grave that the 34 year old pulled out of the Luge World Championships in Germany last month.
Worse, his coach Duncan Kennedy -- the winner of 21 World titles and former technical director of the United States luge team -- resigned after not being paid his full salary!
If Shiva's predicament persists, it's doubtful if he will participate in the 2018 Winter Games.
But he is not giving up hope just yet. Shiva is trying to source funds from sports fans in India and around the world on crowd funding Web sites -- https://www.bitgiving.com/shivakeshavan and https://www.gofundme.com/lugeshiva -- so that he can achieve the rare feat of competing in six Winter Olympics.
He has also written to Prime Minister Narendra Modi's office and the sports ministry, headed by Sarbananda Sonowal, for help, but hasn't received any reply.
In an e-mail interview, Shiva tells Harish Kotian/Rediff.com what keeps him going despite the couldn't-care-less attitude of the people that matter in Indian sport.
How disappointing was it to watch the World Championships from home and not participate despite qualifying for it?
It is extremely disappointing. I had been preparing for a year for the World Championships. In a way, it felt like being stabbed in the back.
Who would you say is responsible for you not taking part in the event?
Unfortunately, this seems to be a pattern in winter sports. It is difficult to pinpoint the blame because we do not have a proper administration system for winter sports.
Ministry officials have no idea about winter sports, so how can you blame them? At the same time, the Indian Luge Federation is not recognised by the ministry, so you can't blame them either.
We need the minister of the day to draw up a system to evaluate and support winter sports athletes, who are putting just as much effort as those in other sports.
I feel there is deliberately no system and no accountability precisely because this way it is difficult to blame anybody.
Duncan Kennedy quit as your coach after the sports ministry didn't pay his salary...
That is not surprising. Nobody will continue to work without being paid.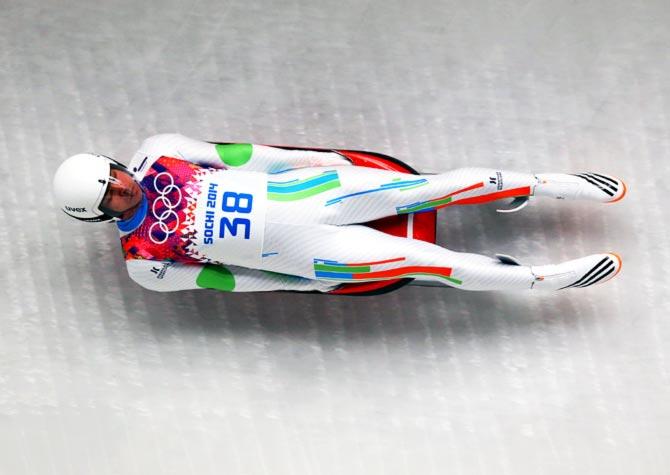 IMAGE: Shiva Keshavan makes a run during the Luge men's singles on Day 1 of the 2014 Winter Olympics in Sochi, Feburary 8, 2014. Photograph: Alex Livesey/Getty Images
You wrote to the sports ministry and the PMO last month. What was their reaction?
I have not got any reply from the PMO or the sports minister (Sarbananda Sonowal). It is my understanding that the sports minister is campaigning in the elections in Assam right now and is not in the office.
What is the response for your crowd funding initiative at bitgiving and gofundme? How much money do you require annually to compete at all the world events?
We have had a good response to the crowd funding initiative on bitgiving. People have started donating. I have also received some offers of sponsorship that I am currently exploring.
We are trying to raise a total of Rs 1 crore (Rs 10 million) to pay for the coach's salary, the summer and winter training, equipment as well as travel and boarding and lodging for the team in the annual race calendar.
How much does it hurt that winter sports is neglected by the Indian government?
By neglecting winter sports, the government is only betraying the thousands of youth who practice winter sports and are patriotic enough to dedicate everything for their country.
Does anybody know that the Youth Olympic Games are being held in Lillehammer and the lone participant from India is a skier from Himachal? What future do these young athletes have without any support?
You could achieve the rare feat of competing in six Olympics in 2018, in Korea. Do you see that dream fading due to lack of support and funding?
I am confident enough in my skills to be able to qualify despite the lack of proper facilities. However, it is difficult to perform well and compete against well-equipped teams this way.
That is why I question the commitment to the nation from the people who are responsible for the administration.
Who are the people who have stood with you in such tough times?
The people of India have been a pillar of support, and that is why I feel confident to keep on fighting.
My family and friends have been contributing in any way possible. I have also met so many kind and generous Indians all over the world who have supported me.
In 2014, you travelled to the US and trained with the US Olympic team. What are the facilities for US athletes like compared to Indians?
The difference is like heaven and earth. I know the sports ministry had sent some senior officials to inspect the US Olympic training centres, presumably to learn what kind of facilities they have. Unfortunately, these foreign trips are used as junkets and seldom have any real impact!