'I have boxed at the amateur level for 15, 16 years and won every medal possible at the world level.'
'I represented India in three Olympics, for 12 years, and that is not an easy thing. I am hoping to replicate my success in pro boxing.'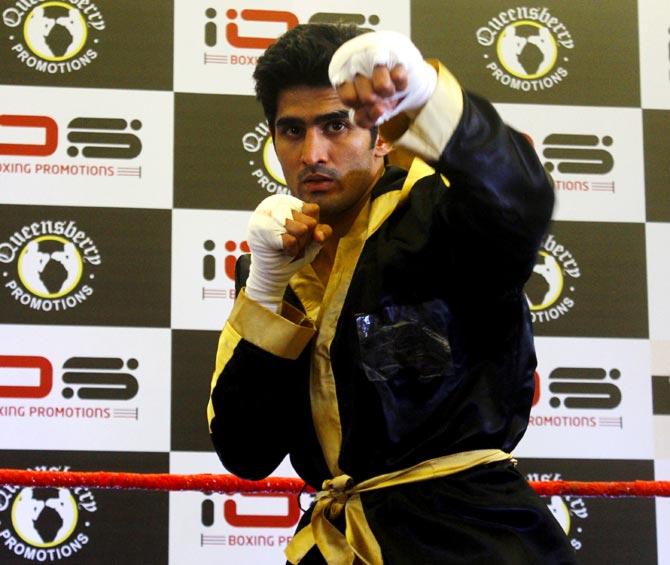 Vijender Singh startled many when he announced his decision to go pro.
It meant the 29-year-old pugilist, who won a bronze medal at the Beijing Games -- India's first Olympic medal in boxing -- will no longer represent the country.
Ask him if he made the switch because of the money in pro boxing, and he promptly replies: "Yes. Money and everything else!"
Last year Vijender tried his hand at the movies, making his Bollywood debut in Fugly, which didn't set the box office on fire. He also walks the ramp and takes part in television reality shows.
After tasting much success in the roped square at the amateur level -- a gold medal at the 2010 Asian Games in Guangzhou and the world No 1 ranking in 2009 being the high points of his career -- Vijender has changed his career route and signed up with the influential British boxing promoter Francis Warren.
A multi-year promotional agreement with Queensberry Promotions will see the boxer from Bhiwani, Haryana, compete a minimum six times in the first year.
Harish Kotian/Rediff.com caught up with Viender at a Mumbai mall to find out more.
Why pro boxing?
Why not? When I signed up for the movies, people asked why are you doing movies? And now when I signed up for pro boxing, people are again asking why.
Why not?
In India there is a negative atmosphere about pro boxing. No Indian boxer has done well in this format. I want to make a new beginning, so people in India know what pro boxing is all about.
Indian boxers at the amateur level, who are not able to make it big because of injury or any other reason, can come to pro boxing and get a second chance of making a career.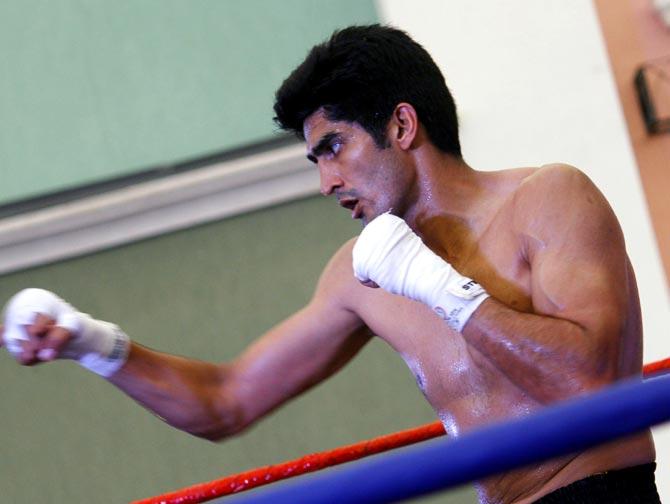 When did you decide to sign up?
I have been thinking about pro boxing for a long time now. Before I won the Olympic medal in 2008, my manager Neerav Tomar (of IOS Sports and Entertainment) and I used to talk about boxing at (New York's famed) Madison Square Garden (where Joe Frazier knocked out Muhammad Ali in his comeback bout in 1971), but I didn't have any clue of what pro boxing was.
Last year, after the Commonwealth Games (in Glasgow), I went to England for training.
At that point I hadn't decided on taking up pro boxing; after checking out the facilities, the training conditions, the coaches, I decided to sign up.
So you gave up a chance of winning another Olympic medal in Rio...
When I was doing police training and not attending boxing camps, nobody was questioning why I was not preparing for the Olympics. I completed my police training yesterday (Tuesday, July 14).
This is my life and it is my wish to turn pro.
I have boxed at the amateur level for 15, 16 years and won every medal possible at the world level. I represented India in three Olympics, for 12 years, and that is not an easy thing.
I am hoping to replicate my success in pro boxing. I am looking to win the world title.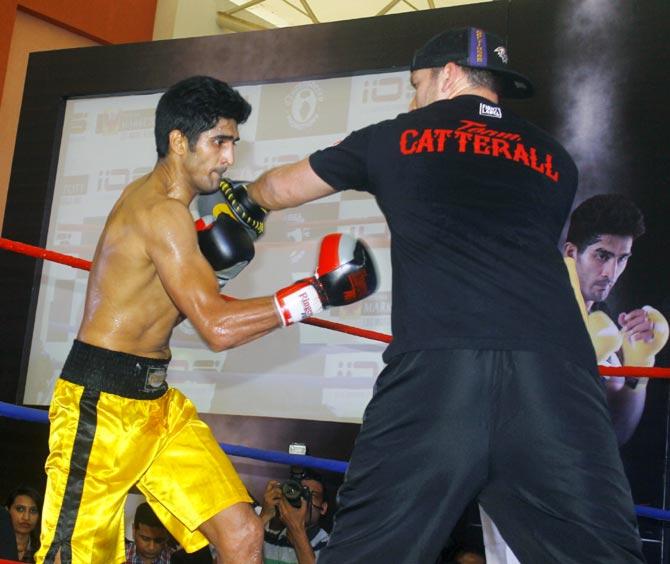 Do you want Indian youngsters to take up pro boxing? Or do you want them to take up amateur boxing and win medals for the country?
I just want them to take up boxing, whether is it amateur or pro. It is up to them to decide because some of them might be good at the amateur level and some could perform at the pro level.
After 2008 there was a lot of interest for boxing in India, but we could not sustain it. Wrestling grew a lot, but boxing was not able to match up.
We won medals in back-to-back Olympics in wrestling, but men's boxing was unable to win a medal at the London Olympics. After that you had the IOA (Indian Olympic Association) being banned, then the boxing federation was suspended and the focus shifted off the sport completely.
I believe it affected the preparation of Indian boxers and their performance ultimately.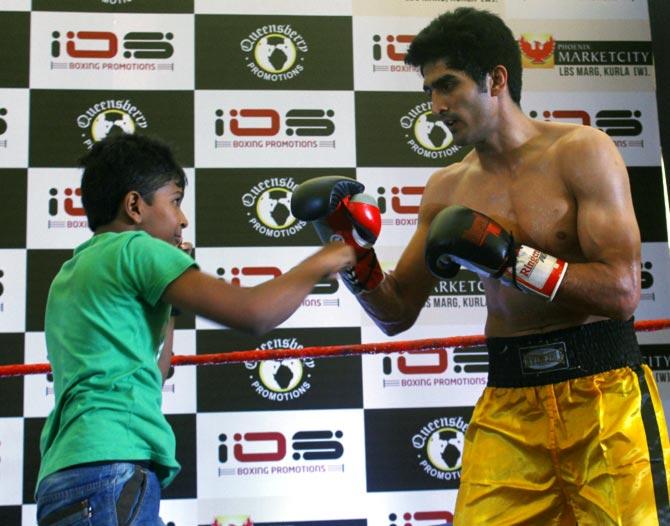 How different is pro boxing from amateur boxing? Is it physically tougher?
Yes, definitely! It is tougher, both technically and physically. It also involves a lot of mental preparation. In the UK, all the boxers who win Olympic medals, or do well at the amateur level, shift to pro boxing, whether it is Amir Khan (the British boxer) or any other top boxer.
Amateur boxing is totally different as it is all about speed and points, but in pro boxing it is about hard work and hard punching.
You will make your pro boxing debut in September. Is two months enough to get ready for such a big stage?
We will take it step by step. My first bout is in September and I will start with four rounds and then take it up to six, eight and finally 12.