'He was not the hit and run kind of a boxer, but a very intelligent boxer.'
'His presence of mind in the ring brought him glory in many international tournaments.'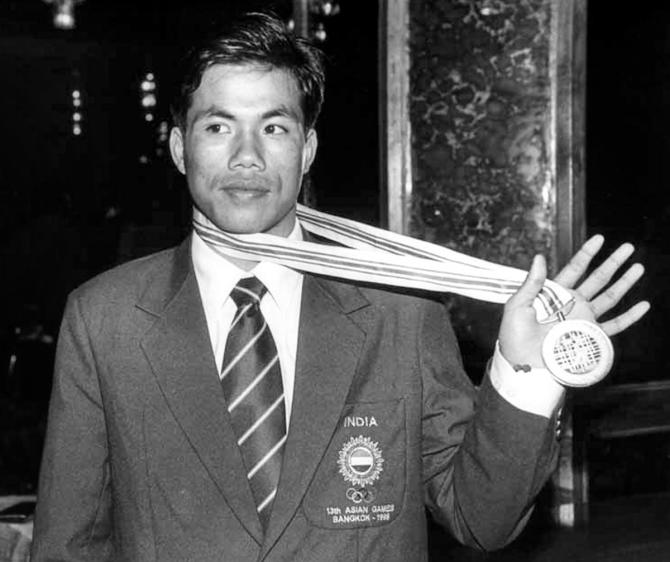 Ngangom Dingko Singh, who passed away on Thursday, June 10, at the age of 42 after a prolonged illness, was renowned for his versatility and scientific boxing.
Brought to the INS Hamla training academy in Mumbai by the Indian Navy's talent scouts from Imphal's Sekta village, Dingko immediately became an instant hit in the roped square. His style and aura attained huge popularity in Indian boxing circles.
Kishen Narsi, an international referee and vice-chairman of the International Boxing Association's executive committee who officiated at three Olympics, remembers how the then 19 year old stunned the then world No 3, Wong Prages Sontaya in front of the Thai boxer's home crowd in the semi-final en route to a gold medal at the 1998 Bangkok Asian Games.
That triumph at that Asiad earned him the tag of the 'original star of Indian boxing'.
After spending many years with the Indian Navy, Dingko turned to coaching in 2013, when he took up an offer from SAI Imphal. In 2017, he found himself battling liver cancer and fought it bravely.
Kishen Narsi tells Laxmi Negi/Rediff.com how the Manipuri pugilist's exploits propelled Indian boxing into the world spotlight.
How would you like to define Dingko's legacy?
I have known Dingko for a long time. From the ring side I have seen his rise. There was no stopping this diminutive and fast boxer.
In 1997 when he fractured his wrist while travelling, and it was not completely healed, his Indian Navy coach asked some officials from Mumbai to help him. We took him to Dr Anand Joshi, but Dingko needed someone more specialised in hand injuries. We took him to Dr Sunil Warrier who got him back in shape.
It is a known fact that he was not selected in the original Asian Games squad. Former president of the Boxing Federation of India and the treasurer of the Indian Olympic Association, the late Ashok Mattoo, played an important role in Dingko's inclusion. He pleaded with (then) IOA president Suresh Kalmadi and finally his name was included in the squad.
I was present at the Asian Games,as I was invited by FAB (Federation of Referees and Judges).
Dingko boxed extremely well throughout the tournament. When he beat the home champion against a partisan crowd his confidence soared.
In the final, India needed a gold badly and Kalmadi came to watch his bout. It was one of his best performances. That boy boxed his heart out.
No doubt he was talented, but he was hardworking and committed too.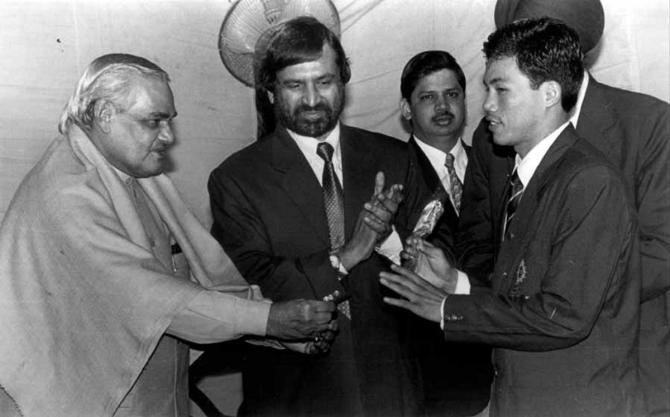 How do you remember him?
He came from a humble background and rose to the top level in boxing. I will always remember him as young handsome boy who had an aura of a skillful and committed boxer.
I would call him one of the most intelligent and extremely fit boxers.
He was not only committed to raise his standard of boxing, but also of the people from his region.
How would you want young boxers to remember Dingko Singh?
He was one of the most dedicated and disciplined boxers. He was not the hit and run kind of a boxer, but a very intelligent boxer. His presence of mind in the ring brought him glory in many international tournaments.
When he was inducted into the Indian Navy, they realised the potential of the boxers from the north east.
We can call him the flag-bearer for the people from the north east. There have been many academies and grassroot activities due to which there has been an influx of boxers from that region after Dingko.
Did Dingko ever argue with officials during bouts?
Never! He boxed for the navy and they were very disciplined. They have a regimented environment.
And he was in amazing form from the time he started boxing. He helped the navy win many championships.
Were there controversies attached to his name?
I would not call them controversies; I would call him unfortunate.
After his Asiad gold he suffered another injury and that remained his biggest achievement. India didn't have the kind of sporting eco-system that could help the star progress further, unlike today.
Today, a 14-member team travels for a tournament and a 11-member support staff travels with it. But in Dingko's time, the athletes were provided with five rupees worth tea and biscuits.
So, I would call him unlucky that during his time we didn't know how to treat our stars. Today, I am extremely happy with the support our boxers get.