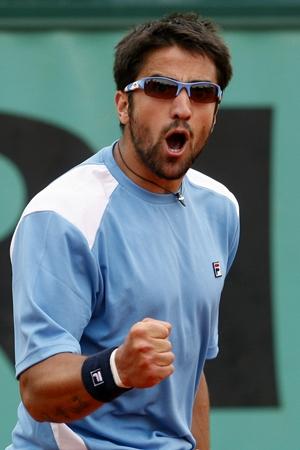 He was promising as a junior. A title win at the 2001 Australian Open (boys' singles) was followed by the No 2 ranking the same year.
The transition to the senior level has been anything but smooth.  Nonetheless, two Futures titles and nine tournament wins at the Challenger level meant he has always been on track.
And in 2008, Janko Tipsarevic made an impact on the biggest stage, the year turning out to be a breakthrough year for him in more ways than one.
Stretching Roger Federer to five sets ( 7–6(5), 6–7(1), 7–5, 1–6, 8–10) in the third round of the Australian Open that year made the world notice him.
And at the Wimbledon Championships the same year, he went a step ahead, pulling off an upset win over American Andy Roddick in the second round.
After a few hiccups thereafter, the 25-year-old finished 2009 on a good note, advancing to his first ever ATP final in Moscow, reaching a second successive semi-final at Vienna and winning a big Challenger event in Belgium.
2010 has started on a good note for the Serbian -- with wins over former champion Carlos Moya and former finalist Somdev Devvarman at the Chennai Open,  results that have elevated his status to being one of the favourites.
The composed manner in which he answers every question makes you listen to what he has got to say. And most of his answers are thoughtful and encourage you to ask more.
In a tete-a-tete with Special Correspondent Bikash Mohapatra, Tipsy, as Tipsarevic is called, talks about his victory over Somdev, his growing up years in Serbia and love for Dostoevsky.
To start with, take us through your comprehensive win over Somdev Devvarman?
The scores (6-2, 6-1) might look easy, but I played about one-and-half hours of long and sharp tennis.
Neither me nor him served good, so it was mainly rallying and playing points from the baseline.
I am happy that I managed to stay inside the court while Somdev was running left and right, two-three metres behind the line.
I was focusing more not on finishing a point with a groundstroke. My idea was to make a good approach, go to the net, cover it and if he makes an unbelievable passing shot I was ready to face it.
That was the idea I had from the start and even then it was much tougher than it looked in the scoreboard. I am happy to have won the match in straight sets.
Were you nervous ahead of the match, considering he was playing in front of his home crowd?
I was a little tense at the start and that worked two ways -- I was trying something too much or just doing nothing but staying back and grinding it from the baseline.
I knew that the only way to beat him was to stay aggressive but not to overplay.
In the first few games I played in a manner which worked in his favour. But when I found my rhythm and started to make, what I would call the right decisions, he didn't have a chance.
What, according to you, are Somdev's biggest strengths as a player? And what are his weaknesses?
His biggest weapons are his legs and his forehand. When I played him, because I was pushing him from the start, to beat me he needed to raise his game.
He needed to be more aggressive and he should have seen that just by running and grinding from the back it's not going to happen for him.
This is something he didn't do or I didn't allow him to do that; you can look from either side.
I think he was opening the court well but sometimes he was going for too much.
Instead of waiting for a shot ball, going to the net (he has a good enough hands to play good volleys), he was just staying back and playing a little bit of clay court tennis -- like playing top spin tennis left and right. He tried it a little bit too much.
In my opinion -- and I am not here to lecture him on how he should play -- he should have gone to the net on a short ball rather than staying on the baseline and playing a top spin.
Definitely, in order to become a top player he needs to use the forehand more. He is fast enough to defend well, but I think he should use his wrist more in an offensive way than in a defensive way.
Coming to your own career, how difficult were your formative years, considering the political situation in Serbia then? And what is it that has ensured so many good players coming out of your country in such a short span?
The transformation of a sport in a small country like Serbia came from, I would say, nought (nothing).
We haven't invested anything on any of the tennis players you see on the Tour at the moment. It was only their parents' support and their will to succeed.
 I never was concerned about the political changes when I started playing. Of course, one cannot totally ignore politics, but my focus was completely on my game.
But, yes, it helps to fight better if you come from nothing.  
You haven't been consistent enough in terms of results…
Consistency has been the biggest problem of my career so far. If I play good I am winning, beating players who have a better ranking than mine. But it comes to days when I don't feel like I am playing tennis, I lose to guys I shouldn't lose to.
I do not want to predict anything. I started working with a new coach late last year and it's been very good since. I reached my first ATP final in Moscow, won a big Challenger in Belgium and so on.
So if I manage to get a consistency in my results, it would help me improve my ranking. To become a champion, a top-10 player, you need to beat big players at bigger stages.
And, for me, it is more important to try and execute the aggressive game that I have been practising in the off-season.
But not being overtly aggressive also cost you quite a few crucial matches?
With aggression it is normal that you have a bigger number of unforced errors. It is just that if you are aggressive, you are playing the game in the way you would love to play. You are not just playing to win, to get a few points or to win the prize money or whatever.
I enjoy this sport if I play it aggressively, if I stay inside the court, even if I lose.
The good thing is that my best wins came when I was aggressive, attacking and playing the kind of tennis that I love and enjoy playing.
There have been a few players coming in recently who also happen to believe in aggression…
I think players like me have a lot to learn from guys like Andy Murray, Novak Djokovic and Juan Martin del Potro. These are players who have no fear in them and can beat anyone and everyone.
The respect for the bigger players is always there but these players are not affected by their opponent's reputations.
Moving away from tennis, you are known to be an avid reader, especially books by Fyodor Dostoevsky. Tell us more about this reading habit?
I read a little less now. The last book of his I read about six months back.
I have read all of his (Dostoevsky's) books. I wouldn't say he is my idol but he is one of the people I admire.
And this reading habit, if I remember well, came from my mother. She was always forcing me to read when I was a kid and now this has just become a way to kill time on the Tour.
I never enjoyed something like Agatha Christie but wanted to read something else.
I  don't think it is making me any smarter though. Some decisions that I made in my life I made more so because of these books.
It's just a problem I have, nothing else.
Finally, tell us something about your girlfriend (Biljana Sesevic)?
She is a huge support. She travels with me when she can. She also works in Serbia, as a TV host (has to be independent).
We have got engaged and are going to get married on July 4 this year.