'All is forgiven dear Tiger, come back home to the Winner's Circle now,' says Siddharth Shriram.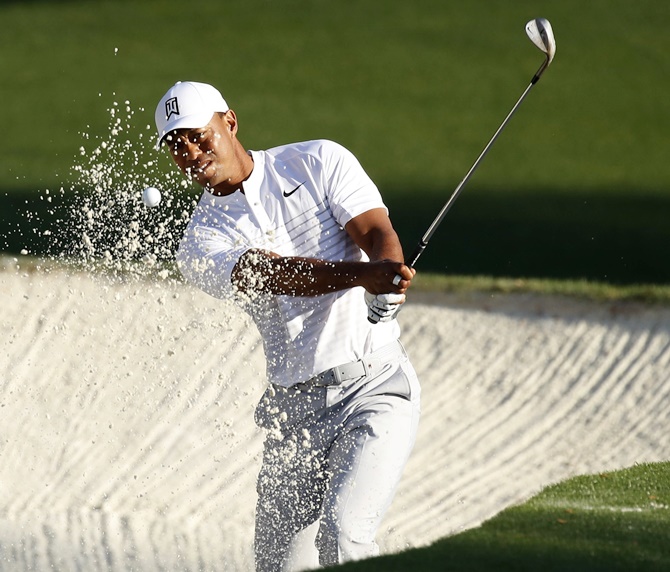 Of course, Tiger Woods did not follow the advice on targeting shorter drives of about 275 yards or so to improve accuracy off the tee.
Accuracy would dramatically improve the prospect of crisp iron shots from fairways to greens, rather than creative saves from impossible lies caused by errant tee shots.
Then, his legendary chipping and putting skills would bring him into the winner's circle again.
One had not figured on his mojo, which demands that he, because of whose prodigious length off the tee golf courses were redesigned, should not be shorter in length than Dustin Johnson/Rory Mcilroy/Justin Thomas et al.
With bombs off the tee, however inaccurate, that carry 325 yards or more, he is now very much in that league, presently standing seventh in distance off the tees and with the fastest swing speed.
He has surprised not only the teeming viewers, but also all those great players against whom he might contend and who were just five to seven years old when Tiger won his first Masters in 1997.
Digging out deeply plugged balls from fairway bunkers, going for the green from heavy rough and those massive drives require back wrenching torque to be applied.
Every spectator had their hearts in their mouth, hoping that Tiger does not injure his back yet again and deprive them of the sheer joy, excitement and promise of watching him play in tournaments.
From each of these high torque shots, Tiger walked away unconcerned about his back while commentators marvelled at this recovery.
Even though it is early days yet, no one now seriously talks about his health, not even much about whether he will win again; they are talking about when he would win next and whether he will take the first Major of 2018, the Masters.
Not having played at a seriously competitive level takes the edge off one's game.
Being unable to practice or play, owing to injury/surgery, is a serious setback in playing competitively.
Practising at home and competing against the best are like chalk and cheese.
And, yet the big cat wants to be on the prowl, hungry for the small prey that stands in the way of his victory.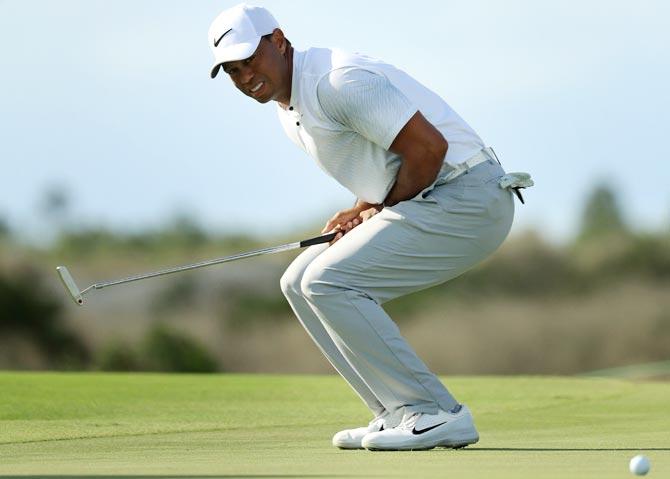 It has been almost 10 years since he won his last Major (the US Open 2008) when with an injured leg and inability to walk properly, he willed his way through an 18-hole play off on the Monday to win the first sudden death play off hole.
That downhill, side-winding putt is surely etched deep in Rocco Mediate's memory.
Tiger has won 14 times after that, but not since 2013.
He has not really been 'whole' since then and what he has been through was substantially of his own making.
His world seemed to collapse around him when the news of his marital infidelities exploded.
When one is so famous, even the smallest setback or success becomes a big news; here, Tiger provided enough red meat for the media (always hunting TRPs) to send the prurient into a massive feeding frenzy. The world sided with Tiger's beautiful Swedish wife Elin.
Tiger was reviled in Sweden for sure, and most women found him, his manners and his attitudes distasteful.
At PGA tournaments, spectators would taunt him while at the Masters, where 'patrons' (spectators) are hauled off the premises if they disturb players, they showed their displeasure by turning their backs to him as he walked by and not applauding his play at all.
Because of his golfing prowess, success and fame, Tiger was the richest athlete in the world; now because of his infamy he was dropped by a number of sponsors.
Buick actually lost sales, rather than gain them, and dropped him and brands with strong women's appeal had no choice but to let him go.
In this maelstrom of 'bad' news, saner voices (such as Nicklaus, Palmer et al) voiced their acknowledgement of Tiger as the greatest player ever, but offered no comment on his personal life.
The young greats, who had grown into golf in his image, while feeling for his family, simply said that he has contributed hugely to the game of golf worldwide and that could never be taken away.
Through all this, Tiger maintained a stoic silence and pursued the one quest that has driven him all his life -- to be an even better player than he was!
Not for him the advice of Bagger Vance (that you are born with your own unique swing); he sought swing guru after swing guru, different strength and fitness coaches, different medicinal treatments, different caddies, physiotherapists, virtually new back etc.
His back (only a bundle of muscle/ligaments/bone/blood/nerves, after all) had multiple surgeries from which, he recovered for a while, but was soon back in surgery and the world began to doubt that he would ever return longer term to competitive golf.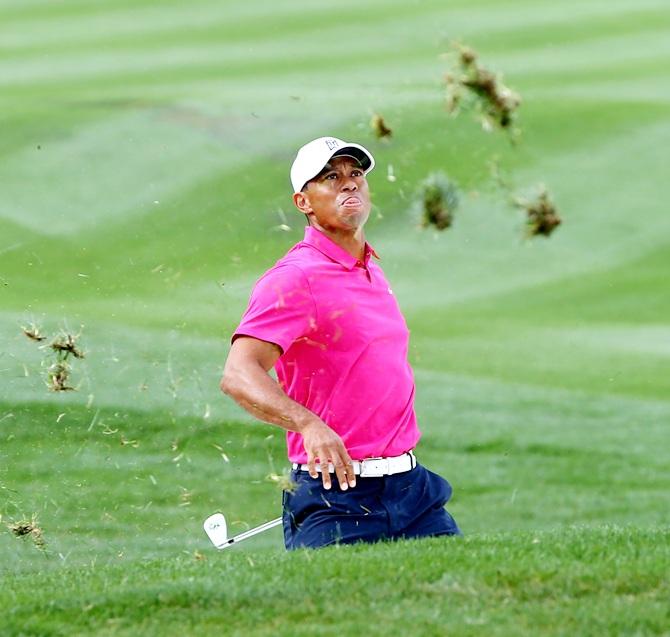 This is when, Pawan Munjal of Hero Motors, took on Tiger Woods as a brand ambassador for four years, at a reported fee of about $40 million, which included the exclusive (30 of the world's top ranked players only) Hero World Championship hosted by Tiger Woods himself.
Pawan brought Tiger to India where he broke the course record at the Delhi Golf Club (9 under) in only his first and only outing there. Soon after that Tiger went in for spinal fusion surgery.
Tiger found himself imprisoned by frailty, uncertainty and self-doubt.
Was he done?
He had enough achievements to depart the scene as a legend, but that was not good enough for him.
Golf administration in the US recognised his golfing merit and after a well-deserved period of purgatory he was invited to be a vice-captain on the US Ryder Cup team where the players found his counsel extremely valuable. Now he is an assistant captain on the President's Cup team.
Having passed through the slough of despond, this pilgrim's progress is now rock steady.
Angels do fall (errare humanum est), repair their folly and are resurrected by the ever forgiving (after due process) Master.
The miraculous 'Return of the Tiger' is the sign of forgiveness.
After the Hero World Challenge in 2017 where he performed creditably, he has improved and performed well missing the cut only in the Genesis Open (Jordan Spieth has missed three cuts this season) and attaining three top 15 (T5 in the Arnold Palmer Invitational, T2 in the Valspar) finishes thereafter and even looked like contending. Many people in the East lost sleep watching him play.
Nobody is talking about his past personal life. It is said that therapy has cured his personal excesses; it has also made him a far more 'human' person on and off course, with media, fans and fellow competitors, he seems to have fun without losing focus.
All is forgiven dear Tiger, wear your red shirt on day four and come back home to the Winner's Circle now.
Start with the Masters 2018; the fatted calf awaits you!