Never far from controversy during his career, Liverpool striker Luis Suarez's winner in an FA Cup match on Sunday re-ignited the morality debate in sport -- should the honesty card be played in the heat of battle?
Suarez's goal, aided by a clear handball, against plucky minor league opponents Mansfield Town in a third round tie brought accusations of cheating against the Uruguayan.
- Maradona's "Hand of God" fooled more than one
Liverpool manager Brendan Rodgers staunchly backed his player and even Mansfield boss Paul Cox said it had been "instinctive" and Suarez had not done anything wrong in the 2-1 away win.
- Messi gives new meaning to 'Hand of God'
The handball was judged accidental by referee Andre Marriner and his assistants but Suarez, banned for eight matches last season for racially abusing Manchester United's Patrice Evra, was again greeted by unwanted headlines on Monday.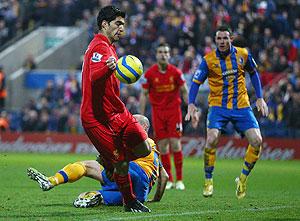 "Caught red-handed again", "cheated" and "Suarez 'stole our FA Cup glory'" were just some of the accusations laid at the striker's feet.
Suarez was also pilloried for a handball on the goal-line that prevented Ghana's Dominic Adiyiah from scoring a winner in the last minute of a 2010 World Cup quarter-final.
Suarez, then an Ajax player, was sent off but Asamoah Gyan missed the penalty - and Uruguay triumphed in the shootout after extra time to make the semis.
Unabashed, Suarez said he had usurped Diego Maradona by pronouncing "the hand of god now belongs to me".
Just how honest should sportsmen be on the field of play? Is it up to the match officials to spot incidents of cheating or must players own up when they clearly know they have gained an advantage from an infringement?
Former Liverpool defender Alan Hansen, in his column in the UK's Daily Telegraph newspaper, said no footballer would ever ask a referee to disallow his goal, by whatever means it came by, and opined that the "outrage" was in part down to Suarez now being an "easy target".
"What exactly was Suarez supposed to do? Run to the referee and tell him it hit his hand? His team mates would go berserk and his manager would not be too impressed either," Hansen wrote.
He added: "From Suarez's reaction, he expected it to be disallowed and when it was not, he has decided to get on with the game. It is not like he ran off celebrating. He did exactly what anyone who has ever played professional football -- and anyone who plays in the future -- would do in the same situation."
Suarez's goal revived memories of France's controversial World Cup playoff victory over Ireland in Paris in 2009 when Thierry Henry handled the ball before setting up William Gallas's winner that put the French through to the 2010 finals.
The striker later acknowledged he had handled but absolved himself from blame when he said: "I'm not the ref. I played it, the ref allowed it."
Some sports have a reputation for honesty more than others.
Golfers routinely penalise themselves for rule infringements, as do snooker players, but there is no such thing as a perfect world.
In other sports, a reputation for upholding the spirit of the game does not always make you popular.
Former Australia cricketer Adam Gilchrist was renowned for his honesty at the crease, walking (back to the pavilion) when he thought he had made contact with the ball before being caught, even if the umpire had not given him out.
His moral stance, once the norm in the game but now a rarity, was not always appreciated by team mates, though. Winning, at all costs and by whatever means, is the often watchword of professional sport.
The UK Independent newspaper's chief sports writer James Lawton said "doing the right thing", and owning up to having infringed the rules, would not have occurred to Suarez.
"He confirmed his status as arguably the most dazzling but troubling enigma ever to arrive in English football," Lawton wrote on Monday.
"Once again, and after one of the most brilliant phases of his extraordinary career, he showed that for some men, however uncomplicated their gifts, doing the right thing, as opposed to simply gaining any kind of advantage, is the most difficult of challenges."
Moments of honesty do win you friends and admirers.
In 1997, Liverpool striker Robbie Fowler won plaudits when he asked referee Gerald Ashby to change a penalty awarded to his side in a Premier League match against Arsenal at Highbury.
Fowler said he had not been fouled by Arsenal goalkeeper David Seaman but Ashby did not reverse his decision. Fowler nevertheless took the subsequent penalty, which was saved, only for Jason McAteer to score from the rebound as Liverpool won the game 2-1.
Afterwards, Arsenal manager Arsene Wenger said it had been a "great gesture" by Fowler who was handed a UEFA Fair Play award by European football's governing body.
In 2001, Italian Paolo Di Canio was commended by FIFA after passing up the opportunity to score a winner for West Ham United at Everton in December 2000 by catching the ball because goalkeeper Paul Gerrard was lying injured.
Another striking moment of honesty came earlier this season when Lazio's Miroslav Klose scored an early goal against Napoli but the referee changed his mind after initially awarding the goal after the Germany forward said he had used his hand.
The spirit of fair play can badly backfire though -- as seen in a Champions League game in November.
Shakhtar Donetsk striker Luiz Adriano was banned for one game for unsporting behaviour after he scored as his team tried to play the ball back to Danish side Nordsjaelland's goalkeeper following an injury.
Shakhtar backed UEFA's decision, saying they "believed fair play is a fundamental part of football".
But just what constitutes fair play in sport remains open to debate.
Photograph: Clive Mason/Getty Images