In a sport spoiled for tsarinas, one Russian tennis player has emerged as queen of the court.
As comfortable gracing the catwalk as she is prowling the great sporting stages, Maria Sharapova's coronation at the WTA Tour Championships on Monday came as a timely shot in the arm to the sport's administrators and sponsors alike.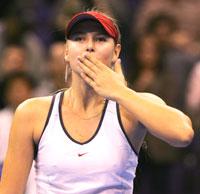 In just 12 short months the Siberian teenager has become not only Wimbledon champion and winner of the season-ending jamboree, but the face of women's tennis.
It is a striking face that pulls in crowds and helps to promote tennis worldwide.
Never mind that she does not make the cut for a Russian Fed Cup team awash with tennis talent, Sharapova -- like Anna Kournikova before her -- has the x-factor.
Even her most bitter rivals concur.
Serena Williams had her Wimbledon crown stolen by the teenager in July and on Monday night the outspoken American lost to Sharapova in the final of the WTA Championships.
'SHE'S SEXY'
There is no love lost between the pair, yet while words of praise often stick in Serena's throat, she has been remarkably candid about Sharapova's appeal.
"She's sexy," Serena said last week.
Organisers of the WTA Championships had focused their advertising on the willowy Russian.
Her
leggy image was plastered across tournament promotions with various tag lines, including "The closer you sit the hotter she gets".
The advertising campaign caused some to get hot under the collar but Serena was full of praise for her rival.
"I love her legs in this picture. Her legs are so sexy," she said. "This is a hot picture. If you're not ready to sell pictures, then you shouldn't be part of the tournament.
"Unfortunately, I hate to say it, but sex sells," added the woman who a week ago showed up at a London movie premiere wearing a see-through dress.
Not everyone was as complimentary. "I wouldn't do it, and I can tell you my daughter wouldn't either," world number one Lindsay Davenport said.
HOMELAND PERMAFROST
But Sharapova, characteristically, was unfazed. "I don't care what they sell," the ice maiden said coolly.
If her psyche is as hard to penetrate as the permafrost of her homeland, her tennis ability is on show for all to see.
Monday's victory earned her a cheque for $1 million -- the largest payday in women's sport -- and it was earned with a mesmerising mix of movement and power.
She hits the ball harder than French Open champion and fellow Russian Anastasia Myskina. She moves better than U.S. Open champion and third member of the Russian Grand Slam troika Svetlana Kuznetsova.
On top of this, her big-match temperament is rock solid.
"It's been an amazing year," she simply said after collecting her million dollars.
Amazing for Sharapova and amazing for women's tennis.