Real Madrid coach Jose Antonio Camacho will have been biting his lip on Friday as he witnessed the club miss out on the chance to sign Patrick Vieira and instead agree a deal to sign England striker Michael Owen.
Camacho has made no secret of his desire to shore up Real's shaky defence with a combative ball-winning midfielder of Vieira's characteristics.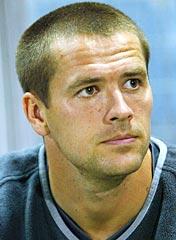 But whether it was loyalty to Arsenal or just the fact that real hard cash was not forthcoming, Frenchman Vieira is staying in England while Englishman Owen is moving to Spain.
Camacho will now find himself with yet another striker in a squad that is already brimming full of attacking talent. He now has a real dilemma to solve.
For Real president Florentino Perez, the chance of bringing yet another high-profile big-name player to the Bernabeu proved just too tempting to resist.
Perez was able to play on Liverpool's fear that Owen would allow the remaining year on his contract to run down before following the example of former team mate Steve McManaman and skipping off to the Spanish capital on a free transfer.
In the final analysis the Merseysiders were left with little choice but to accept Real's offer of 12 million euros ($14.71 million) plus second-string midfielder Antonio Nunez as compensation for losing their leading striker.
Owen will now follow in the footsteps of fellow England international David Beckham, who joined Real from Manchester United last year for a fee of up to 35 million euros.
The nine-times European champions have now recruited the two most influential English players of recent years in the space of a little over 12 months.
The move also means that Perez has continued to honour his pledge of recruiting one world-class attacking player each season, and Owen will now join Beckham, Ronaldo, Zinedine Zidane and Luis Figo as one of the club's so-called "galacticos".
GLOBAL APPEAL
There is no doubt that the signing of the former European Footballer of the Year will add yet more sparkle to Real's glittering squad and is certain to increase their global appeal, particularly in the all-important Asian market.
| | |
| --- | --- |
| | Also Read |
| | |
But although his signing may be make sound business sense, the recruitment of yet another attacker is unlikely to bring a smile to Camacho's face.
The gruff, former Real Madrid defender will hardly be thanking Perez for presenting him with the almost impossible task of trying to satisfy the four world-class strikers now on the club's books.
Former World Player of the Year Ronaldo, Real Madrid golden boy Raul, last season's Champions League top scorer Fernando Morientes and Owen will all be vying for just two places in the front line.
If all four remain at the club, Camacho may well find himself spending more time worrying about bruised egos rather than his team's tactics on the pitch.
Scoring goals has, of course, never been a problem for Real and it will be the team's defensive deficiencies that will be Camacho's major concern.
The need for defensive reinforcements has become painfully evident ever since Real were scythed apart by Juventus in the Champions League semi-finals in 2003.
Perversely, Perez's response was to sell defensive midfielder Claude Makelele and to sack coach Vicente del Bosque and defensive linchpin Fernando Hierro, replacing them with two men from Manchester United, Beckham and Portuguese coach Carlos Queiroz.
For a while it looked like the sheer attacking momentum of the side would secure success but the lack of quality in the backline eventually proved decisive.
OVER-STRETCHED
Queiroz, who had pleaded for reinforcements, watched helpless as his over-stretched team were beaten in the King's Cup final and the Champions League quarter-finals and finished the campaign with five successive league defeats.
With Vieira pledging his future to Arsenal, Real will have to look at alternatives to prevent a repetition of last season's debacle.
Argentine defender Fabricio Coloccini is reported to be top of their hit list and the former Atletico Madrid player, who is owned by AC Milan, could join fellow countryman Walter Samuel at the heart of the Real back four allowing the versatile Ivan Helguera to move forward to accompany Beckham in midfield.
Beckham will, no doubt be delighted that his fellow countryman has joined him in Madrid, but unless Real solve their problems at the back the club's fans will remain rather more sceptical about the arrival of yet another "galactico".