It was a cold and blustery day in May. I was waiting for the doubles draw to be posted in the WTA tour event at Antwerp, Belgium. My doubles partner hurried up to me and said, 'Thank God we are not playing her'. I could see genuine relief in my otherwise adventurous partner Kim Clijster's eyes.  She was referring to not having to face fellow-Fed Cup team mate Justine Henin.
I saw Justine in the locker room later that day. At first glimpse, all I saw was a petite pony-tailed girl, just over 5 feet 5 inches. If I didn't know she was a tennis player, she could have passed off as a ballet dancer or even a pianist. I could not fathom my partner's uneasiness.
Then I saw her play. She was up against one of my best friends on the tour, Lubomira Bacheva from Bulgaria.  Justine pulverized her 6 foot 1 inch opponent by a score-line of 6-2, 6-1. I had already witnessed genius material from my partner Kim Clijsters, but the quickness, consistency and power Justine generated from such a frail body was astounding.
Little did I know that this inaugural Antwerp tour event was history in the making. These two youngsters were debuting on the WTA tour on their own soil. Justine went on to win the event, her first ever title in the grand arena. She was sixteen and had just turned pro.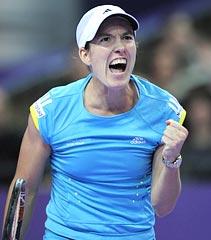 Earlier last month, Justine, elevated to world number one, stunned the tennis world as she announced her retirement with immediate effect from professional tennis -- making her the first ever tennis player of either sex to retire while holding the number one ranking. Her decision came as a total surprise, though she says she has contemplated this since last year.
Her favorite Grand Slam was on the horizon, but Justine has said that Roland Garros no longer evoked the kind of adrenalin that made her push herself to superhuman levels. Asked whether she has any regrets about not winning Wimbledon, she brushed it aside by saying that she never felt confident of winning it despite reaching the finals twice.
The French Open was a tournament close to her heart. Her mother took her to Paris when Justine was 10 years old, to watch her idol Steffi Graf play. She declared to her mom that day that she would come back and win a title there. Sadly, three years later, Justine lost her mother to cancer. Shortly after her mother's death, she met her coach and mentor Carlos Rodrigues, who took her under his wing and shaped the champion that she became.
Carlos remembers fondly when he saw Justine as a fourteen year old. He had gotten a lucrative offer to coach Belgium's number two, Dominque Van Roost, but opted to coach an unknown teenager instead. In one look, he reckoned Justine was like an uncut diamond. He agrees it is hard to explain, but something about the quiet resilience in her eyes and her body language told him that she would be a champion one day. Carlos and Justine share one of the longest coach-trainee relationships in professional tennis, and over time Carlos became more of a second father figure to Justine.
She kept her promise to her mother in 2003, when she clinched the French Open title for the first time.  After her defeat of Kim Clijsters, she looked up to the sky and dedicated her victory to her mother's memory. 2003 was a golden year in Belgium's tennis history, with Clijsters and Henin ranked 1 and 2 in the world.
Justine Henin appealed to the common player as she is more slender and petite in size, but makes it up with her foot speed. A notable aspect in her game is her fluent single-handed backhand, which is a rarity among the women of today. John McEnroe says she is the player on the tour whom he most enjoys watching, and has compared her career to his in terms of her need to outsmart and outplay bigger and stronger opponents.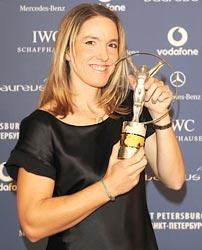 Martina Navratilova declared last year, 'Henin's offense is just phenomenal, it's sort of like we've got the female Federer or the guys have a male Justine Henin, because she is just head and shoulders above everyone else right now.'
When she shakes hands with Venus or Serena Williams, Davenport or Maria Sharapova after a match, it reminds me of the David-Goliath story. Here was a girl who was not physically gifted like the others, but compensated it with clear thinking, mental toughness and clinical precision on her ground strokes.
Justine may not have been the fastest server on the tour, but she surprisingly generated a lot of racquet head speed. Her fastest serve was recorded at 124 mph and at last year's US Open, she was on par with the average serve speed of Venus Williams, who is seven inches taller than her. Justine defeated Venus and Serena Williams en route to the final, where she made short work of Russian Svetlana Kuznetsova for her second US Open title. Her array of titles include two US Opens, four French Opens and one Australian Open, the Wimbledon being the only one not on her mantelpiece.
Her work ethics are legendary. Tennis was her life since 1995. While striving for excellence, she is known to have pushed herself to the maximum on a daily basis. So it is only natural that she may be feeling burnt out. She has also had her share of injuries, starting with hamstring pulls and kneecap fractures.

Justine had to grow up quickly even on the personal front. She was quoted as saying 'Sometimes I think I might be the oldest 24-year-old in the world.' Having lost her mother, she was separated from her father and immediate family due to many reasons, one of them being her boyfriend Pierre Yves Hardenne, a local tennis pro. Justine married Hardenne in 2002, but the marriage only lasted four years. She finally made peace with her brother, whom she had not met in years, after a car accident almost cost him his life. Her estranged siblings were finally seen in her box at Roland Garros last year.
For an athlete of her stature, the toughest aspect is to let go of something that she has practically lived for. Will she miss the thrill of waiting to walk on to a packed stadium, or is she done with it all? It depends on Justine finding other aspects in life that she is passionate and motivated about on a daily basis. And if she cannot find such alternative outlets for her passion and energy, we may not have seen the last of her on the tennis court.
Photographs: Getty Images