Scotland is a strange country.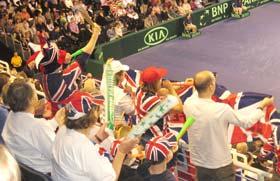 Actually, that is not entirely true, for I use the term "country" rather loosely.
I have never quite understood the intricacies of modern-day politics that allow its people to print their own personalised currency, speak a tongue that is both unique and only vaguely reminiscent of the English we were taught, support their own football team, convert sheep innards into a signature dish, fondly acknowledge a national passion for drink, constantly chafe at centuries of English rule, and yet seemingly uncomplainingly accept being only part of an entirely different country.
I had come visiting Edinburgh last weekend, enroute to Glasgow to watch Britain take on Serbia in a Davis Cup tie.
Edinburgh is a stunningly beautiful city and presided over by an imposing castle which was my first port of call on this somewhat rushed attempt at tennis tourism.
The main attraction here, besides breathtaking views of the city is the exhibition of Scotland's crown jewels. It is a fascinating account of their creation, jealous protection from English conquerors and eventual restoration to their present day status as the symbols of Scotland's nationhood.
As I wound my way down the cobblestone path of the Royal Mile, struck by the centuries-old yearning of the Scots to reclaim the symbols of their national identity, I saw to my chagrin that the flag fluttering high above Edinburgh castle was not the blue and white Scottish saltire, but the Union Jack.
I downed a meditative pint of bitter at the imaginatively named "The World's End" pub and my mind pondered briefly over such weighty issues as the meaning of nationhood and the concept of national identity.
The gent behind the travel-information desk at Waverley train station in Edinburgh was not particularly helpful upon my query on how I could get to the Braehead arena in Glasgow where the tennis was on.
"Ask the Glasgow people on the train," was his seemingly ingenious attempt at shedding light on the matter. I discovered to my relief that the train carried a rather generous complement of "the Glasgow people", who collectively and with some measure of good cheer, solved the puzzle.
Following their well meaning advice, I found myself in a cab heading from Glasgow Queen Street station to the Braehead arena.
The arena is located within what is best described as a generously proportioned, American-style mall. The Lawn Tennis Association (LTA), presumably motivated by the possibility of huge Scottish interest in Andy Murray, decided to bring Davis Cup tennis back to Scotland after a three-decade hiatus.
However, my own motivation in making the journey up from London was to watch a live Davis Cup tie, a childhood dream, and one nurtured over the years by vivid memories of Indian triumphs- an ageing Vijay Amritraj battling through five gruelling sets in a Delhi summer to beat Jaime Martin, a portly Ramesh Krishnan and a 20-year old Leander Paes overcoming Henri Leconte and company on a fiery red clay court inside a medieval amphitheatre in France.
The Davis Cup for me has been the tennis event to beat them all. I would watch Leander Paes in a relegation play-off any day than Roger Federer on centre court in Wimbledon for at its very core, the Davis cup contains a timeless attribute that makes it the special event it is- the exhibition of national pride.
I joined a near capacity crowd of flag-waving Brits in goading Greg Rusedski on in the indoor court as he lost the first set. Serbia were already up 2-1 after having beaten Murray and Rusedski in the doubles tie the previous day.
At 32 years of age, Greg Rusedski is approaching a ripe old Amritraj-esque tennis age and has served his adopted country similarly well, not missing a single Davis Cup competition in the last twelve years.
However being on court for the third successive day and against the sprightly 19-year old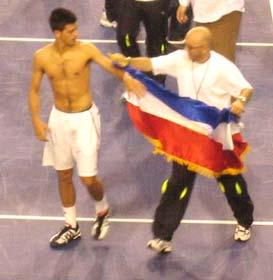 , one could not help but see the writing on the wall for the erstwhile Canadian.
Despite winning the second set, he had few answers to the Serbian's teenager's booming ground strokes and inch-perfect passing shots. I joined the distinctly Scottish chorus of "come on Greg!" in a losing battle to lift the veteran as he hung on to take the match into a fourth set tie-break.
As I watched him reel off successive aces on the rare occasion when he held serve comfortably, I recalled how ten years ago, he had struggled to find acceptance among his presently vocal countrymen as a genuine Brit. Born to a German father and English mother in Canada, Greg Rusedski gave up his Canadian nationality to become a British citizen in 1995.
This was the year when he made his debut as a British player in Wimbledon, famously wearing a Union Jack bandana.
I joined the collective groan of the crowd when, in the fourth set, the last of Rusedski's 14 double faults gave Novak the match and Serbia the tie. The small Serbian contingent went into a joyous celebratory huddle as Novak proceeded to drape his now naked torso in his country's flag.
I saw an elderly couple in the row below me hug and comfort each other, "how much passion does that man have?" the husband wondered aloud in admiration of yet another Rusedski effort.
The dead rubber was played between Arvind Parmar and Ilia Bozoljac.
Parmar, whose parents migrated to the UK from India in the 1970s had yet to win a single match in his previous six Davis Cup appearances, but that did not stop the partisan crowd from egging him on.
It was a surreal experience to hear a few hundred Scottish fans scream "you can do it Arvind," as Parmar notched up his first ever Davis cup win in straight sets. This had been a strange trip for me.
I had travelled up from London to watch a former Canadian play his heart out for Great Britain in Scotland, while his team-mate, born to immigrant Indian parents took a first proud bow for his adopted country. I walked out of the stadium and it had begun to snow in this Glasgow suburb on what was a spring evening in April. It was that kind of day.
Madhav Thambisetty, MBBS, DPhil (Oxon.)
Diplomate, American Board of Psychiatry and Neurology
Section of Old Age Psychiatry and Department of Neurology
Institute of Psychiatry
Kings College London
Emanoel Lee Medical Research Fellow, St Cross College, Oxford