Roshneesh Kmaneck presents 5 exceptional players who surprised us at Melbourne.
This Australian Open has been full of surprises.
It's for the first time since Roland Garros 2004 that the top two seeds in the men's draw were ousted before the quarterfinals.
Novak Djokovic, the World No 2, was stunned and so was the world when Uzbekistan's Denis Istomin, currently ranked 117, outplayed the Serb and won a wonderfully tantalising 5 set match.
And three days later, Mischa Zverev did the impossible when he served and volleyed and won the match against World No 1, the recently knighted Andy Murray.
But the first Grand Slam of the year hasn't been just about these two stars.
Roshneesh Kmaneck presents 5 exceptional players who surprised us at Melbourne.
Mischa Zverev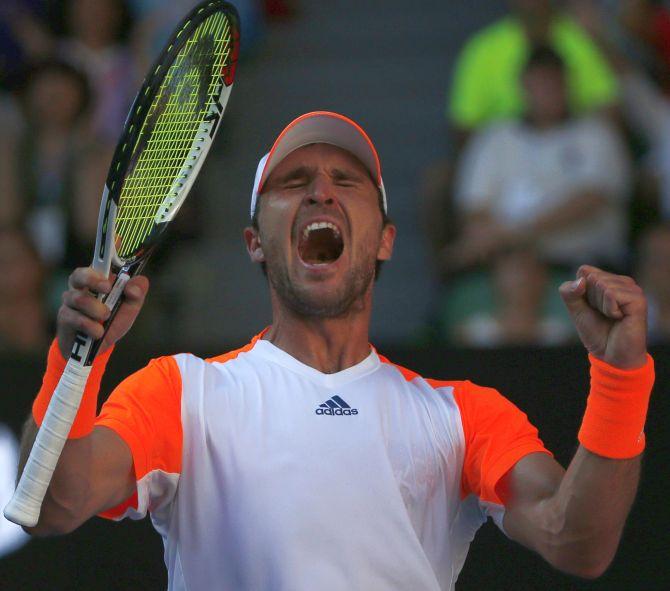 IMAGE: Mischa Zverev with his serve and volley style of play won hearts and minds at the Australian Open. Photograph: Thomas Peter/Reuters
So, the German lost to Roger Federer in the quarter-finals, but that doesn't take away from his achievement.
Ranked number 50, he took out Andy Murray in the fourth round 7-5, 5-7, 6-2, 6-4.
His serve and volley game stunned spectators at Melbourne Park. By his classy tennis, Mischa championed a style that has all but vanished from today's power game..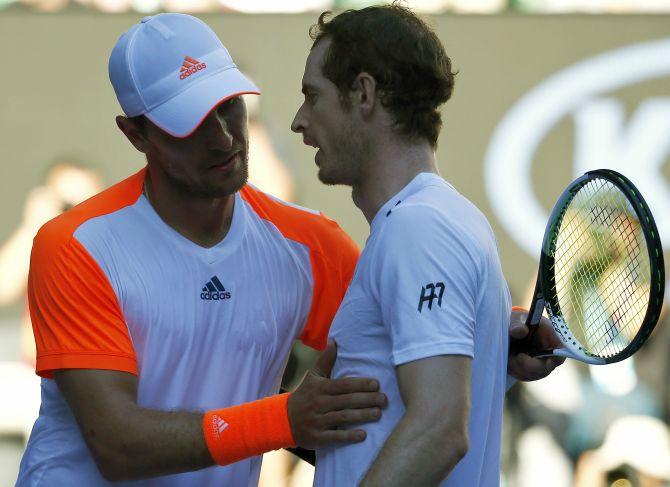 IMAGE: Mischa after winning his match against Sir Andy. Photograph: Edgar Su/Reuters
Elder brother of 19-year-old prodigy Alexander 'Sascha' Zverev, Mischa began his career in 2005 and achieved a career best ranking of 45 in 2009 after he reached the Italian Open quarterfinals.
A multitude of injuries derailed his career and he was forced to spend several years on the sidelines.
A fractured wrist, two fractured ribs, a herniated disc in his lower back, a small tear in the patella tendon in his knee and wrist surgery in 2014 saw Mischa's ranking plummet to 1067.
Dejected and desolate, he was ready to quit and put away his racquets for good.
He started coaching Sascha along with his dad Alexander Sr, a tennis coach.
And finally, in 2015, taking inspiration from his kid brother, he began competing and we would like to say 'Thank you, Mischa. Thank you for making tennis exciting and fun again.'
Denis Istomin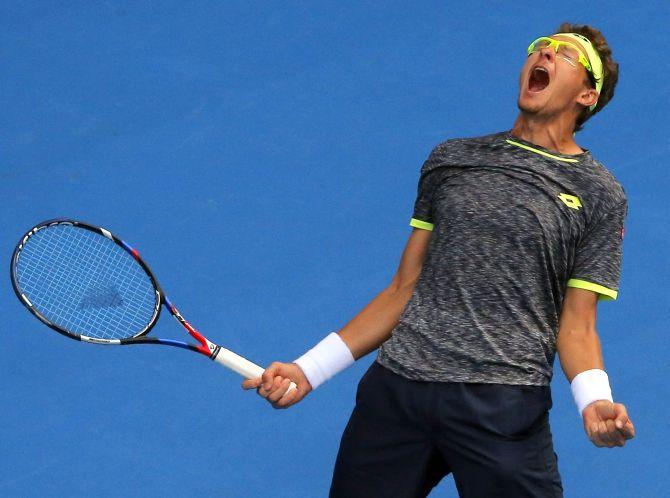 IMAGE: Emotions ran high for Denis Istomin when he defeated Novak Djokovic, a player who has won the Australian Open six times. Photograph: Jason Reed/Reuters
If you had asked the Uzbek at the start of the tournament if he would beat the Emperor of Melbourne Park, someone who has won the Australian Open six times, his answer would likely have been, 'Are you crazy or what?'
Denis, a wild card entry, stunned everyone and himself when he vanquished the reigning champion in five sets for the biggest win of his career.
His dream run ended in Round 4 when Bulgaria's Grigor Dimitrov took him down in four sets.
For 30-year-old Denis, this moment may have never happened as his career almost ended before it began.
In 2001, doctors said he was lucky to be alive after breaking his leg in a horrible car crash. He was in hospital for three-and-a-half months.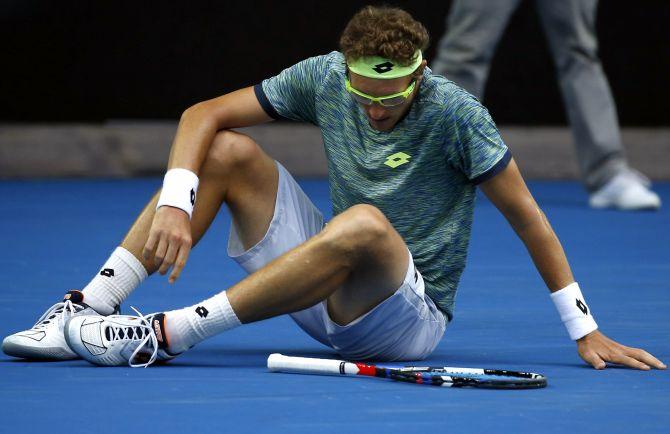 IMAGE: Denis' body took a beating in his legendary run at the Australian Open. Photograph: Issei Kato/Reuters
It was tough, he says, but only possible because of his mom Klaudiya Istomina, who doubles up as his coach.
Thank you Denis for shaking up this Grand Slam like it hasn't been done in recent times.
Mirjana Lucic Baroni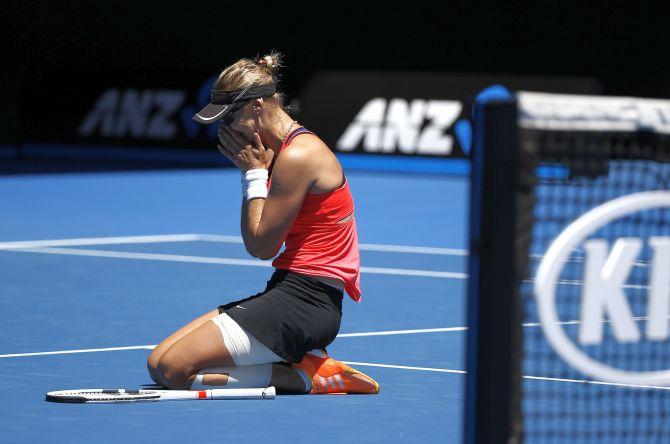 IMAGE: She's a tough cookie, and there's no one who can question it.
She went through the wringer, but she says it was worth it!
Way to go, Mirjana Lucic-Baroni!
Photograph: Issei Kato/Reuters
Mirjana Lucic-Baroni, 34, started off the Australian Open ranked 79th in the world.
After what she describes as a 'fairy tale' run at the Grand Slam, the Croatian will leap into the Top 30.
First, she downed World No 3 Agnieszka Radwanska, then World No 5 Karolina Pliskova on her way to the semis.
Her run, alas, came to a grinding halt in the semis against the formidable Serena Williams.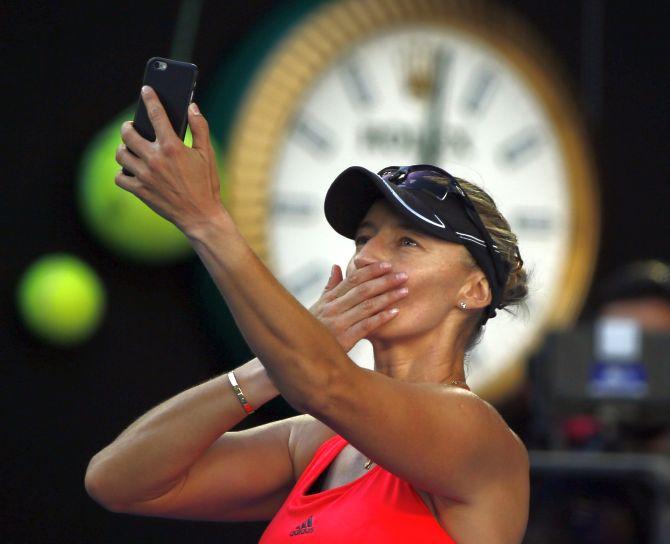 IMAGE: Serena ended her fairy tale, but there was nothing but love for Mirjana when she exited Melbourne Park on a high. Photograph: Thomas Peter/Reuters
Mirjana isn't some new kid on the block. She is 34 and first played at Melbourne Park as a 15-year-old star-in-the-making in 1998.
Eighteen months later she stunned fourth seeded Monica Seles and eighth seeded Nathalie Tauziat to reach the 1999 Wimbledon semi-final as a 17 year old.
Off-court issues, including abuse at the hands of her father, quickly clouded her game.
In 2006, Mirjana pledged to never give up her dream and returned to the game with a vengeance.
Coco Vandeweghe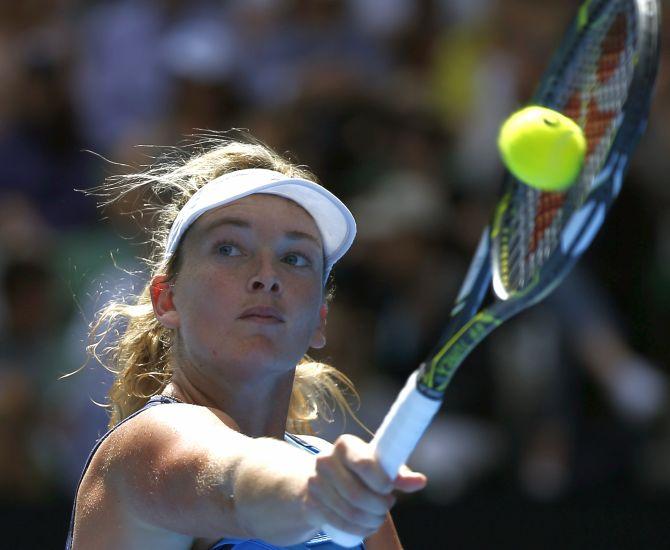 IMAGE: Coco Vandeweghe lost to her inspiration Venus Williams, but she won hearts with her guts and style of play. Photograph: Issei Kato/Reuters
At 25, Colleen 'Coco' Vandeweghe was the youngest of the semi-finalists at the Australian Open.
She lost to her role model and inspiration Venus Williams, who once denied her an autograph at a WTA Tour event in Carlsbad, California.
The 6 feet 1 inch tall Coco's run at the Aussie Open was fantastic.
She dismantled seventh seeded Garbine Muguruza, the French Open champion, then posted an equally impressive win over defending Australian Open champion Angelique Kerber.
Coco, a former US Open junior champion, says her most important sporting lesson comes from her maternal grandmother, Colleen Kay Hutchins, who was crowned Miss America in 1952.
'My grandmother always said to me: "Fake it till you make it".'
Coco -- whose granddad and uncle played in the NBA; she almost chose basketball instead of tennis -- doesn't take nonsense from anyone.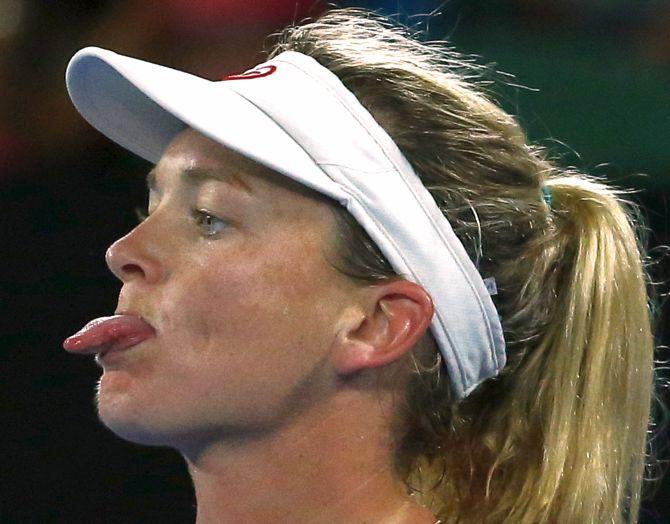 IMAGE: The New Yorker is precocious and isn't one to take nonsense from anyone. Photograph: Edgar Su/Reuters
At Wimbledon 2015, she called out Maria Sharapova out for moving too much on the court while she was about to serve.
She was also involved in an exchange of expletive with Yulia Putintseva. There is also the story about her getting a little too physical with Donna Vekic in an on court collision at the 2015 US Open.
Remember, not to get on Coco's bad side!
Alexander Zverev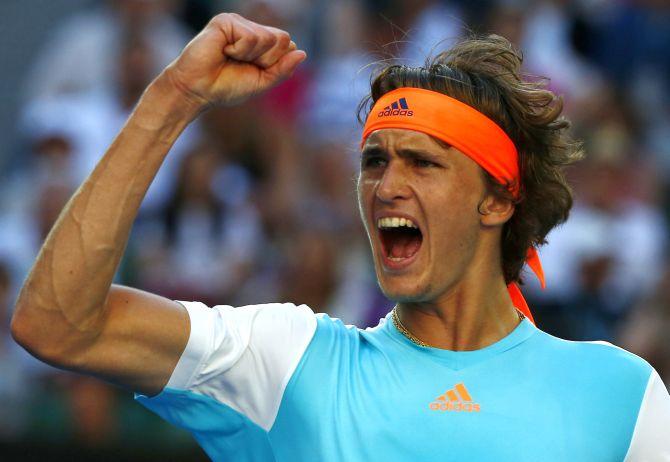 IMAGE: Alexander Zverev is considered a future World No 1.
Both Rafael Nadal and Roger Federer back the German wunderkind to do fantastic things in the years to come.
Photograph: Thomas Peter/Reuters
The 19 year old gave Rafael Nadal a run for his money in the Round of 32, forcing the Spaniard to play his best tennis in a thrilling five setter.
Nadal came out on top, but we wondered if we had seen a future World No 1.
Last year Sascha reached the finals in Nice and Halle and then rounded off the season with his first ATP trophy in St Petersburg, beating Stan Wawrinka in the final.
Amidst all the adulation coming his way, the one thing that annoys Sascha the most?
The constant comparison to Boris 'Boom Boom' Becker. :)