Yeddyurappa lacks the Karnataka BJP's unqualified support and Shah knows that.
Karnataka is Shah's test case, just as Madhya Pradesh was for his mentor Modi in 1998.
Radhika Ramaseshan reports.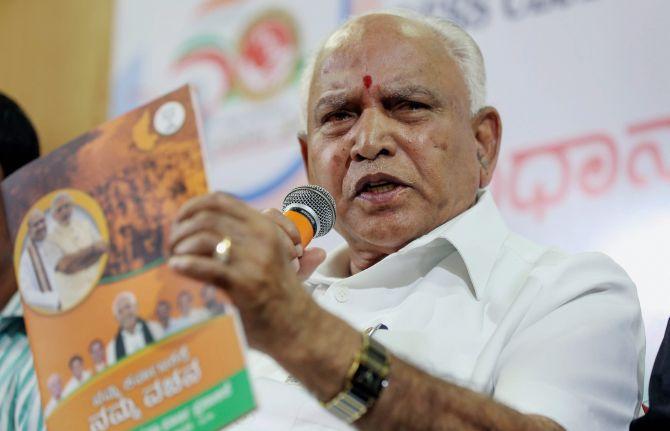 IMAGE: B S Yeddyurappa, former Karnataka chief minister. Photograph: PTI Photo
B S Yeddyurappa may be the Bharatiya Janata Party's declared chief ministerial candidate for the Karnataka assembly election 2018, but his position is by no means as secure as Sarbananda Sonowal's when the latter was positioned for the top job before the Assam state election.
The shadow of former Congressman Himanta Biswa Sarma -- who has since become the BJP's ace strategist in the north east -- loomed large over Sonowal. But Prime Minister Narendra D Modi and BJP President Amit A Shah went out of their way to ensure that Sarma did not become a threat to Sonowal.
In the BJP, Yeddyurappa is being compared with Prem Kumar Dhumal.
Like him, Dhumal was projected as the CM face in the recent Himachal Pradesh election, but he embarrassingly lost his own seat, and thereby the race, to a younger person, Jai Ram Thakur.
Dhumal was just two years short of 75, the cap that Modi and Shah have set for those aspiring to hold an office in the party or government.
Yeddyurappa is a little over 75, but his caste antecedent as the leader of the powerful intermediate caste of Lingayats recommended him for the CM's position.
Yeddyurappa lacks the Karnataka BJP's unqualified support and Shah knows that.
He and his political associate of long years, Shobha Karanladje, a Lok Sabha MP from Udupi-Chikmagalur at present, have been accused of working 'unilaterally' by allegedly drawing up the candidates' lists for the election without consulting Delhi or their Karnataka colleagues.
On a recent visit to the state, Shah chided the Yeddyurappa-Shobha duo for going public with the names of some candidates.
Karnataka is Shah's test case, just as Madhya Pradesh was for his mentor Modi in 1998.
Then a BJP general secretary, Modi was appointed an MP minder before the assembly elections were held in MP that year, with a specific brief that he would have to reconcile the inner party feuds triggered by the regional colossuses of that period who were Sunderlal Patwa, V K Saklecha, Lakhiram Aggarwal, Kailash Joshi, Vikram Verma and Lakshminarayan Pandey -- names that may not ring a bell because most of them are dead.
Modi threw up his hands mid-way because some of these biggies campaigned and worked autonomously, even raising their resources from dubious godmen.
The BJP lost the election and Congress leader Digvijaya Singh won a second term.
In Bengaluru, Shah has more than two thin-skinned leaders to cope with. The formidable line-up includes Yeddyurappa's old rival, K S Eshwarappa, Jagadish Shettar, D V Sadananda Gowda and Ananth Kumar.
Barring Kumar, the other three have held truncated terms as chief ministers, a fact that endows them with a certain entitlement as worthy claimants to Karnataka's top job.
These veterans have competition from younger persons like Anant Kumar Hegde, a junior minister of skill development and entrepreneurship at the Centre, Dharwad MP Pralhad Joshi and Mysore MP Prathap Simha.
Hegde, Joshi and Simha appropriate media space with their intemperate statements and reckless conduct as their seniors keep snapping at each other's heels.
Shah cracked the whip on December 31, 2017.
As Bengaluru partied hard, the BJP chief summoned 88 of his party people, including the MPs, MLAs and legislative council members, and asked to share the reports they were tasked to prepare on their allotted assembly seats.
He forbade them from holding political meetings at hotels and resorts, perfectly kosher in Karnataka, and emphasised that only BJP offices must be used.
Shah told the state leaders that indiscretions and misdemeanours on their part would not be countenanced and if there was negative feedback, the 'wrong-doer' would be marginalised.
However, Shah's tough talk did not stem the long-drawn antagonism between Yeddyurappa and Eshwarappa that nettled the central leaders, the Rashtriya Swayamsevak Sangh and the Karnataka party cadre.
To try and balance the two men's conflicting claims, Shah took 'disciplinary' action against two each of their supporters. Even that didn't help.
As much a personality clash, the Yeddyurappa-Eshwarappa face-off has a caste element.
Eshwarappa is from the Kuruba backward caste, like Chief Minister Siddharamaiah of the Congress.
But unlike Siddharamaiah, a former Socialist who has rallied around the backing of the other backward castes, Dalits and the minorities and embedded the pieces on a complex caste mosaic, Eshwarappa has a limited appeal even among his caste of shepherds.
To bolster his political standing, in 2016, Eshwarappa launched the Sangolli Rayana brigade, named after an 18th century warrior to mobilise the support of the backward castes and Dalits.
Yeddyurappa's loyalists perceived the brigade as a parallel power centre. To Yeddyurappa's dismay, B L Santhosh, a national joint general secretary who was tasked with looking after Karnataka, encouraged Eshwarappa.
Santhosh is an RSS pracharak (whole-timer) who is not supposed to play politics. But to date, nobody from the RSS or the BJP has told him off.
That might itself signify the possibility that the Sangh is not Yeddyurappa's well-wisher and that in the end, he might plough a lonely furrow on Karnataka's politically difficult terrain.