State after state has imposed an alcohol ban, and has had to retreat, unable to address the financial and administrative fallout.
Are we set for more of this cycle, asks Aditi Phadnis.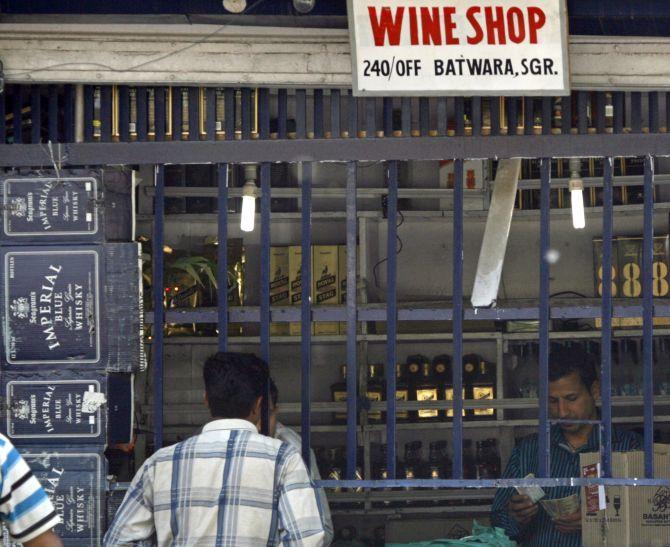 IMAGE: In recent months, governments across India have woken up to the political allure of prohibition. Photograph: Reuters. Published only for representational purposes.
Bansi Lal, former chief minister of Haryana, was a spartan and inflexible politician. He formed the Haryana Vikas Party after parting ways from the Congress and, in alliance with the Bharatiya Janata Party, won the 1996 Lok Sabha and assembly elections in the state. He won on the promise of making it illegal to buy, sell, consume or produce alcohol in the state if elected.
Bansi Lal made good his promise within six months of forming the government, even naming a minister for prohibition in his Cabinet. And, yet, when the minister, Ganeshi Lal, stepped into his office in March 1998 and announced with a smile, 'Aaj se sharab bandi khatam (Prohibition ends from today),' the people gathered there burst into applause.
Prohibition lasted 21 months. It cost the state government Rs 1,300 crore (Rs 13 billion) in excise revenue. For years after that, the administration grappled with nearly 100,000 alcohol-related cases in courts, a stock of 1.3 million seized bottles, and 16 hooch accidents, which left 60 dead.
When he announced prohibition, Bansi Lal declared: 'I would rather cut grass for a livelihood than lift prohibition.'
After succumbing to pressure from alliance partners and others, and lifting prohibition, he remarked: 'When the people don't want prohibition any longer, sacrificing a huge excise revenue is meaningless.'
Nor was Bansi Lal the first to do a U-turn on a policy that is sensitive for its political, economic and administrative ramifications.
In 1990, the women of Dubbagunta, a small village in Andhra Pradesh's Nellore district, began an anti-arrack agitation. They put pressure on men to swear that they would stop drinking, physically restrained habitual drinkers, attacked liquor shops and godowns and fought with the police, liquor mafia and those who frequented liquor shops.
The movement caught the imagination of rural Andhra Pradesh. N T Rama Rao of the Telugu Desam Party had not even touched on the subject of liquor during his first stint as CM.
Within minutes of taking the oath as CM for a second time on January 16, 1995, he announced total prohibition, describing the step as an obligation fulfilled towards his adapadachulu (sisters-in-law). During his first stint, the government itself was the main seller of arrack (marketed via a state agency).
The 'total' part of prohibition did not last long. Although NTR announced the closure of the state's four breweries and 24 distilleries producing potable liquor, besides 19 distilleries producing rectified spirit used in medicines and toiletries (and with it, the end of revenue flow amounting to Rs 500 crore (Rs 5 billion) in distilleries and breweries, and another Rs 300 crore (Rs 3 billion) in the related bottling, corking and packaging industries), the first compromise was to allow those who had a doctor's certificate to buy alcohol.
A 'permit' -- that cost Rs 5,000 for individuals and Rs 50,000 for owners of bars or 'permit rooms' as they were called -- followed.
As the department of prohibition and excise struggled to manage liquor smuggling and illicit brew, then prohibition and excise commissioner Rachel Chatterjee was quoted by the local media as saying: 'Neo-literate women spearheaded this movement (prohibition) and they will help us enforce the laws.'
Finally, it was NTR's son-in-law, his backroom boy and ultimately the man to unseat him, N Chandrababu Naidu, who ended the pretence and called a halt to prohibition in Andhra Pradesh. He reintroduced liquor from April 1, 1997, restricting the dry law to arrack.
In his defence, Naidu said: 'Total prohibition is neither successful nor feasible because of the leakages within the state and from across the borders.' While promising to campaign for responsible drinking, he told reporters: 'Liquor sales fetch an income touching a peak of Rs 3,000 crore (Rs 30 billion) per annum now, and this can be spent for improving the lot of the poor.'
The Congress said it would launch a social campaign against drinking, but in Andhra Pradesh, despite several stints in power, it has implemented prohibition only once.
In the past few months, governments across India have woken up to the political allure of prohibition.
Nitish Kumar, leading a coalition of the Janata Dal-United, the Rashtriya Janata Dal and the Congress stormed to victory -- anecdotally, it would appear, on the back of the vote of women -- in the assembly elections in October-November last year.
During the campaign, he promised partial prohibition, but scaled this promise up to full prohibition within months of forming the government. One reason for this could be the Bihar-wide local body elections currently underway that will end in May.
Sociologist Shiv Visvanathan says it is hard to see how a policy that is based largely on policing will work. He cites the "partial" prohibition in Kerala announced by Chief Minister Oommen Chandy just before the ongoing Kerala assembly elections: "It is a policing system with too many loopholes."
The Kerala government introduced graded prohibition, arguing for the eventual idea of a liquor-free state. It did so by restricting the provision of liquor to be served only in five-star hotels. Yet, one could not quite decide whether liquor was the cause of Kerala's social problems or a symptom of a wider social breakdown brought about by change.
The Supreme Court upheld the government's decision while contending that introducing prohibition was a difficult task. In fact, governments and politicians in the south present it like the new myth of Sisyphus, where prohibition is introduced with fanfare, to be quietly withdrawn once it begins to affect state revenues.
In fact, prohibition has an electoral seasonality where politicians, like eager boy scouts, make the promise only to abandon it later.
The latest entrant to the prohibition club is Tamil Nadu which has tried prohibition earlier, but had to abandon it. The election debate on right now is all about who enforced it and who did away with it.
In an interview to Business Standard, sociologist Ashis Nandy says the impulse for the ban has to come from below -- only then, can it sustain. 'We always like to believe that it's the politicians who impose such bans. People like Morarji Desai have insisted on this. But it's the womenfolk of Bihar who made Nitish Kumar enact the ban, so he was forced to implement it,' he said.
Ultimately, though, what is good politics becomes bad economics and a U-turn is justified for that reason.
Consider the Tamil Nadu. Tamil Nadu State Marketing Corporation (Tasmac), a company owned by the government, has witnessed a steady growth in revenue. The state wholly took over private retail sales of alcohol in the early 2000s.
Revenue from this shot up from Rs 3,693 crore (Rs 36.93 billion) in 2003-2004 to Rs 21,680 crore (Rs 216.80 billion) in 2012-2013. Despite a price hike in 2014, the revenue for 2014-2015 touched Rs 26,188 crore (Rs 261.88 billion). For 2015-2016, Tasmac sales are estimated at Rs 29,672 crore (Rs 296.72 billion).
Says Dakshita Das, a civil servant and an expert on public finance: "As a percentage of the government's own revenue, Tamil Nadu's revenues accruing from its own taxes are estimated at 72 per cent this year. Of this, the total tax revenue from the liquor trade as a percentage of Tamil Nadu's own tax revenue is around 30 per cent of the 72 per cent."
Das notes that with this order of revenue, a state government can hardly ignore it if it dips suddenly. She cites a circular from the Uttar Pradesh government recently to all district magistrates, asking them to check declining liquor sales across the state and undertake corrective measures to prevent the decline.
There is a certain delicious irony in this.
Liquor is a low-hanging fruit from the taxation point of view. But, for every bottle that is sold, wreaking untold, usually unvoiced, havoc in homes from the point of view of domestic violence, the government gets that much more revenue to plough into the social and educational sector.
The story of Haryana's experiment with prohibition is a case in point. Bansi Lal did sweep the 1996 election on the strength of the promise of prohibition. But, to offset the loss of revenue, power rates were increased by 10 to 50 per cent, bus fares by 25 per cent, and the petrol sales tax by three per cent. New taxes were levied on businesses and self-employed people.
Almost overnight, illicit brewing and liquor smuggling became one of the biggest industries in the state. Haryana's tourism industry suffered badly, as tourists preferred to visit neighbouring states where there was no prohibition. Profits of most hotels and restaurants, including the state-owned Haryana tourism resorts, plummeted. And, a u-turn became inevitable.
Will this also happen in Bihar, Kerala and eventually in Tamil Nadu?
---
HISTORY OF PROHIBITION
Article 47 of the Constitution (Directive Principles of the State Policy) encourages the state to carry out prohibition.
Although directive principles are non-justiciable, it says 'the state shall endeavour to bring about prohibition of the consumption, except for medicinal purposes, of intoxicating drinks and of drugs which are injurious to health.'
Prohibition was implemented in Madras (present day Tamil Nadu) and Bombay (present day Maharashtra and Gujarat) between 1948 and 1950. In the early years after Independence, it was also enforced in Odisha, Assam, Madhya Pradesh, Karnataka and Kerala.
The Prohibition Enquiry Committee in 1954 had set April 1958 as the target to achieve national prohibition. However, the potential loss of revenue was a sufficient argument for most states to opt out.
Gujarat: Maharashtra and Gujarat were carved out of the state of Bombay in 1960. While Maharashtra discontinued prohibition, Gujarat, the home state of Mahatma Gandhi, has enforced prohibition ever since.
Manipur: Prohibition in the state was enforced in 1991, after demands by women's groups and insurgent groups. Some of these women groups have also become vigilante groups that disapprove of young unmarried couples hanging out together and raid restaurants and parks.
It was partially lifted in 2002. In 2015, the Congress government cited revenue loss to defend its attempt to completely lift prohibition.
Nagaland: Prohibition, under pressure from the influential Naga Mothers Association, was introduced in 1989. The Nagaland Baptist Church Council has been a strong votary of prohibition in the state.
Mizoram: Prohibition introduced with the passing of Mizoram Liquor Total Prohibition Act in 1995, with the church playing an important role. In 2007, the state government made concessions to help production of wine for exports, with the purpose of creating job opportunities.
Andhra Pradesh: Then chief minister N T Rama Rao imposed prohibition in 1994, after an anti-liquor women's movement in both rural and urban areas. Eleven districts of Andhra had been under prohibition from 1958 to 1969.
In 1997, NTR's successor and son-in-law N Chandrababu Naidu lifted prohibition, claiming it was neither successful nor feasible because of smuggling from bordering states.
Haryana: The Bansi Lal-led Haryana Vikas Party and the Bharatiya Janata Party won the election on the promise of prohibition, and ordered it soon after forming the government in 1996. It continued for sometime, but had to be lifted by April 1998 because of large scale smuggling of and spawning of a liquor mafia.
It was estimated the state lost Rs 1,200 crore (Rs 12 billion) in revenue.
Tamil Nadu: Prohibition was first imposed by the chief minister of Madras province, C Rajagopalachari, in 1937. It was reversed in 1971 by the Dravida Munnetra Kazhagam government, only to reinstate it in 1973.
Its rival All India Anna Dravida Munnetra Kazhagam lifted prohibition in 1977, but four years later allowed sale of only arrack and toddy. It banned arrack and toddy in 1987, lifted during the subsequent AIADMK government.
Chief Minister Jayalalithaa has promised prohibition if she returns to power.
Karnataka: There is no large scale prohibition, but arrack banned since 2007.
Kerala: The Congress government in the state announced phased prohibition in the state from April 2015. The Communist Party of India-Marxist has promised lifting the ban if it forms the government after the state polls.
Bihar: The state has enforced total prohibition from April this year.
Lakshadweep: The Lakshadweep Prohibition Regulation 1979 extends to the entire Union Territory. Being an international tourist centre, Bangaram is exempted.