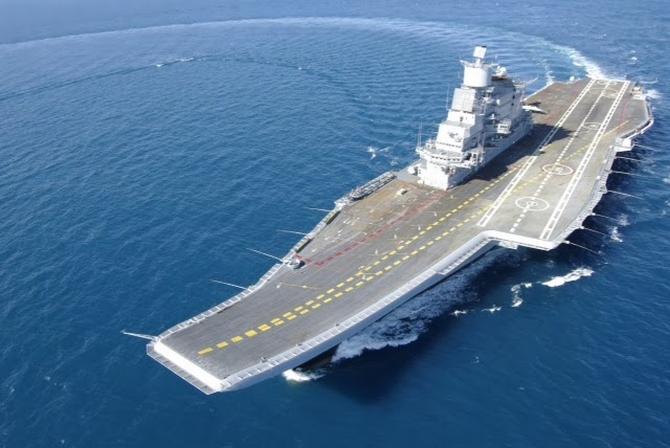 INS Vikramaditya is not the only thing on Defence Minister AK Anthony's agenda during his current visit to Moscow. Also on the anvil is the Fifth Generation Fighter Aircraft joint development project which, if finalised and signed, could emerge as India's largest joint defence programme costing around 11 billion dollars, reports Nandan Unnikrishnan.
On November 16 Defence Minister A K Anthony will receive from Russia and commission India's largest aircraft carrier INS Vikramaditya, bringing to an end an over a decade-long quest for the acquisition of this vessel. During his visit to Russia, Anthony will also attend the 13th India-Russia Inter Governmental Commission on Military Technical Cooperation in Moscow on Monday
The story about INS Vikramaditya's acquisition begins in the early 1990s when the Russians first offered the craft -- then named Admiral Gorshkov -- to India, which was looking for a new aircraft carrier. Interestingly, India did not appear too keen on the Gorshkov initially. An intrepid journalist may find a story in finding out how and why India changed its mind.
The vessel, which was decommissioned in 1996 after several inspections, was found worthy of being the base for a new Indian aircraft carrier. Several years and rounds of negotiations later an agreement was signed for the repair and refit of the Gorshkov, which began in April 2004.
It should have been clear even then that it would be impossible, within the timeline agreed to (52 months) and financial package finalised (Rs 4881.67 cr), to deliver a completely new ship with considerable structural changes required to transform it from a missile cruiser that hosted vertical takeoff and landing (VTOL) aircraft to a modern short takeoff and arrested recovery (STOBAR) aircraft carrier. Conventional wisdom has it that it takes at least seven to eight years to build a ship from scratch. An aircraft carrier would take longer.
This unseemly haste on both sides led to the ugly delay in delivery and renegotiation of the price. While a new deadline and price was arrived at, the damage to the image of Indo-Russian military cooperation was irreparable. A boiler blowout during sea trials delayed delivery of the carrier by another year.
But, finally all trials and tribulations are over and India is on the eve of acquiring the Vikramaditya, as the carrier has been renamed by the Indian Navy. One can only hope that the carrier will serve the Indian Navy trouble free for the duration of its lifespan. This vessel, described as experts as a "game changer" in terms of adding punch to India's naval capabilities, has some very impressive statistics.
It has a displacement of 44,500 tonnes, a length of 284 metres, maximum beam of 60 metres, speed of over 30 knots and is capable of carrying over 30 aircraft -- a mix of Mig-29Ks and helicopters. She will have more than 1600 personnel aboard and fully stocked -- food and fuel -- capable of staying out of port for 45 days with a range of 13000 kilometres.
The Mig-29Ks are the main offensive weapon of the Vikramaditya, supported by a fleet of Kamov, Sea King, ALH-Dhruv and Chetak helicopters. The 4th generation MIG-29Ks have a range of about 1300 km extendable to nearly 3500 km with in-flight refuelling. The aircraft are equipped with anti-ship missiles, air-to-air beyond the visual range missiles, guided bombs and rockets.
The ship also has cutting edge launch and recovery systems along with aids to enable smooth and efficient operation of ship-borne
aircraft. Major systems include the LUNA Landing system for MIGs, DAPS Landing system for Sea Harriers and Flight deck lighting systems.
Another interesting set of numbers is that its 1600-odd personnel will consume in a month nearly 100,000 eggs, 20,000 litres of milk and 16 tonnes of rice. Incidentally, the kitchens of the Vikramaditya have been redesigned to enable making of dosas and chapattis.
Without a doubt, the Vikramaditya will add substantial clout to the Indian Navy, allowing it to project airpower in areas where it does not have local bases. The value of the Vikramaditya to India can be summed up in this quote of a British Admiral: 'To put it simply, countries that aspire to strategic international influence have aircraft carriers'.
Defence Minister Anthony will also attend the 13th IRIGC-MTC in Moscow. He will discuss with his Russian counterpart Sergey Shoigu current and proposed defence cooperation projects.
Foremost among the topics discussed will be the Fifth Generation Fighter Aircraft (FGFA) joint development project. The FGFA, if finalised and signed, could emerge as India's largest joint defence programme. Some estimates suggest that India is looking at inducting close to 300 aircraft after 2020 at a cost of nearly 35 billion dollars. Currently India and Russia have signed a 295 million dollar preliminary design contract on the 5th generation fighter aircraft. The full contract is estimated to cost around 11 billion dollars.
India is reportedly unhappy with the low share of work it currently has in the joint development project and is likely to seek an increase in its share, maybe up to 50 percent. There have been reports in the Russian press quoting their defence officials as saying that this demand would be accepted.
However, the question is, does India currently have the capability to increase its contribution? The lack of capacity within the government sector has been the obstacle to developing more robust defence ties with other suppliers, including Russia. Unless the government takes steps to bring in fresh players, India's efforts at developing indigenous weapon design, development and production capabilities are likely to be thwarted.
India will never emerge as a great power if it continues to depend on arms imports for it needs. But given the current composition and mentality in the ruling dispensation, particularly in the defence sector, it appears unlikely that there will be any changes anytime soon.
Apart from the FGFA, there is speculation that the defence minister will discuss the acquisition of another nuclear-powered submarine. Also likely to figure in the talks are the projects relating to BrahMos, Smerch and other ongoing programmes.
On the other hand, the Russians will raise their deep unhappiness with India's tender regime for big military acquisitions. "Would you get an aircraft carrier or a nuclear powered submarine through an international tender?" a senior Russian official asked me recently. The Russian Ambassador to India, Alexander Kadakin, has also been quite vocal on the subject.
Therefore, while the state of defence cooperation between the two countries could be described as "healthy and robust", there are some underwater reefs the two sides should carefully steer past.
Nandan Unnikrishnan is a Senior Fellow at the Observer Research Foundation