As the weeks go by in this trial, it has emerged that Shyamvar Rai is that rare species of driver whose knowledge of distances, directions and routes surprisingly would not even fill the back of a postage stamp.
Vaihayasi Pande Daniel reports from the Sheena Bora murder trial.
Illustration: Uttam Ghosh/Rediff.com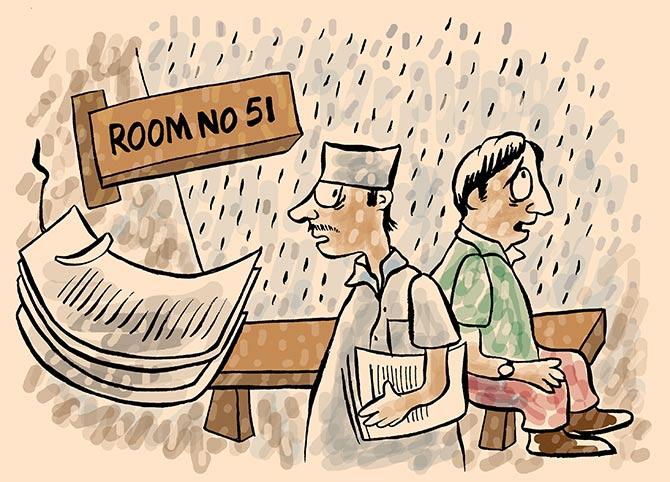 Mumbai's monsoon storm blew into the sessions court on Tuesday, September 19, and the Sheena Bora murder trial.
Cooler than it has ever been in months and months, the dingy corridors grew dark as if evening was approaching.
Lightning flashed ominously and the loud thwacks of thunder drowned out what people were trying to say.
In Courtroom 51, there were mildly worried expressions on faces as instead of watching the clock, many pairs of eyes went beyond it to the window and the 29 mm rain hammering down outside and the tree branches flapping wildly, psyched by the 29 km winds.
Inside, oblivious of the weather, Indrani Mukerjea's defence lawyer Sudeep Pasbola was going at it with Shyamvar Pinturam Rai, the Mukerjeas' erstwhile driver, quizzing him about the exact details of two trips he took to Lonavla, a holiday town halfway to Pune, on April 22 and 23, 2012, just before Sheena's murder.
Rai's answers, like the rain beyond the window, danced about randomly, headed nowhere.
CBI Special Judge Jayendra Chandrasen Jagdale took advantage of a small lull in the crossfire to draw attention, with a smile, to the day's grim rain "predictions".
"I have to let my staff go," the judge added.
Judge Jagdale is all about smiles. He underscores anything he has to tell the court, the lawyers or the accused, whether negative or even disagreeable, with a quiet smile creasing his face, as if he has learned that a smile is his best weapon.
The second is his untiring, soothing patience.
Pasbola, on being updated about the weather (perchance he hadn't noticed the gloomy skies or the unusual precipitation), promised to finish the cross-questioning of the Lonavla-Khandala-Khopoli-Pen hill station motoring saga and then give everyone early chutti.
Tuesday's session had already got off to a delayed start with Indrani, Peter Mukerjea and Sanjeev Khanna taking an hour to arrive in the heavy downpour, from about just six km away, even as Peter's sister Shangon Das Gupta waited with his lunch.
As men and women prisoners got off the jail buses, some of them opted to brave it, running in the rain, water sluicing down faces, plastering hair, their escorts running helter-skelter behind them, rifles waving.
From the window of the landing on the third floor, from where I was viewing their arrival, it looked more like a jail break!
Maybe a splash of monsoon showers was a little bit of joy for those deprived of their freedom and even the simple choice of taking a walk in the rain.
Indeed the ride on the jail buses, coming from prisons at either Arthur Road, Byculla, Thane or Taloja, must be tormenting for the detained, since the route, in its last few kilometres, brings them through the prettiest locales of south Mumbai, weaving past the Western Railways headquarters at Churchgate, around the emerald green Oval, where folks and their families are out taking air or games are in progress, zipping by the majestic high court, Mumbai University's Rajabai clock tower as they approach the dull new wing of the sessions court.
It would probably be the moment when the lack of liberty produced the sharpest pangs.
Maybe for Peter, Sanjeev and Indrani too.
Or maybe that moment comes for Peter when he sees his sister outside the lift grill on the 3rd floor and they hug deeply.
Just before the hearing began, Sanjeev, dressed casually in a yellow kurta, sat with his cousin looking at data on an Apple laptop. Perhaps they were viewing his recently-made-available cellphone records that could offer much in his defence.
They also both spoke to his lawyers Shreyansh Mithare and Niranjan Mundargi.
Indrani, wearing a grey kurta with a red bandhni dupatta and salwar, spent a few minutes speaking/instructing her lawyers Gunjan Mangla and Pasbola.
While Indrani rarely has anyone to see her beyond lawyers or court/jail acquaintances, Sanjeev and Peter are visibly supported by their families.
It is not unusual for a woman accused to not receive visitors since most of their families quickly forget about them, unlike male prisoners, my colleagues tell me.
What is unusual is that Rai does not get any visitors or dabbas of home cooked food at court. Not his wife Sharda or his two children or brother Virender. Or some biryani.
Maybe as an approver his security is more tight and they are not permitted to see him or his family visits him at Thane jail.
Upstairs, in spite of the rough weather, at the NIA court, the bail plea of 2008 Malegaon blast accused Sudhakar Chaturvedi and Sudhakar Dwivedi alias Shankaracharya had been concluded.
Both had been granted bail if they could each secure two sureties and put down Rs 5 lakhs in cash in personal bonds.
Before the hearing began, Peter's defence lawyer Shrikant Shivade spoke for a few minutes with Judge Jagdale again about his pending urgent request for the case diaries or CDs from the Khar police station, north west Mumbai.
He once again traversed paths taken by his earlier arguments of last Tuesday and Wednesday, systematically re-emphasising his views.
Like how he genuinely believed that police case diaries could be equated with being the first statement of a witness and said it was "always necessary and desirable" to have the witness's earliest statement.
Shivade, with his height, his brownish flyaway hair, his sharp suit and sparkling white lawyer collar has a presence, as he chips away, trying to make progress on this front.
Judge Jagdale heard him thoughtfully, an enigmatic expression on his face, his trademark smile lurking nearby.
The judge has not yet weighed in on this request from the defence. His verdict, it would seem, might be long in coming.
Prior to Tuesday's fairly tame (unlike the weather) Q and A with Rai, the issue of cell phone records came up between Pasbola and Judge Jagdale.
When the court had written to Airtel and Reliance for records of one of the accused, the telcos got back to the judge saying that they did not have those particular records 'available in their system'.
Pasbola told Judge Jagdale that that could not be. His contention was that if the same company had for one of the accused from that same period, it followed they had for another number too.
Judge Jagdale, while acknowledging that cellphone "companies are witnesses" suggested that neither of them knew enough about records to be sure of Pasbola's assertion and that maybe a certain bunch of records had been destroyed for certain technical reasons.
"Then let them file an affidavit stating that," Pasbola said. "Can it be selective destruction?"
Judge Jagdale called the lady clerk and asked her to issue a letter summoning the cellphone company's nodal officer.
On to Rai: What can you discuss with a driver, who has no special book learning or higher skills, but simply road experience?
Perhaps dal-roti ka bhav.
A bit of local politics.
A recent road film like the 2015 Anushka Sharma starrer NH10.
Or how to maintain air pressure in a stepney.
You should though definitely be able to talk roads, routes, highways and kilometres, right?
As the weeks go by in this trial, it has emerged that Rai is that rare species of driver whose knowledge of distances, directions and routes surprisingly would not even fill the back of a postage stamp.
Hence the Rai-Pasbola interaction on Tuesday about Rai's two breezy trips to Lonavla in 2012 hit a dead end/flat tyre quite quickly, in spite of the lawyer's enduring questioning.
Pasbola, who often attracts junior lawyers to Court room 51 arriving to see his 'cross' technique, stands about 5 feet 3, always has three pens in his pocket, two of them gold, oscillates his questioning style between a good guy-bad guy persona, alternately cajoling Rai or angrily pestering him.
Rewind: Rai said in his confession to the CBI, and to the court July 28, that after Indrani told him about her alleged intentions to murder both Sheena and Mekhail on a Skype call, she had asked him to take a trip to Lonavla.
The trip was taken, on her directives, the day before she arrived in Mumbai to allegedly murder her two children from her first marriage with Siddhartha Das.
When she came to Mumbai from London on April 23, Rai made a second trip to Lonavla with Indrani along.
From Lonavla and Khandala they detoured to Pen.
It was decided by Indrani, said Rai then, that they would eventually bring Mekhail's body to Khandala and Sheena's body to Pen for disposal after their respective murders in Mumbai.
Pasbola had various reasons, it was apparent, to believe that these recces were odd and perhaps hailing from the world of fiction.
Firstly, because he was certain that Rai did not tell the police about the recce to find a spot for Mekhail's corpse and he wondered why Rai had not.
Secondly he had been unable to pin down, till date what exactly Rai or Indrani did of importance or consequence on those trips to justify their being taken or indicate their connection with the murder.
When questioned, earlier and on Tuesday again, Rai, like a bizarre character from Alice in Wonderland, offered answers riddled with nonsensical logic.
The lawyer had a map of the Lonavla-Khopoli-Pen area open in front of him, and Shivade, Mangla, Mithare and Mundargi, offering interrogation strategy tips, at his elbow, as he grilled the driver about the time taken to get from Lonavla to Khopoli and Khopoli to Pen and the roads chosen.
Judge Jagdale enthusiastically joined the topography analysis displaying his own deep knowledge of the terrain, countering Pasbola at times, who laughed a tad surprised and said, "I have travelled there a number of times!"
Pasbola to Rai: "You can't seem to remember what you did in Lonavla on April 22. Koi baat nahin. But Khopoli mein kahi ruka tha (no problem, but did you stop in Khopoli on the way back)?"
Rai: "Yaad nahin (don't remember)."
Pasbola: "While going or coming, did you stop in Khandala?"
Rai: "Yaad nahin."
Pasbola then asked Rai if he had reported to Indrani what he did at Lonavla when he met her on April 23.
Rai: "Kaha jaana aisa Madam nahin bolee thee. Bolee Khandala jaake aao (Madam never told me where to go. She just said to go to Khandala and come)."
And when Rai and Indrani went to Lonavla together, Rai swore that when they reached she did not ask him where he had been the previous day.
He said on April 23 they spent just 10 minutes in Lonavla. "Indrani Madam" got out of the car for ten minutes and he stayed in.
From Lonavla they headed to Khandala where they found the forever spot for Mekhail.
Rai could not describe the spot except to say vaguely, making a face, and gesturing that there were "pahad" (hills) around and "jhaar" (greenery).
"Photo toh nahin nikala (I didn't take a photo)," he offered impudently.
Pasbola to the judge: "He saw hills and valleys!"
Judge Jagdale with a laugh: "Obviously. That's a universal truth."
CBI prosecutors Bharat Badami and Kavita Patil interjected: "English thodi bola. Not valley. Jharee!"
Pasbola: "He knows only two places kharee (valley) and jharee!"
Rai also did not remember if he showed the spot to the police or the CBI or if he had ever been back to Khandala, since, in his life.
They then headed to see three spots in Pen.
Rai could not/would not recall the distance or time taken to reach to Pen. Or much about the other spots or the distance between them ("Napa nahin -- I didn't measure) except the last spot where they later brought Sheena's body which had "uska left side mein pahad tha (it had a hill on its left side)" and he used his hands to explain some other land formation to everyone's bafflement.
By 4 pm or so, Pasbola shut down the day's edition of cross-questioning.
Everyone looked up at the September calendar, that hangs to Judge Jagdale's left under a spot labeled with the placeholder 'paschim' (the October calendar, perhaps according to vastu considerations is on the rear wall under the placeholder 'uttar').
September 22 was chosen for the next hearing.
The courtroom and sessions court quickly emptied out in the following half an hour as the storm's fury increased and Mumbaikars dashed home in case the 29 mm rainfall multiplied to 300 mm, like it did on August 29.