Covid deaths at home, on the way to hospital or in private centres are not being counted in Bihar's official list of dead, reports M I Khan from Patna.
Caution: Graphic content. Viewer discretion is advised.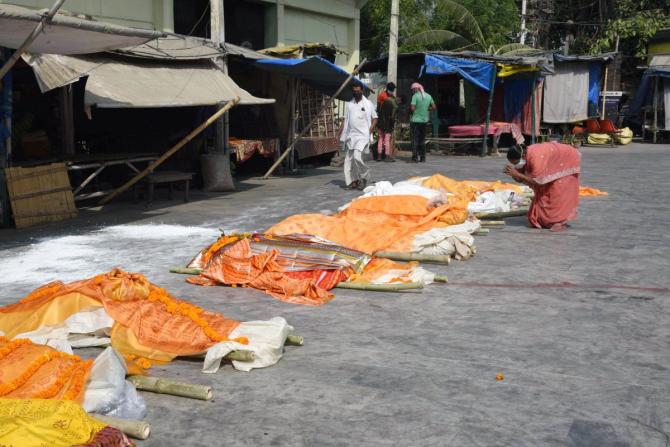 After battling it for days, Suman Rani succumbed to a severe lung infection, one of the common symptoms of COVID-19, on May 21 at the government-run Nalanda Medical College and Hospital in Patna, but her name is missing from the Bihar government's revised official COVID-19 death toll.
For the officials, Suman was not Covid positive because her RT-PCR test report that ironically came two days after her death listed Suman as Covid-negative, much to the surprise of her family and close relatives.
Suman, 56, a science teacher in the government-run high school in Sitamarhi district, was laid low with high fever, cough and weakness for days and was treated by local doctors there.
Later, when she developed breathlessness and uneasiness, she was rushed to a private hospital in Patna.
Her condition worsened and she was admitted to the Covid-dedicated Nalanda Medical College and Hospital for treatment.
The report of her HRCT scan of the chest revealed a severity score of -24/25, grade-05, percentile -96.
It was a clear case of severe lung infection.
She was treated for Covid infection at the Nalanda Medical College and Hospital.
But she died despite injections, doses of medicine and steroids usually given to critical Covid patients.
Even the Bansh Ghat crematorium, where she was cremated as per Covid protocols, in its register mentioned her cause of death as COVID-19.
In another case, Rajesh Rai, a farmer from a village in Muzaffarpur district, who was down with fever, cough and body ache in early May, tested Covid negative in a Rapid Antigen Test at the block-level Community Health Centre.
Back in his village, he was being treated by a jhola chhap doctor.
But three days later he developed difficulty in breathing, and uneasiness.
His family rushed him to a private hospital in a nearby town where doctors found his oxygen saturation level at 50. As his condition was worsening, they refused to admit him and asked the family to take him to a private hospital in Muzaffarpur, but he died on the way.
His name was not included in the Covid death toll as he had not tested positive.
Suman and Rajesh are examples of hundreds of Covid death cases, which are neither counted nor included in the revised official Covid death toll.
As per the revised official Covid death toll the government added 3,951 more deaths on June 8 that resulted in the toll rising to 9,375, a big jump from the earlier reported toll of 5,424 till June 7.It was an increase of 72.8%.
Soon after Bihar's Additional Chief Secretary, health, Pratyaya Amrit announced this revision, members of the public felt the state's actual death toll is much higher than the revised death toll.
Only after the Patna high court last month pulled up the Bihar government over irregularities in death figures in Buxar district following the discovery of bodies floating in the Ganga did the government begin an audit of Covid deaths across the state.
The government constituted two separate expert committees at the district level, comprising the civil surgeon, additional chief medical officer and a senior medical officer, the principal, superintendent and head of the department of medicine at the medical college hospital to scrutinise all deaths.
Under the rules, any COVID-19 death had to be uploaded on the national portal within three days.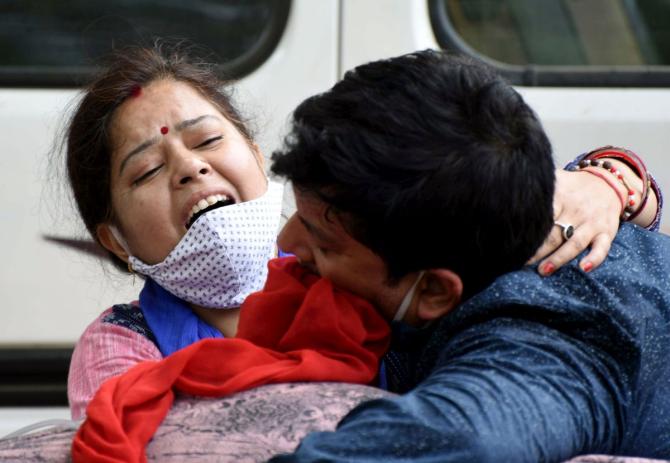 According to Pratyaya Amrit, the death figures was revised after an audit was conducted at the district level by the team of health experts.
These deaths -- mostly at private hospitals, in home isolation and of post-Covid complications -- were unreported due to the apathy of local officials.
Action will be taken against those officials who delayed sending the death report from the district, Amrit said.
Dr Sunil Kumar, secretary, Indian Medical Association, Bihar, said the actual death toll is much higher than the revised Covid death toll.
Public health expert Dr Shakeel Ur Rahman said it was difficult to analyse the actual death figures.
"Two to three times more deaths occurred, unlike what is reported," Dr Rahman said. Officials, he added, counted the deaths reported only from government-run hospitals.
In Bihar, Dr Rahman said two-thirds of hospital beds are in private hospitals; only a third are in government hospitals.
"As it was widely reported, due to acute shortage of beds, ICU, oxygen, ventilators, serious patients were battling for life while running from one place to another in search of treatment. Most of them died either in ambulance, outside hospitals and on the way," Dr Rahman pointed out
"We call it death in transition and that was not counted or recorded by officials. Nobody know how many died in transition," explained Dr Raman.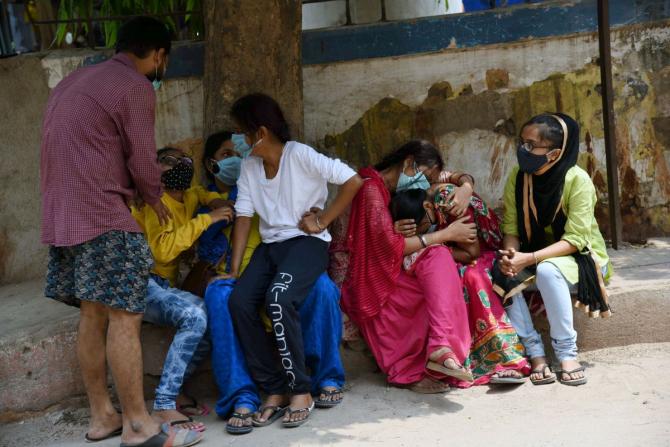 A large number of patients failed to enter the health system as they did not venture outside their homes despite suffering from Covid symptoms, he added.
"We got reports of many critical patients who could not afford an ambulance and left it to destiny and died. This is domiciliary deaths, but hardly recorded," Dr Rahman added.
Besides, many patients with Covid symptoms were not tested and rural medical practitioners advised them to go in for the Widal test for enteric fever.
When their condition worsened, they were rushed to hospitals in semi urban areas, where many died.
All such cases remained under-reported so far.
Bihar Health Minister Mangal Pandey, however. has denied that the state government hid the Covid death toll.
Feature Presentation: Aslam Hunani/Rediff.com