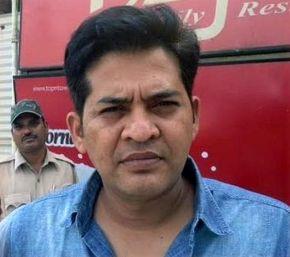 'Out of 45 deaths so far, about eight are very suspicious. Every case should be re-investigated.'
Vyapam whistleblower Dr Anand Rai speaks to A Ganesh Nadar/Rediff.com
No one knows how long the Professional Examination Board of Madhya Pradesh or Vyapam scam has been going on.
The man who first blew the whistle on the scam is Dr Anand Rai, a doctor who works at the regional health and family welfare training centre in Indore.
"I really don't know how long this scam has been going on," he says, "but I made my first complaint on July 5, 2009 when papers of an entrance exam were leaked."
The second time Dr Rai complained was on July 15, 2009. "This time I complained about impersonation. Others who were better qualified were appearing for candidates in the exams. Like it happens in the movie Munnabhai MBBS. I complained to the principal secretary of medical education in Madhya Pradesh," he adds.
On December 17, 2009, he says, the Madhya Pradesh government appointed a committee to identify the impersonators, but "nothing happened."
In 2011 when questions were raised in the state assembly, legislators were informed that 295 impersonators had been identified. The identities of the impersonators were revealed in 2012 after they were arrested.
In 2013, Dr Rai alleges, one of the alleged kingpins in the scam telephoned him. "He first warned me, then tried to bribe me. Then he told me not to give his number to anyone. I gave the number to the police. He was arrested the same night (July 13, 2013)."
Dr Rai claims he encountered the alleged kingpin, who threatened him, later and was threatened again.
Another accused, Dr Rai alleges, took out "a supari (contract killing) on me. The police refused to protect me. I paid Rs 60,000 for my protection for one month."
Perturbed by the Madhya Pradesh police's refusal to provide protection, he approached the high court which ordered the state government to ensure protection for Dr Rai.
But the doctor is not happy with the police protection provided. "He (the policeman) stays with me for only eight hours, from 11 am to 7 pm," he says.
What about the mysterious deaths of people connected to the scam?
"Out of 45 deaths so far, about eight are very suspicious," Dr Rai says. "Dr Sathpathy is the foremost forensic expert in Madhya Pradesh. A committee should be formed under his leadership and every case should be re-investigated."
Interestingly, Dr Rai does not believe that one person is behind the scam. "There are more than 2,500 people involved in the Vyapam scam. In every district there are more than 50 impersonators," he says.
The Supreme Court ordered a Central Bureau of Investigation inquiry into the Vyapam scam last week, but Dr Rai wants "a Supreme Court monitored probe, not a probe monitored by the central government."