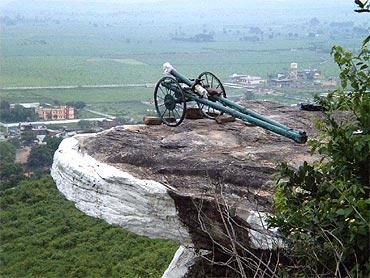 In a Madhya Pradesh district, it is the cannon blast that marks crucial hours during Ramzan, reports Shuriah Niazi 
As dusk gathers around the villages in Raisen district of Madhya Pradesh, the distinctive sound of a cannon echoes across the area. Following this, thousands of faithful Muslims, who have been on a day-long fast for Ramzan, say their prayers before partaking in Iftaar.
The locals have trusted this cannon to mark the time to start and end the fast during the holy month for hundreds of years.
When the villagers hear the first boom in the wee hours of the morning, they know it is time for Sehri, the meal consumed early in the morning before the fasting begins. And in the evening, the canon's deep roar tells the fasting Muslims that it is time for Iftaar, the evening meal when they break their fast.
The tradition of using the cannon to announce these crucial times during Ramzan was started by the begums of Bhopal in the early 18th century. Military cannons have been carrying out this important task while the head priest or the Shehr Qazi decides the time.
All India Muslim Tehwar Committee Chairman Ausaf Shah Miri Khurram said, "The 200-year-old tradition is still being followed by Muslims living in Raisen district, which lies on the outskirts of Bhopal."
Elaborating on how the sound of the cannon gets interwoven with the locals' lives during Ramzan, he said, "They observe and break the fast during Ramzan as per the cannon's blast. Here, the fasting people are woken up by the sound of drumbeats, which continue for nearly two hours. The boom of the cannon lets them know that Sehri has ended and it is time for the commencement of the fast. Later in the evening, the fast is broken after hearing the second boom of the canon."
While the tradition has quietly faded away in Bhopal, the people in Raisen have kept it going. From 1956, the district administration has taken over the responsibility of maintaining the historical cannon.
A smaller, sonic model of the cannon is used currently. Nearly 25 kg of ammunition is required to fire the canon twice a day during Ramzan. Once the holy month gets over, the cannon is safely tucked away in the state treasury.
Image: The canon at Raisen, Madhya Pradesh | Photograph: Shuriah Niazi