Though this time India's first astronaut remained earth bound. P Rajendran/Rediff.com finds out more about his journey off the beaten track along America's East Coast.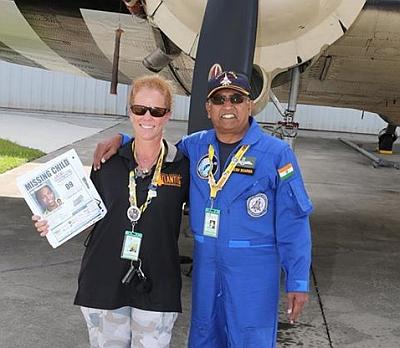 There were 40 teams in all; Sharma was in team #09, dubbed Team India, along with Amy Tomberlin, a stunt driver. Photograph: The Fireball Run/Facebook
Long after the nearly eight days in space that changed his life, India's first astronaut was on the move again.
This time Rakesh Sharma spent another life-changing eight days, using them to drive down the Eastern States and raising awareness about missing children while participating in the Fireball Run, a television-based real life trivia game that called for exploration as part of an adventurous drive.
In this effort, he was joining other astronauts from around the world -- the United States' Captain Jon McBride, Brazil's Colonel Marcos Pontes, and France's General Jean-Loup Chretien -- each part of a different team.
There were 40 teams in all.
Sharma was in team #09, dubbed Team India, along with Amy Tomberlin, a stunt driver.
They travelled in a Dodge Grand Caravan, sifting through clues and driving to places on the basis of the information gleaned.
"You get to handle and see stuff which is off the beaten track," Sharma told Rediff.com, describing one interesting visit to a court house where Dr Martin Luther King Jr wrote part of his 'I Had a Dream' speech.
"While we are doing that, we are spreading the message for America's missing children. On this particular trip, we have found two kids," he said, without providing more details, probably because the show is yet to air.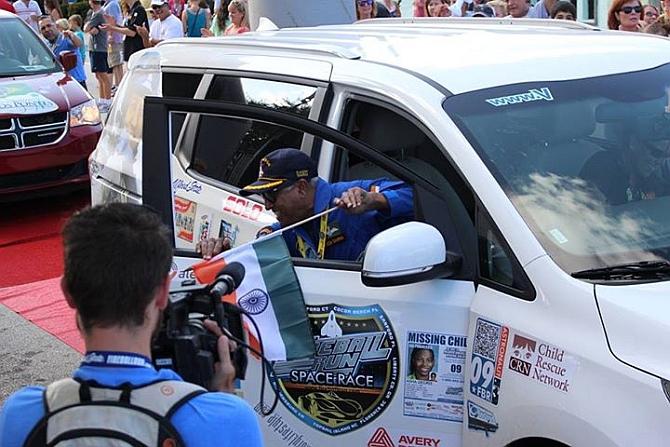 Rakesh Sharma at the finishing line of The Fireball Run at Cocoa Beach, Florida. Photograph: The Fireball Run/Facebook
Sharma's Fireball Run took him from Hartford, Connecticut, to the Kennedy Space Centre in Florida.
In 1984 Sharma made history when he spent 7 days 21 hours and 41 minutes aboard the Salyut 7 space station as part of a collaboration between India and the then Soviet Union.
He came back to win the Hero of the Soviet Union award, and India's Ashoka Chakra, the highest honour for gallantry given in peacetime.
He retired as a wing commander from the Indian Air Force and became the Hindustan Aeronautics Limited' top test pilot.
Sharma seemed resigned that everyone would quiz him about his experiences in space.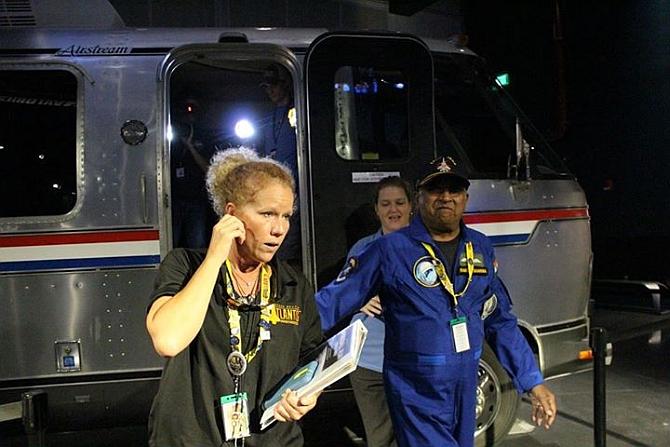 Rakesh Sharma arrives at the Kennedy Space Centre in Florida to participate in NASA's Meet an Astronaut sessions. Photograph: The Fireball Run/Facebook
Not given to pompous flourishes, asked about the differences between commanding an aircraft and a space vehicle, he replied, "There are fundamental differences. In the cockpit you are master of your own destiny. In space, mission control is in charge of your wellbeing."
Clearly, an opportunity to swashbuckle lost.
Speaking about India's Light Combat Aircraft that he tested after retiring from the air force, Sharma said he did it only because it was part of his core skills.
"I was fortunate to have to contributed (to it and be) exposed to the cutting edge of tech," he said, pointing out that as chief pilot he was hardly in a decision-making capacity.
"I was chief project pilot. I was loaned from the Hindustan Aeronautics Limited," he clarified, though he did provide some of his opinions.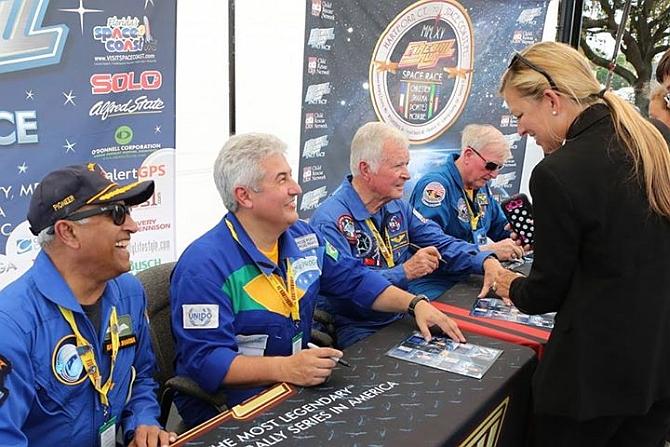 IMAGE: Four international astronauts, from left, India's Rakesh Sharma, Brazil's Marcos Pontes, France's Jean-Loup Chretien, and America's Jon McBride. Photograph: The Fireball Run/Facebook
"We should not have stopped developing our expertise after the HF 24," he said, referring to the HAL fighter aircraft, further development of which was stalled by technology denial on the part of the nations from where better engines could be exported.
"We should take it to its larger conclusion," said Sharma, who described how the aircraft, built with help from legendary German aeronautical engineer Kurt Tank, never got the proper propulsion to be the force it potentially could have been.
More diplomatically, he said, "Programme management was also quite complex. That needs to improve," adding that modern methods, distributed design and manufacture would do HAL a power of good.
"Just coming up with a good design is not enough."