'It saddens me that the youth are getting interested in money, not cultural values'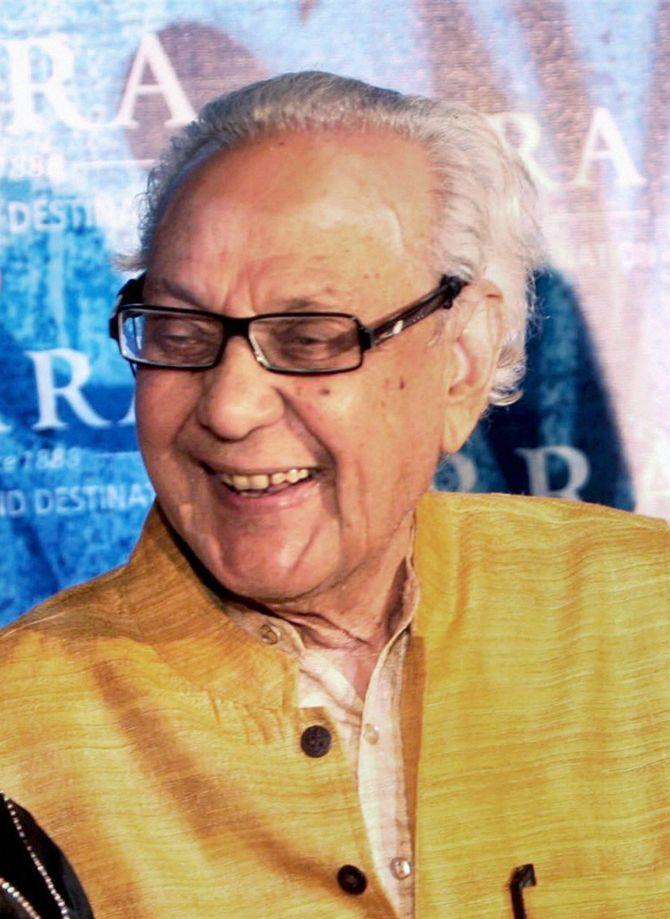 IMAGE: File Photo of Renowned artist S H Raza during the launch of new line of jewellery depicting his work. Photograph: PTI
Legendary modern Indian artist SH Raza passed away on Saturday, 23 July. He was 94.
In an interview to HarmonyIndia.org, the artist, who had famously said that he lived to paint and painted to live, spoke of what the 'bindu' meant to him, about his friend M F Husain and the legacy that he will leave behind.
Rediff.com reproduces that 2011 interview to Sudha Tilak and gives you a glimpse into the life and mind of the stalwart.
It's a mellow winter's morning and the sun dapples in golden dots on the balcony of a new house in a posh south Delhi colony. In the parlour, Syed Haider Raza is seated on his chair before a stunning blue-black lithograph, acquiescing for the camera. The photographer nudges him for a smile, but he breaks into a hearty guffaw, scattering laughter and light into the room. He may be frail of health, but India's leading painter remains a man of eloquence, dignity, with deep allegiance to his work and committed to refinement in art, encouraging what he calls an "independence of aesthetics" in the country through the Raza Foundation.
There is much of India in Raza as much as he's French. He speaks to his aides and associates changing from chaste Hindi to French and English. His inspiration is Chagall, Cezanne, Matisse and Picasso as much as the beauty and colour of the Ajanta and Ellora caves, Tagore, Nandalal Bose and Jamini Roy and his consistent contemplation of the metaphysical Hindu aspect of creation, the bindu.

Raza's life has been an unending journey through continents. From his birth and boyhood in Mandla in Madhya Pradesh to his student days at The J J School of Art in Bombay, to founding the Bombay Progressive Artists' Group, his early life in India was an exciting one full of new beginnings. His 60 years in France where he studied, worked, exhibited and engaged with artists were an equally fulfilling time when his work and paintings grew in form and power. In a country where artistic tradition is rich, yet contemporary space for artists is limited to rabble's censure, Raza's effortless embracing of religious diversity is inspiring.

Accolades, astronomical prices for his works, the Padma Shri and encomiums apart, Raza retains an unwavering commitment and focus to his work, ever alert to the world around him, working humour up, reminiscing and reflecting. Like the wine he sips, Raza's years have only added mellow warmth to his mature thoughts. Excerpts from an exclusive interview….

What is the one aspect that has been of constant contemplation through your artistic life?
It's what I learnt from The Gita, from Vinobha Bhave, swadharm, or one's own conviction and faith. We may pass ourselves through several ideas and thoughts but we must learn to go in one direction, concentrating on that which is most important. I've looked at the bindu for years. After years of study as a young person you ultimately arrive at your personal conviction and your tendencies, talent and beliefs merge. As a figurative painter, my faith and belief led to a concentrated thought process. That is not to say that change does not take place.
Evolution takes a logic of its own and in my case the same bindu has transformed itself through years of work. But it has remained constant, for the bindu is a symbol of the seed, the origin. I've been interested in it since the day my school teacher taught me as a six year-old to learn to focus by drawing a dot on the blackboard. I never forgot that lesson and in the 1980s I discovered the bindu again and its tremendous influence.
For five to 10 years, I worked on developing it from the seed to include the five elements of nature and its different manifestations, be it the male and female component or the mandala or the circle. In a glorious, magnificent way this has been and continues to be my preoccupation.
You've returned home after 60 years in France. What are the changes you find here?
Changes are considerable today. While I am saddened when I read of the violence around us, I've also a feeling that we all have to take the initiative as it's our duty to take the Indian civilisation forward. We are going in different ways, unable to retain a commitment or a focus to lead ourselves in the right direction.

Little India has changed too. Did you sense that while visiting your home town Mandla?
I visited Mandla some eight years ago. It seemed like a modern world, complete with traffic and congestion. It saddens me that the youth are getting interested in money, not cultural values. Despite the march of progress, it is important in India to work towards the direction of uplift of consciousness as much as our economic progress.
But [chuckles] at heart I'm still a boy who likes his small town. Even during my years in France I loved the big city lights of Paris but preferred to live and work in the village of Gorbio. I prefer the isolation and, at heart, love the village.
How are you contributing to that idea?
As an offshoot of my visit to Mandla, along with Ashok Vajpeyi we forged an idea to do something purely for the sake of culture. Between his poetry and writing and my painting, we found a harmony and decided to help develop and nurture young talent and younger artists. We choose them with support and space to develop their skills through the Raza Foundation.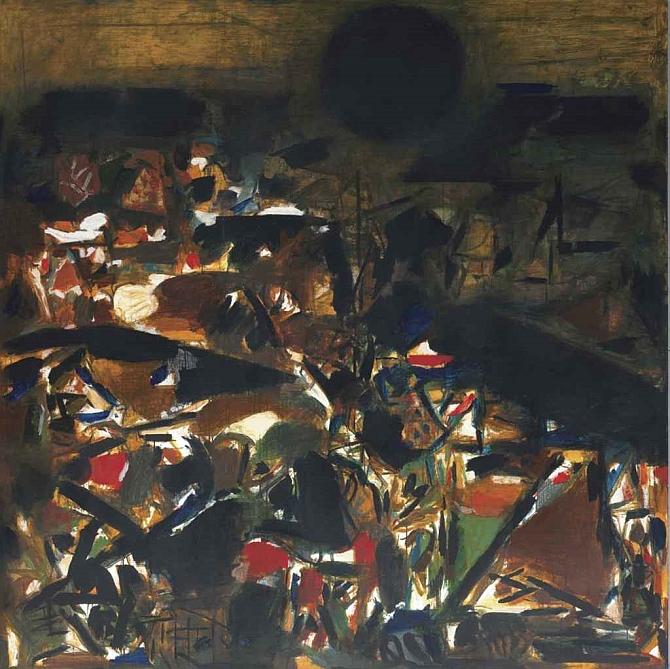 IMAGE: S H Raza's 'La Terre' painting. Painted in 1986, this masterpiece sold for a whopping Rs 18.6 crore
From a village in middle India to Bombay, thence to France, and back in India. Where is your home?
Between India and France I've never had a chance to experience homelessness. This aspect is important in my life. I strongly believe one is born twice. My first birth was in India, which I would say was by being born in this land. India birthed me as a mother does a child and nurtured me through my young days. If a first birth is a gift from Providence or nature, a person's second birth emerges out of his own efforts. It is to find the raison of our life and its direction for our journey. My second was thus in France where I could find purpose and direction for my thoughts and work.

Why did you choose Delhi and not your beloved Mumbai for a homecoming now?
I left Bombay as a young man. I'm now back home 60 years later, alone and needing care. I am 89 years today and I am careful about my health. I came to India and decided to stay in Delhi as it would be easier for friends from across the world to be with me on visits. I am fond of Mumbai but given the space and commuting conditions of the city, I thought that it would be better for me to live in Delhi at my age and in my state of health. So I decided to buy a house in Delhi and live here now. I've just moved into the new home and am settling things down. The blank canvases are awaiting me to settle down and begin again.

Your companion Janine Mongillat is no more. How did a creative couple like you two cohabit in peace?
Janine has been a great assistant in my artistic journey and otherwise. I like silence and she understood my silences. It is important that temperaments match for two people to live together and we were blessed. We'd wake in the morning and we had two apartments on the same floor. We'd both work for some five hours in the morning and then we'd meet for lunch. We would go after three in the afternoon back to our studios and work and then meet for dinner by seven or eight. We'd have a phone call or a pressing matter to attend but that was that and we did not spend too much time on the radio or TV too. This was the case through our active creative years. Though she was seven years younger to me we stayed very close. We remained a marvellous couple, happy together.

Some eight to 10 years ago, she turned sick and her cancer developed and for the last two years she suffered great pain. I was with her through it. I am a firm believer in God and felt that He would call her up when the time came. I consoled myself saying rather than cry I should allow myself to live the way she'd have wanted.
So I took a decision after her passing to go out, meet people, paint. I believe in exclusivity; we should choose our companions to our taste. It often does not happen that way and it's your great luck if you do find the right person. Then it's important to cherish that. Not for me all the flirting and changing partners.
You have family in Pakistan too. Yet your commitment to India is deep. You were present when Indian gained Independence. Tell us more about that day.
My father was not one who allowed us to turn to politics as boys. However, I do remember that my brother and I rejoiced like happy young men in 1947, jumping and whooping with joy that India was independent and a republic. Despite Partition, India remained a republic and it was a moment of great happiness that we had leaders of calibre directing the government. However, it is not the same and it's difficult to have such singular leadership in painting as in politics. A painter's job is that of an individual and not to take decision for everyone like in politics.

As part of this newfound energy, we formed the Progressive Artists' Union in Bombay with F N Souza, M F Husain and others. We wanted independence of aesthetics in India. We worked on that decision and some of us worked on reviving the glory of traditions and take, say, the art of the Ajanta and Ellora figurative paintings forward.
Accordingly we all evolved our own style and manner but our commitment to Indian roots was strong. Souza left for London and I for France. Our growths were slow, but healthy. We were soon recognised. I was showing my work in France and ultimately with my concentration growing on the bindu, the Indian element did become my preoccupation. I would not agree that it stopped me from going in other directions as I found myself evolving with new dimensions of the bindu. I wanted my knowledge of painting to integrate with my Indian concept and I've been following that path.
And today you're one of India's top painters who fetch astronomical prices in the international market. How does it feel to occupy such an exalted position?
I am happy with the prices. It should be important as it helped me have an atelier in Paris or move here to India. These are not unimportant. However you should not make an obsession out of prices. Of course, one cannot ignore it, but one must learn to go beyond it and not allow it to become an artist's only end.

Do you miss your friends?
I miss Husain, Souza. They were very important during the founding days of the Bombay Progressive Artists' Union.

Souza is no more and Husain leaves for Qatar while you make India your home. Do you find an artist's freedom compromised in India?Husain apart, it saddens me that many important aspects of Hinduism are misunderstood. I am attached to my ideas of Hinduism and in my time many of our teachers came from a priestly lineage and it was a free mode of thinking and living and working for an artist. It is important to understand our differences from Kashmir to the south to the east and the west.
Indian contemporary art has a place on the world stage and the younger generation must take forward our traditions. Our contribution on the world map would be our culture and we need to be focused. Artists may be censored but the future will remember and surely retain the most important works of our remarkable painters who leave behind their work as the best proof of their worth.
Age brought changes in Picasso's work when he began to caricature himself; Monet's cataracts turn the colours in his work reddish in his 80s; Dali's infirmity turned him to photography and Paritosh Sen brought in comic elements in his last years. How has age affected your work and what will your legacy be?
I can't say, but my work will defend itself. A person lives on if he is able to concentrate on issues that are important to him. That is the bindu of our life and work. Working on my legacy is not my ambition, though my feeling is my commitment and creative work will speak for itself. The rest are unimportant. What we leave behind of ourselves through work is the most important.

And what of death?
Death is a question of how long He wants me to be here. I am committed to God's will. He will decide how long I live and my work will decide what my legacy will be.