Journalists working in the Kashmir valley sometimes face the worst attacks from protesters, mourners and many a time from the security forces, says Photographer Umar Ganie.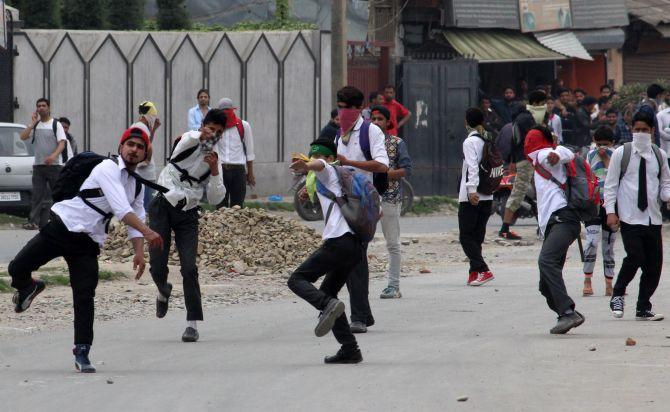 It has always been difficult for journalists to work in the field in Jammu and Kashmir.
Sometimes we receive threats from different corners. Even our families are not spared.
When we report something or click something, we have to keep in mind that we are from a land where anything is possible.
As journalists, we constantly face tough situations.
How tough exactly was once again manifested in strong>Shujaat Bukhari's chilling murder on Thursday evening.
Mr Bukhari -- editor-in-chief of the Rising Kashmir, an English daily newspaper which he launched in 2008 -- was killed outside his office in the Press Enclave in the heart of Srinagar shortly before iftar.
Mr Bukhari was an active presence on social media, especially active on Twitter where he often jousted with other Twitterati over issues that concerned his beloved Kashmir and human rights violations.
He was always very humble and had a caring attitude towards everyone, including young journalists.
I remember when terrorists stormed the Border Security Force headquarters near Srinagar airport, which was adjacent to his residence, he brought meals for almost a hundred journalists who were covering the attack.
His murder is a terrible reminder of how the media works in extremely difficult situations in the Kashmir valley.
Journalists in Kashmir are prone to assaults from all sides, and the brazen attack on Mr Bukhari inside the Press Enclave highlights the risks under which all of us work.
The entire journalistic fraternity sometimes faces the worst attacks from protesters, mourners and many a time from the security forces as well.
Several journalists in Kashmir have have been killed over the years: Mushtaq Ali, Shabaan Wakeel, Altaf Ahmed Faktoo, Parvaiz Sultan, Ghulam Rasool Sheikh, Asiya Jeelani.
I remember when I was covering then agriculture minister Ghulam Hassan Mir's election rally at Tangmarg in 2004, terrorists lobbed a grenade.
The minister, my other colleagues and I lay down to escape the attack. When I looked around, I saw injured people crying for help.
But as Mir's personal security officer had started firing indiscriminately, no one could help the wounded for about 15 minutes.
After the firing subsided, along with my colleagues, I rushed injured individuals to hospital. Two people were killed in that attack.
During the funerals of local militants, it is very difficult for us to manage our presence amid the participation of thousands of people.
Once we reach the funeral spot, we hesitate to take out our cameras for fear of being spotted. Many times journalists covering the funerals have been beaten up.
At the funerals of policemen or soldiers, we face the wrath of the local people and have to keep in mind that militants may be lurking around.