Kolkata Gives brings together the city's philanthropists and deserving NGOs in a structured interface. Subir Roy walks away with fascinating stories from this year's do.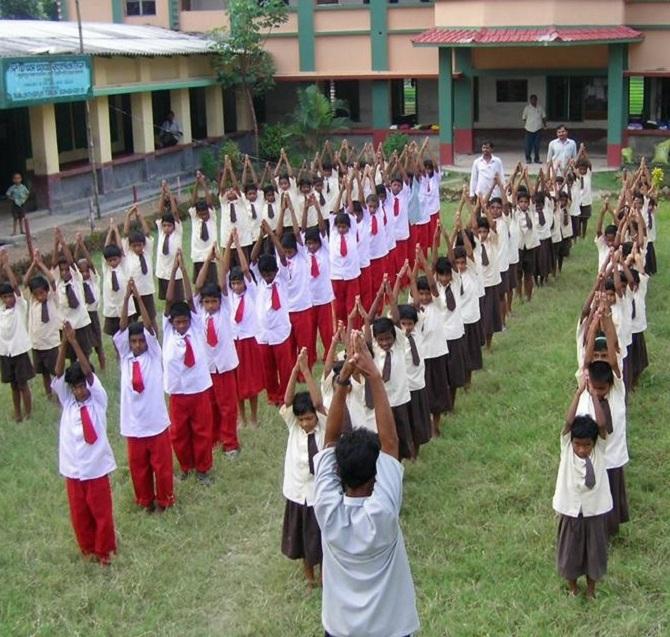 IMAGE: Susanta Giri used a local youth club, Baikunthapur Tarun Sangha, to start work among the farmers and fishermen of his village in 1988. Today the sangha has directly affected the lives of almost 30,000 people in the past three decades.
BTS was among the NGO's featured at Kolkata Gives.
Photograph: Courtesy: Baikunthapur Tarun Sangha/Facebook.
As soon as Susanta Giri was old enough, he virtually ran away from his home in Baikunthapur in the Kultali block of the mangrove delta of West Bengal's Sundarbans to study in Kolkata. While on his way to City College he would see Mother Teresa and her helpers engage in serving the city's destitutes and admire her from a distance.
Taking inspiration from her, he wanted to do something for his village, which neither had a school nor a hospital. He used a local youth club, Baikunthapur Tarun Sangha, to start work among the farmers and fishermen of his village in 1988.
Today, as he pushes 50, the sangha, with a staff of 46, has directly affected the lives of almost 30,000 people in the past three decades.
The sangha is into virtually every aspect of rural community life.
Around 10,000 farmers have been organised to absorb the technology to pursue organic farming.
The hospital in the village has enabled over 900 institutional deliveries.
There is a primary school with 200 students, and 18 child development centres looking after over 700 pre-school children.
Around 450 women who have lost their husbands to attacks by tigers and crocodiles have been rehabilitated and there is a computer training institute for youngsters.
Just a few years before Giri got going, in 1984, A Jaman from Diamond Harbour near Kolkata started the Kamdebpur Rural Development Society as a village club to help youngsters engage in a bit of sports and not have too much of time on their hands.
Then, about a decade later, he joined the government as a medical officer but soon got tired of the idea and left the job.
Today the society works across several districts in West Bengal, but mainly in South 24 Parganas and is intensively engaged in mother and child care.
It also delivers behavioural change communication, both personal and social. The personal part emphasises needs such as personal cleanliness. The social part deals with weaning away people from early marriage as well as promoting institutional delivery.
The work related to children focuses on preventing child labour and helping the dropouts as well as those who were left out return to the mainstream.
The society works with all deprived sections, such as the scheduled castes, scheduled tribes and minorities, who make up 70 per cent of the beneficiaries.
The society has 168 employees and a dozen volunteers.
For its role in taking forward the official development agenda, the society has been getting financial help from both central and state governments since 2001, though the quantum of help has gone down lately.
Who inspired Dr Jaman?
His family belongs to the landed gentry whose members do not typically spend their entire lives in voluntary effort. It was his parents. His father used to sell bits of his property to fund his social agenda.
As those Dr Jaman mostly works with are Muslims, the obvious issue is his relationship with religious leaders of the community. He keeps interacting with them, engaging in conversation in their homes, sometimes in the presence of government officials.
Social realities often have nothing to do with conservative notions about the status of women. Many poor girls drop out of school once they grow up because they do not have the means to procure sanitary napkins. In some spheres, the otherwise conservative maulavis have no problem, as with the campaign against country liquor for which the society formed a women's force in 2001.
The paths of the sangha and the society recently met at a posh south Kolkata hotel where Kolkata Gives held its annual do. They were among the 15 NGOs that had put up stalls. Among the well-known and the well taken care of, these two stood out as among the most needy and deserving.
This is the fourth annual event of Kolkata Gives, which brings together the city's philanthropists and deserving NGOs in a one-day structured interface.
Over the last four years, Kolkata Gives has raised around ₹7 crore, with this year's event chipping in a substantial ₹3 crore.
Mudar Patherya, the public face of Kolkata Gives, lists one goal achieved and one yet to be totally fulfilled. A lot more needs to be done to network with most of the city's philanthropists, but what has made a difference is the success in making "philanthropy fashionable".
How does the organisation select deserving NGOs to showcase?
The fact that 15 have been chosen after examining around 800 indicates that a lot of weeding out takes place. But what is interesting is that the most capable, who can make the best use of help, are not chosen automatically. The cause and the people behind it also matter.
And when a deserving NGO is both managerially hopeless and grossly underfunded, Kolkata Gives helps them with small doses of funds spread over a period during which their work is constantly monitored.
Mr Patherya has learnt that "when you bring resources to the table and show confidence in people, it works wonders to their managerial capabilities too".
The big new thing about this year's do was that intending visitors had to buy entry tickets priced at ₹2,500 each. This itself raised ₹17 lakh. It kept out unnecessary footfalls and gave time and space to serious philanthropists to sit down with individual NGOs and measure out their stories.